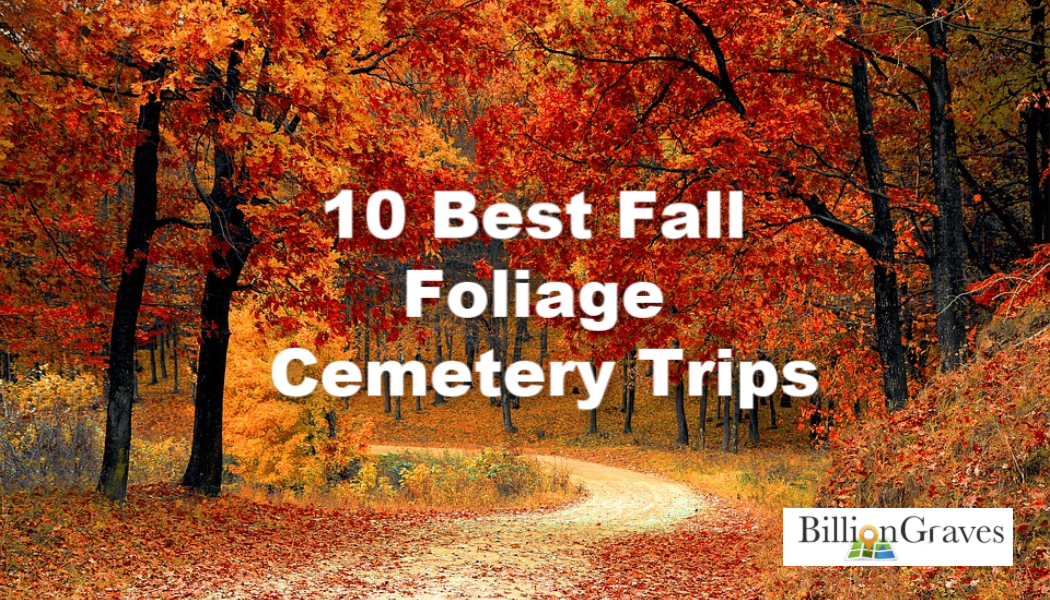 10 Best Fall Foliage Cemetery Trips
Cathy Wallace, 4 years ago
9 min

read
19790
Alright, leaf-peepers, ready for a road trip!? Here are 10 of the best fall foliage cemetery trips you could take this year!
Cemeteries are the perfect place to enjoy autumn because they are often designed as park-like settings where you can surround yourself in a kaleidoscope of fall colors.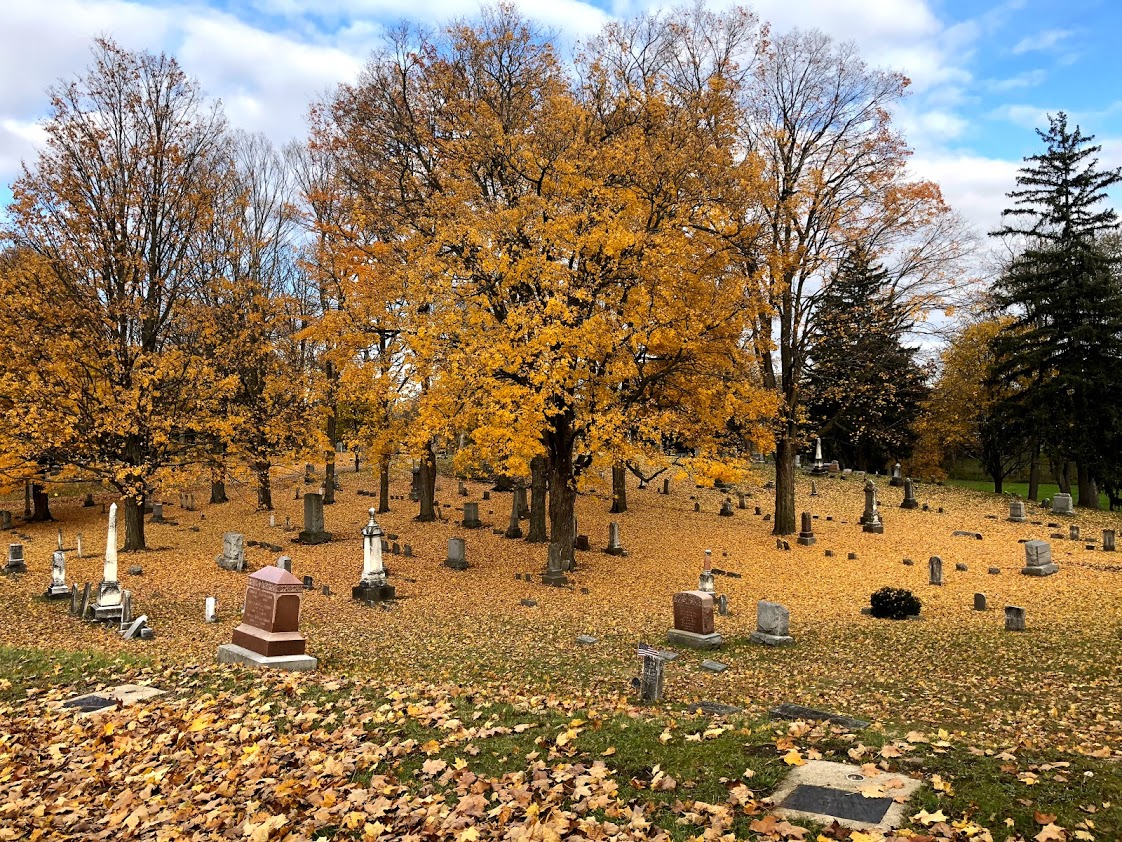 And while you are at the cemetery, you could help others by taking photos of gravestones with the BillionGraves app. As you do, each picture will automatically be tagged with a GPS location. Then when the photos are uploaded, the data will be transcribed and each gravestone will be marked on a map. Thanks to you, this will make it easy for families to find the final resting places of their ancestors.
So take a road trip with the best of both worlds – gorgeous fall colors and genealogical records for families around the globe!
Fall Foliage Cemetery Trip #1: The Catskills, New York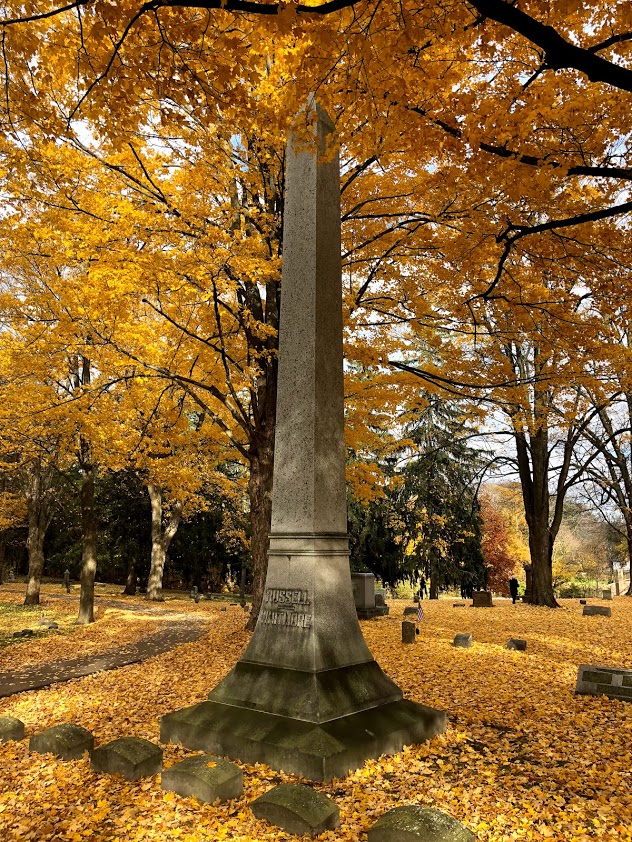 The Catskills region in southeast New York is home to 35 mountains and 6 major rivers.
In autumn, the thickly forested hills are vibrant with fall's yellows, oranges, and reds, making it a popular area for camping and hiking. You can savor the harvest at farmer's markets, historic village festivals, pick-your-own orchards, and craft fairs.
Cemeteries to Visit in the Catskills:
When to Go: The fall foliage is most breath-taking in the Catskills during the last two weeks of September until mid- to late-October.
Fall Foliage Cemetery Trip #2: Saskatchewan, Canada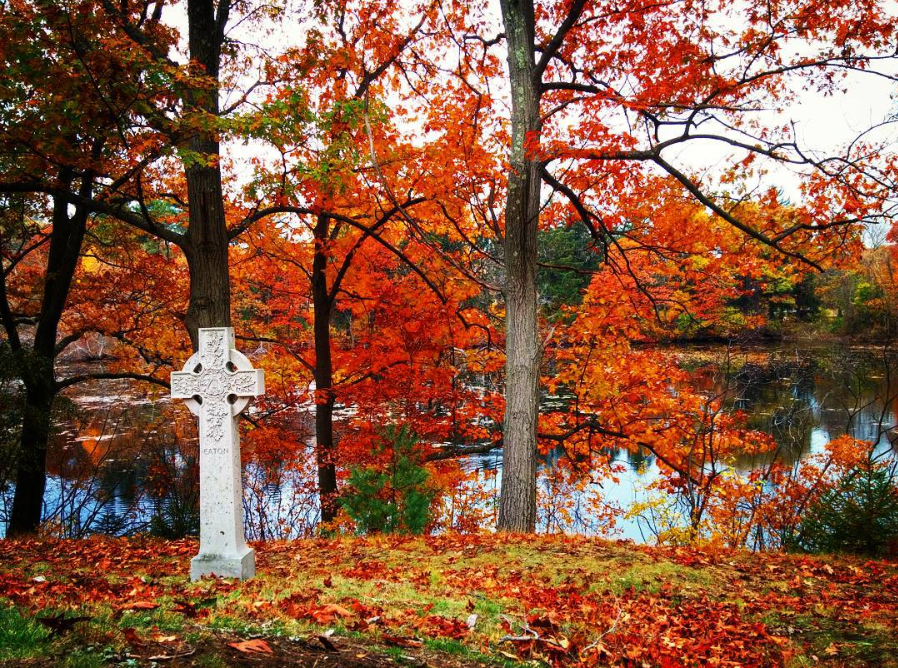 Autumn just may be the best time of the year to explore Saskatchewan. The summer tourists (and mosquitoes) have departed, the weather is still nice, and the countryside is decked out in stunning colors.
Check out Narrow Hills Scenic Drive for an off-the-beaten-path experience. The journey begins at Lower Fishing Lake and climbs steadily to a ridge that overlooks the forest. Gaps in the trees reveal shimmering lakes. It is a great place for photo ops, captivating short hikes, fishing, and camping.
Wildlife abounds, so watch for fox, deer, and coyotes – even in Saskatchewan's cemeteries.
Cemetery to Visit in Saskatchewan, Canada
When to Go: Fall comes early in Saskatchewan, with September and early October being the best times to catch spectacular color.
Fall Foliage Cemetery Trip #3: Hershey, Pennsylvania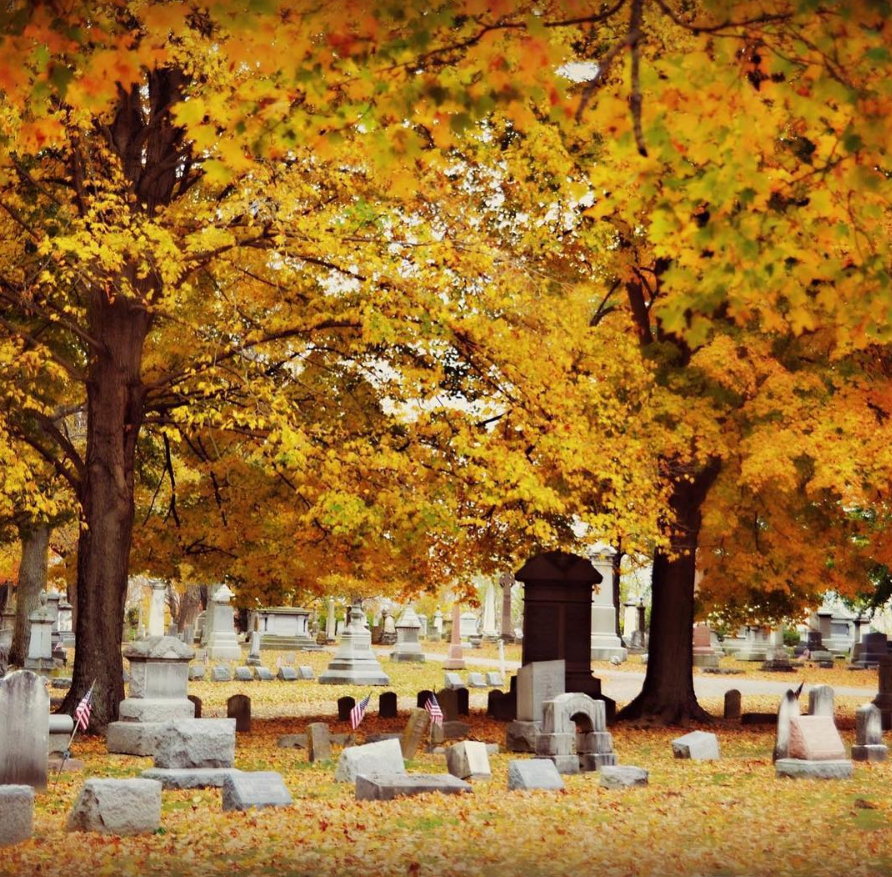 When someone says Hershey, you probably think of chocolate. That is only natural since it is the home of the famous Hershey chocolate factory and the very streets smell like chocolate.
But chocolate is not the only autumn treat in Hershey. The trees that are nestled into this region of the Appalachian Mountains are pure eye candy. From each branch, leaves dangle in brilliant colors – lemon yellow, ruby red, or citrus orange.
You could easily make it annual tradition to escape to the Hershey area to enjoy vintage covered bridges, apple festivals, pumpkin patches, and migrating birds.
Cemeteries to Visit near Hershey, Pennsylvania:
When to Go: Hershey shows off her autumn colors from late September through the month of October.
Fall Foliage Cemetery Trip #4: The Berkshires, Massachusetts & Connecticut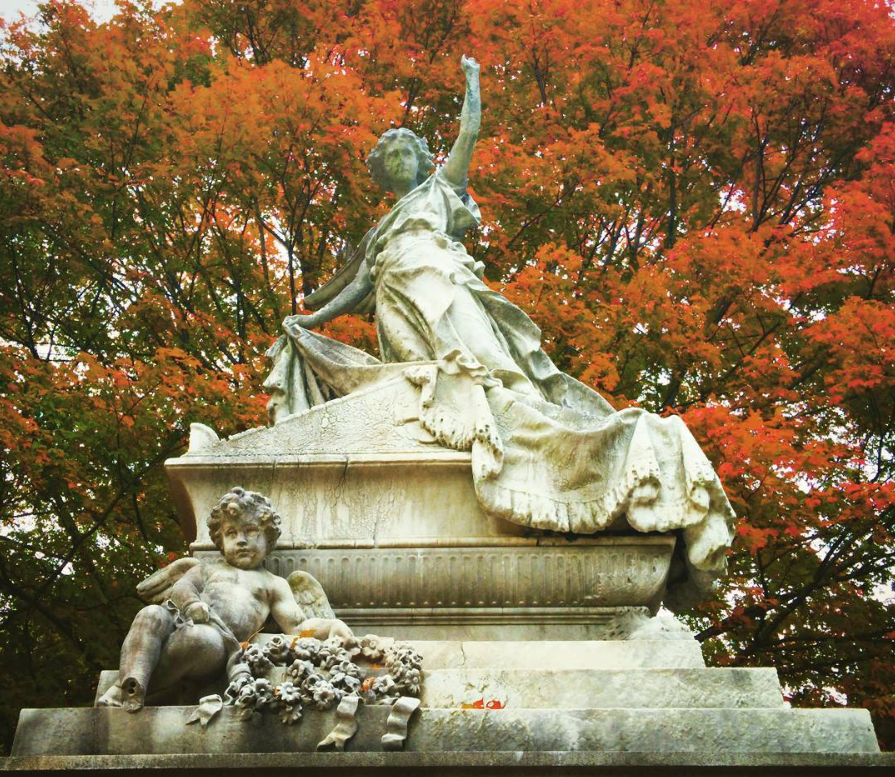 The Berkshires is a rural mountain area dotted with villages and towns that serve as an escape for city-dwellers from Boston, Philadelphia, and New York. It encompasses part of the Appalachian Trail.
You may want to check out Bish Bash Falls, the tallest waterfall in Massachusetts or Kent Falls, the largest waterfall in Connecticut.
Whether you like to go antiquing, art gallery-hopping, or wander leaf-strewn hiking trails, the Berkshires is the place to be in the fall.
Cemeteries to Visit in the Berkshires:
When to Go: Leaves start changing in the Berkshires in late-September and will peak by mid-October, around Columbus Day weekend. You'll still find some pretty color in late October, but it will trail off into November.
Fall Foliage Cemetery Trip #5: Bavaria, Germany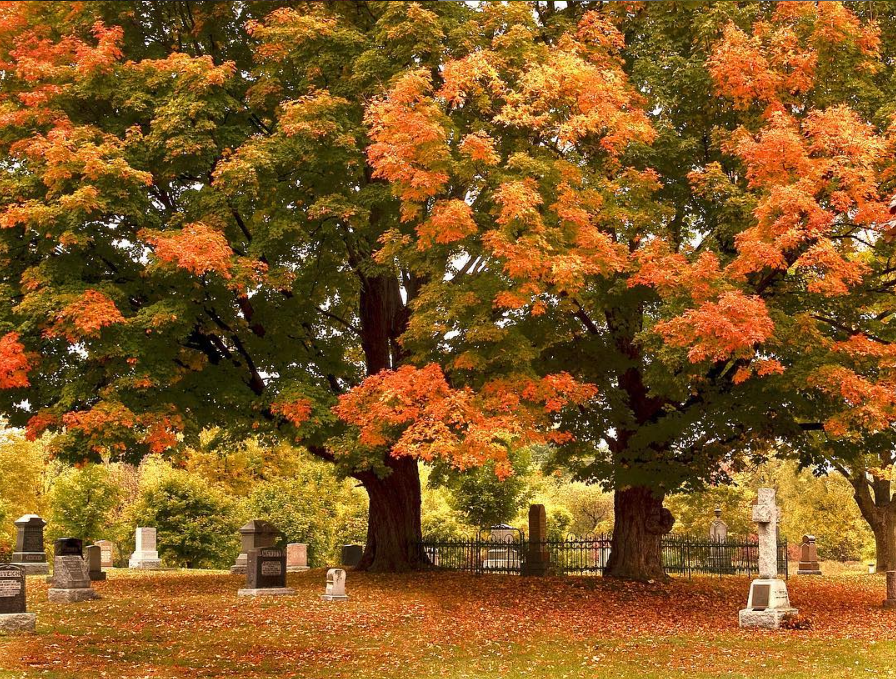 Autumn in Bavaria is aflame in orange, reds, and yellows across the mountainsides and into the thick forests.
The fairy-tale castle of Neuschwanstein, noted as one of the most beautiful castles in Europe, is especially breath-taking against a backdrop of fall foliage.
Cemeteries to Visit in Bavaria:
When to Go: Fall foliage can be found in Bavaria from mid-September throughout October, depending on the elevation. Mountain regions will peak in mid-September, while forests will reach their autumn apex in mid-October.
Fall Foliage Cemetery Trip #6: Maple Alley, Złoty Potok, Poland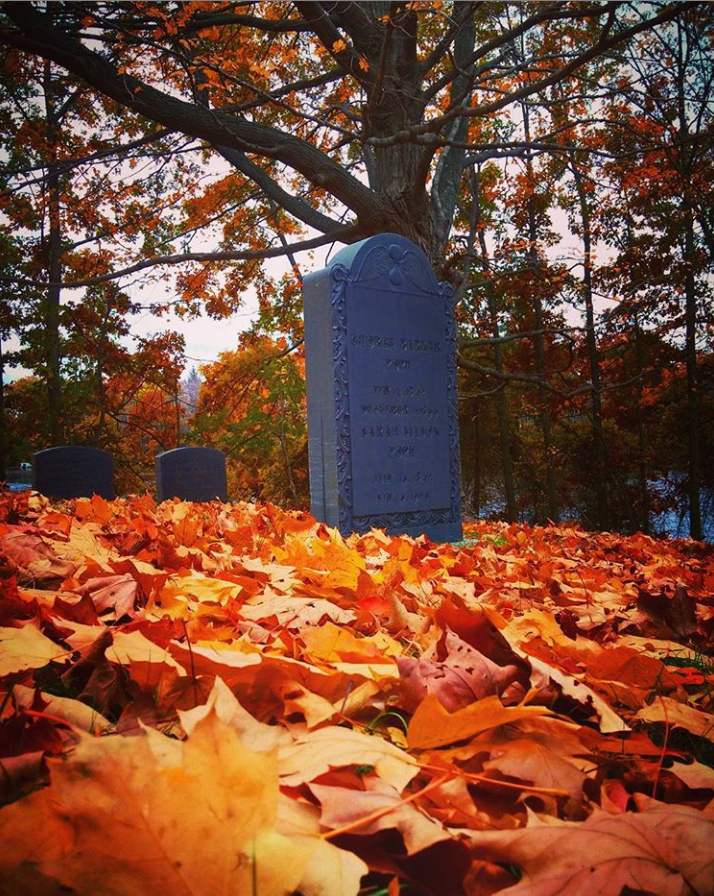 Move over, New England states, because here comes Maple Alley in Złoty Potok, Poland! It is one of the loveliest places in the world to enjoy fall foliage.
Maple Alley is a charming street between the two Polish cities of Kraków and Czestochowa. During the autumn, cool nights and shortened days turn it into a tree-lined blaze of color.
Maple trees lose their leaves fairly quickly, but when you catch them at their peak, they are just magical.
Cemeteries to Visit:
Cmentarz Rakowicki (Rakowiki Cemetery), Kraków, małopolskie, Poland
Cmentarz Parafialny na Salwatorze (Salwator Cemetery), Aleja Jerzego Waszyngtona 1, Kraków, Kraków, małopolskie, Poland
Cmentarz Kule (Kule Cemetery), 239 Generała Augusta Fieldorfa-Nila, Częstochowa, Częstochowa, śląskie, Poland
When to Go: A fall foliage day trip down Maple Alley will be most rewarding in late October.
Fall Foliage Cemetery Trip #7: Green Mountain Byway, Vermont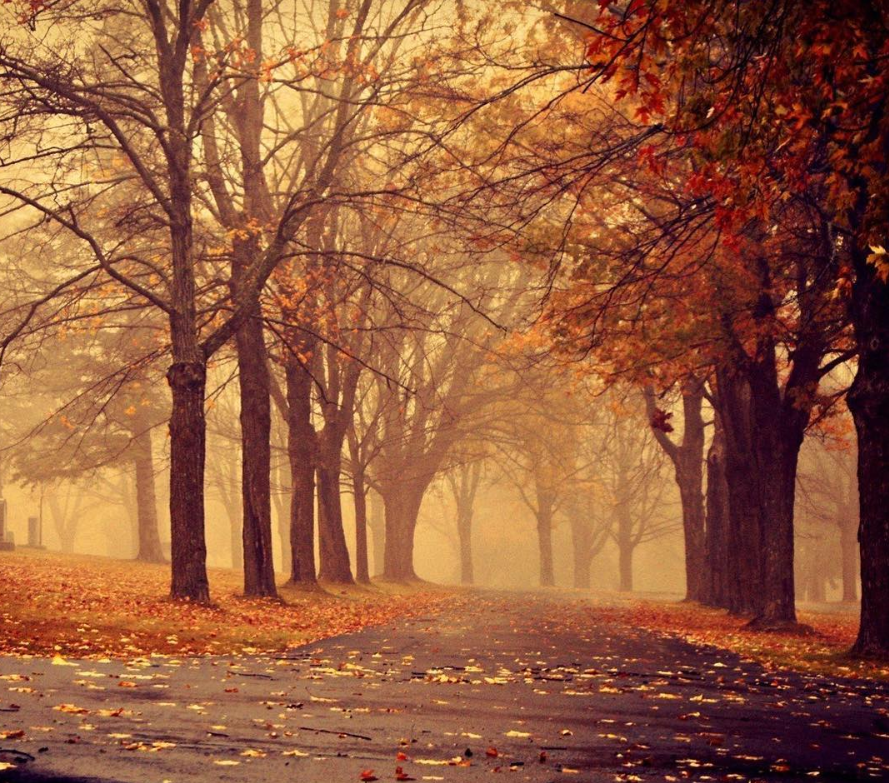 The eleven-mile Green Mountain Scenic Byway is lined with beech, maple, and birch trees, making it one of the most spectacular displays of fall foliage in New England.
Take your pick from 2 state forests and 3 state parks. You'll see meadows, villages, and farmland against a backdrop of tree-covered mountains.
Along this scenic byway, hike, bike, or shop 'til you drop. Try out the zip-line down Vermont's highest peak at Stowe Mountain Resort.
This is the home of the infamous Ben & Jerry's Ice Cream, so leave time to sample your favorite kind and take a tour of the factory in Newbury, Vermont. You could even visit Flavor Graveyard, where the company's ice-cream flavors are retired.
Cemeteries to Visit in Green Mountain Byway:
When to Go: Northern Vermont leaf-peeping begins in mid-September and peaks the first week in October.
Fall Foliage Cemetery Trip #8: Seoul, Korea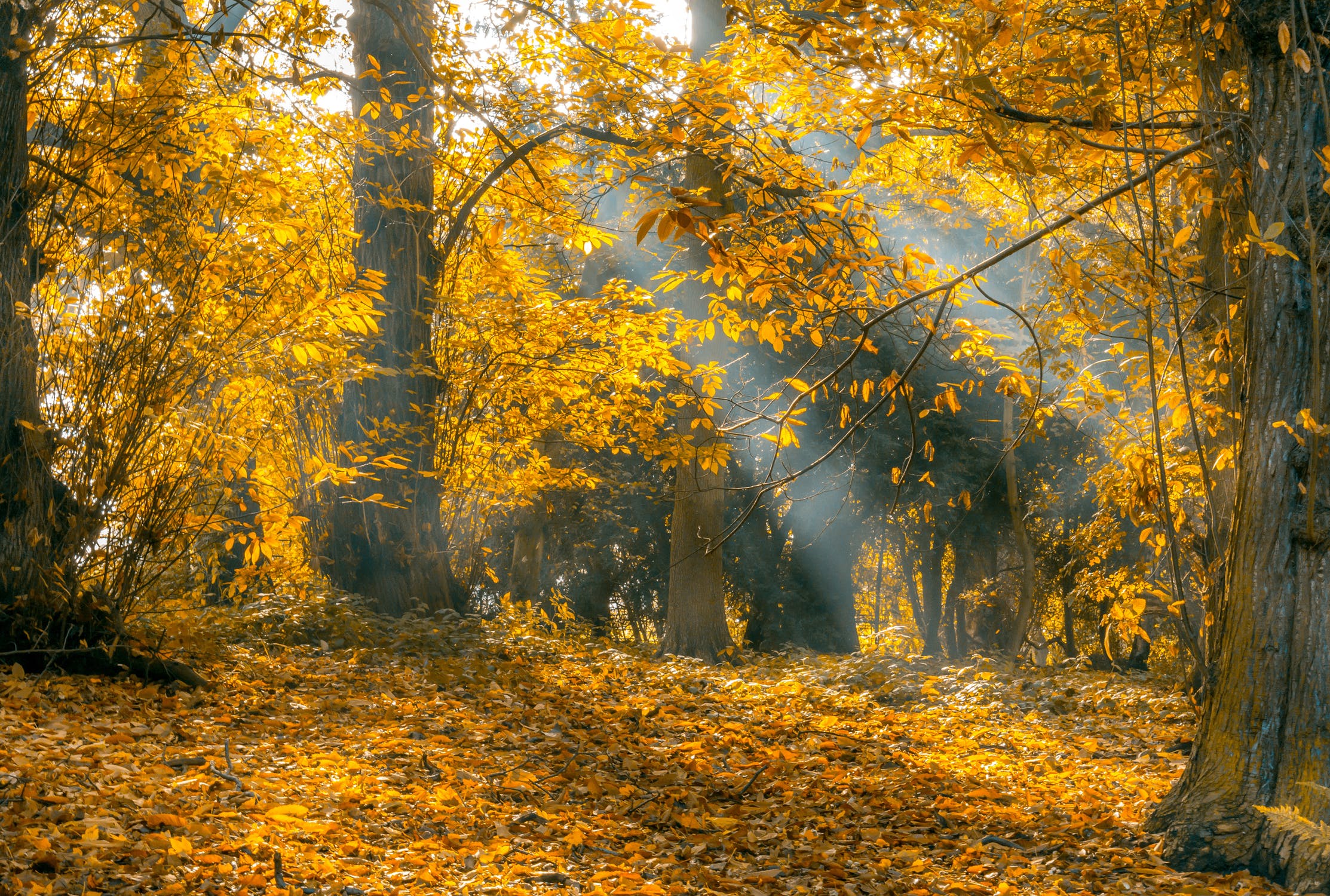 Deoksugung Palace Stone-wall Road merges the hustle of Seoul's city-life with the serene beauty of nature. The 900-meter road is lined with trees that turn amber, vermillion, and golden yellow.
In fact, if you walk in almost any direction around Seoul and you will find charming parks between the high-rise apartment complexes.
Each park is designed to be an open-air gym – for all ages. Adults enjoy walking paths and outdoor exercise equipment, while children play on soccer fields and playgrounds. And the maple and ginkgo trees in autumn are just dazzling.
Cemetery to Visit in Seoul:
When to Go: Fall color will begin in mid-October and last well into November in Seoul.
Fall Foliage Cemetery Trip #9: Niagara Falls in New York and Ontario, Canada
You can't go wrong in the Niagara Falls area with things to do. Climb the wooden walkway next to Niagara Falls to catch a view of the cascading water from above. You're sure to see one of the ever-present rainbows that appear as the sun shines through the mist thrown up from the falls.
Or go right down into the mist and ride the tour boat, Maid of the Mist, for an up-close view of the 167-foot waterfall. You'll be provided with rain jackets and a view of the falls that you'll never forget.
But even with all that excitement, it will be worth your time to sidestep the usual tourist spots for some quiet time among the dazzling autumn trees at Oakwood Cemetery.
In 1913, Oakwood built an amazing mausoleum. It features soaring stone columns, two stained glass windows (one designed by Louis Comfort Tiffany), gray Vermont marble walls and white marble floors. Huge bronze doors lead to a central chapel, a quiet place for peaceful contemplation.
This magnificent mausoleum has become the final resting place for 350 of the most influential people in the area. One of them is Annie Edson Taylor, the first person to travel over Niagara Falls in a barrel.
Cemeteries to Visit in Niagara Falls:
When to Go: You'll find the best fall color around Niagara Falls from mid-September through the 3rd week of October.
Fall Foliage Cemetery Trip #10: Montreal, Canada
Montreal is considered to be one of the best fall foliage destinations in the world. And one of leaf-peeper's favorite places in Montreal is Mount Royal Cemetery with its beautiful tree-lined walking trails.
Other popular spots for autumn color are the Montreal Botanical Gardens, Morgan Arboretum, and Bois-de-Liesse Park.
The season usually peaks around early to mid-October. But the cool nights and warmer days can make it tricky to predict when the leaves will be ablaze in crimson, gold, and umber or when they will brown and fall to the ground. So you may want to keep your eye on this fall foliage prediction map.
Cemeteries to Visit in Montreal:
When to Go: The first half of October is the best time for fall foliage touring in Montreal. For earlier leaf viewing, hit the greater Quebec area in September.
Whether you are able to road trip to one of these ten great fall foliage destinations or find one on your own, we hope you are able to enjoy the beauty of nature in a peaceful cemetery this autumn.
Happy Leaf-Peeping and Gravestone Picture-Taking!
Cathy Wallace and the BillionGraves Team
Using the BillionGraves App
Download the BillionGraves app to your smartphone.
Create a free account on the app or at BillionGraves.com.
In the app, click on "take pictures" and begin taking photos of gravestones. The GPS location will automatically be recorded.
When finished, tap the upload button. You may connect to WiFi first if desired.
Repeat! 🙂
Group Cemetery Service Project
If you would like help planning a BillionGraves group activity at the cemetery this fall send us an email at Volunteer@BillionGraves.com and we'll be happy to help you!
Related posts