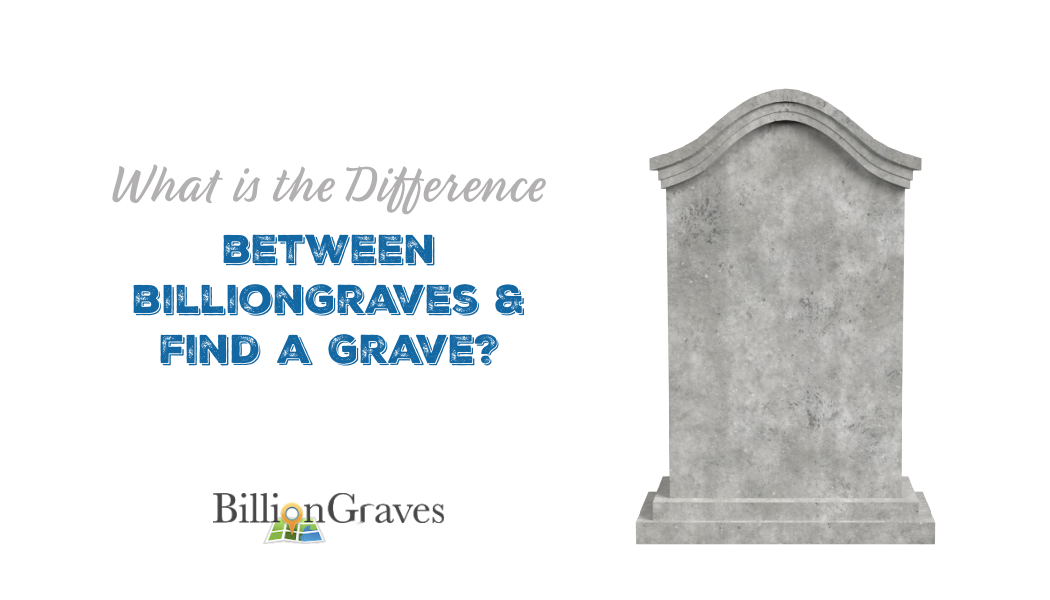 What is the Difference Between BillionGraves and Find A Grave for Researchers?
Cathy Wallace, 5 years ago
10 min

read
87474
It's a question we get asked a lot: What is the difference between BillionGraves and Find A Grave?
First of all, there are many similarities between BillionGraves and Find A Grave, but it's what we do differently that really sets BillionGraves apart.
This blog post focuses on how the differences between BillionGraves and Find A Grave impact research for genealogists and family historians.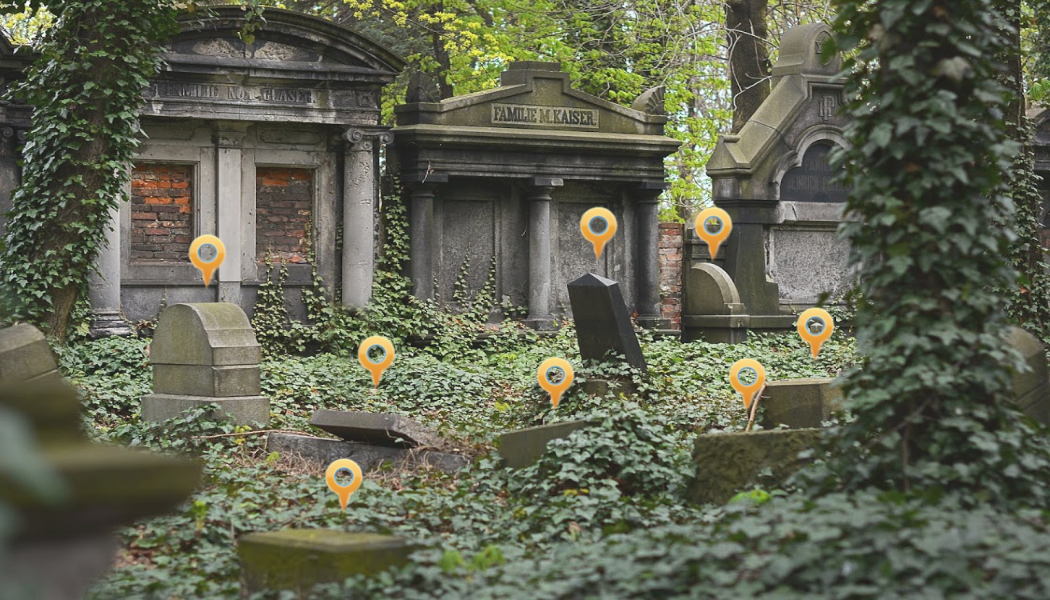 Who are BillionGraves and Find A Grave?
As a researcher, it is important to understand who BillionGraves and Find a Grave are.
Find A Grave
started in 1995
developed to cater to founder Jim Tipton's hobby of visiting celebrity's graves
the company's mission is to post memorials, remembrances, and virtual flowers of celebrities and every-day people
180 million+ memorials, some have gravestone images and some do not
BillionGraves
started in 2010
developed by Brian Moncur to specifically meet the needs of the genealogical community
the company's mission is to provide accurate gravestone data with both images and GPS locations
50 million headstone images – all with gravestone images and GPS coordinates
175 million total records
BillionGraves also adds 500,000+ new images every month!
Find A Grave and BillionGraves are similar in that both websites have cemetery data.
The primary difference between the two companies is that with BillionGraves, EVERY record you find will have a photo and a GPS location. And why should this matter to you as a genealogical researcher? Because by gathering an image and a GPS-location for every headstone, BillionGrave is following the Genealogical Proof Standard.
What is The Genealogical Proof Standard?
"The Genealogical Proof Standard is a guideline for establishing the reliability (proof) of a genealogical conclusion with reasonable certainty. It is important within the genealogical community for clearly communicating the quality of research performed, such as by a professional genealogist. It is also useful for helping new genealogists understand what is needed to do high-quality research."
The Board for Certification of Genealogists states that to reach a sound conclusion all five elements of the Genealogical Proof Standard must be met. They are:
a reasonably exhaustive research
complete and accurate source citations
analysis and correlation of the collected information
resolution of any conflicting evidence
a soundly reasoned, coherently written conclusion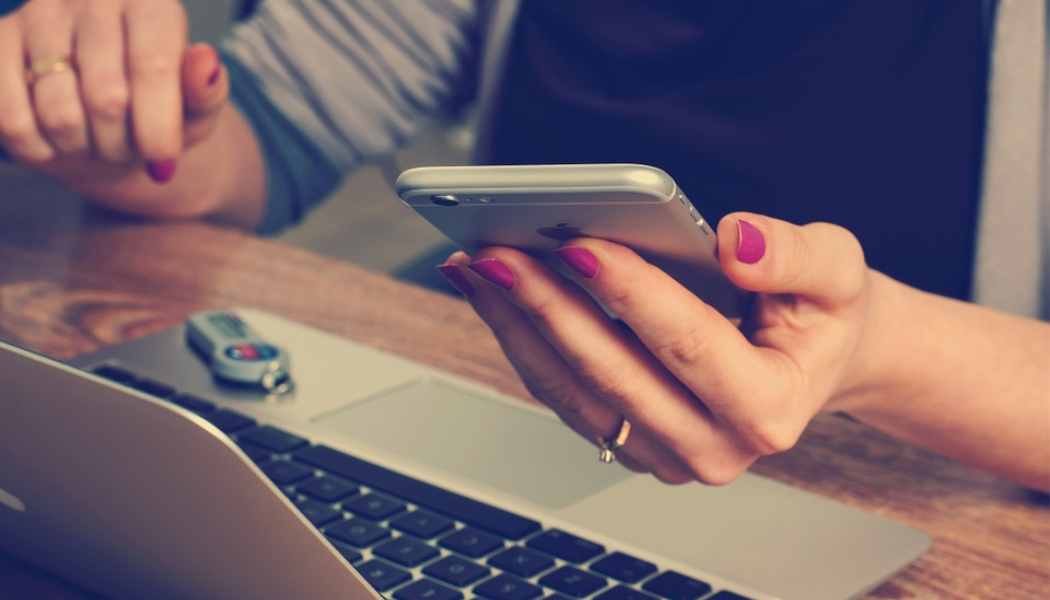 Do BillionGraves and Find A Grave both follow The Genealogical Proof Standard?
Based on the definition above, no. Only BillionGraves follows The Genealogical Proof Standard.
Find A Grave's stated objective is to create memorials. It was not started as a genealogical site, so it makes sense that how they acquire data does not put emphasis on following the Genealogical Proof Standard.
BillionGraves, however, is an open-source database that is EVIDENCE FIRST. Meaning, BillionGraves records start with a gravestone image and then that image can be connected to a person on a family tree – not the other way around.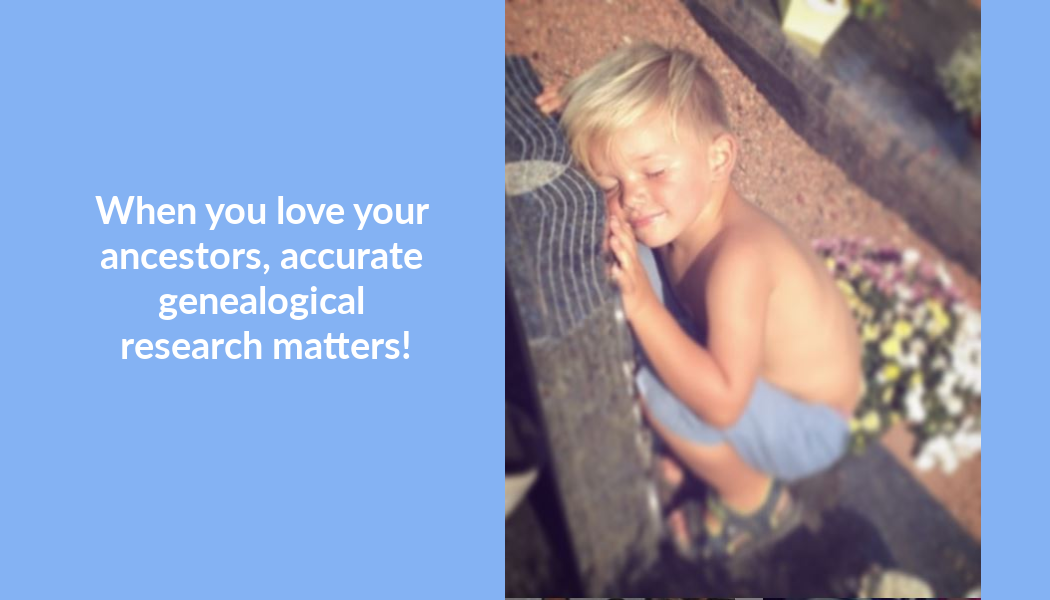 Why is it important to have an actual photo of the gravestone?
A photo of the gravestone allows researchers to verify that the information on the stone has been accurately transcribed and attributed to the correct person.
Find A Grave users establish memorials by entering information they have gathered about the deceased. Though the name "Find A Grave" has the word "grave" in it, the memorials on the site often do not have a photo of a gravestone.

Why is it important to have a GPS location of the grave?
Finding a particular gravestone at a large cemetery using Find A Grave can be like searching for a needle in a haystack. GPS locations are not marked on a map. So gravestones must be located by walking until the right one is spotted.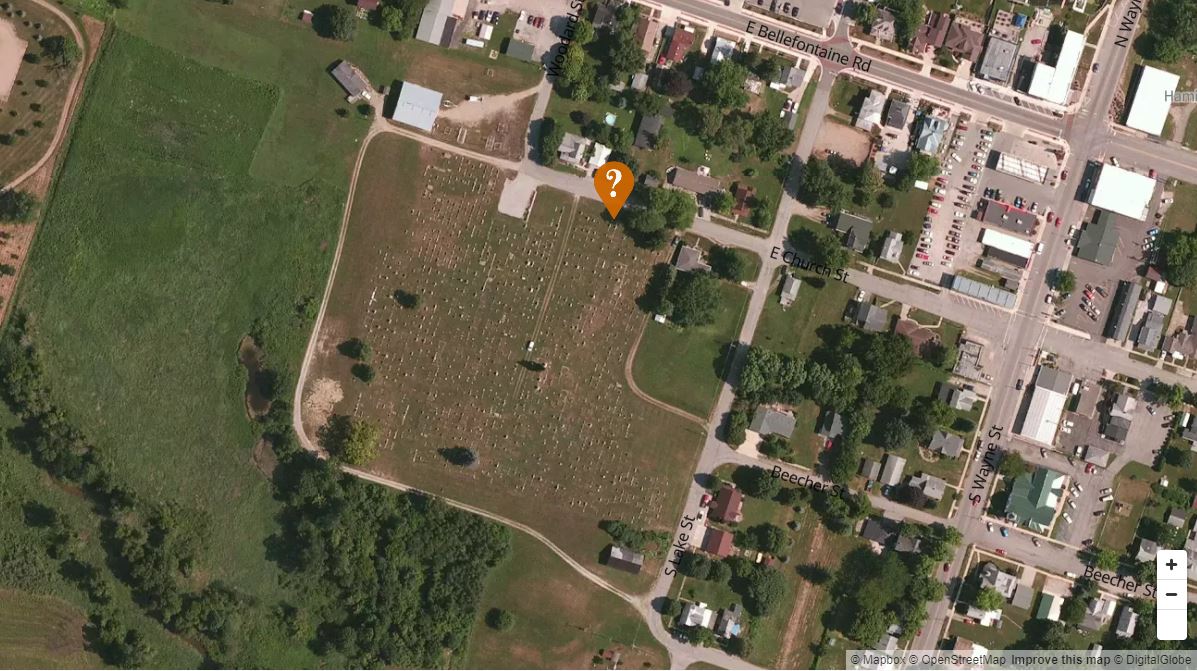 Above is a Find A Grave map of a cemetery in Hamilton, Indiana. The Find A Grave website claims this cemetery is 86% photographed. However, there are no markers on the map to show which graves are done.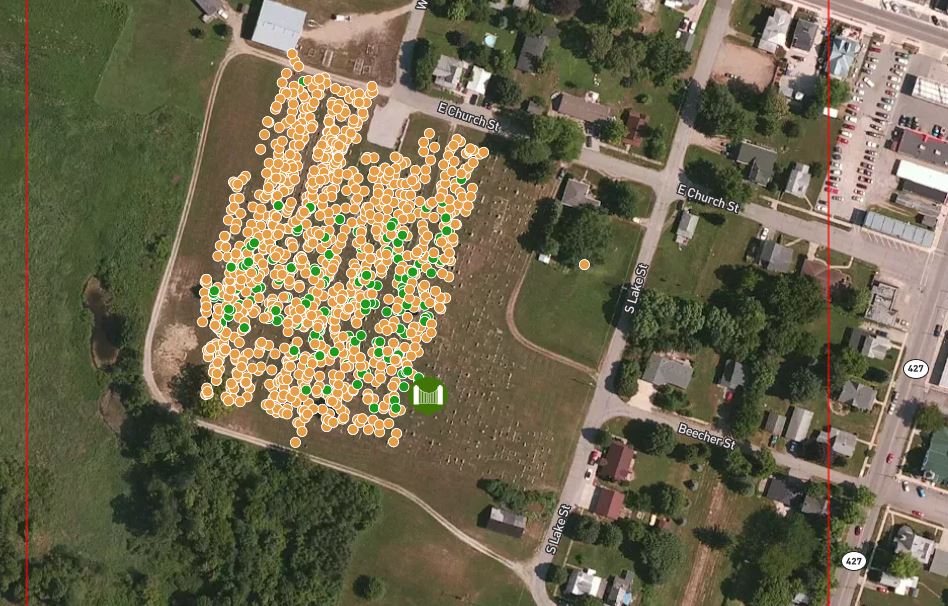 This is a BillionGraves map of the same cemetery in Hamilton, Indiana. The dots represent photos and GPS locations for each gravestone. The gravestones that are visible on the right side of the map have not yet been photographed.
What does the percentage on Find A Grave mean?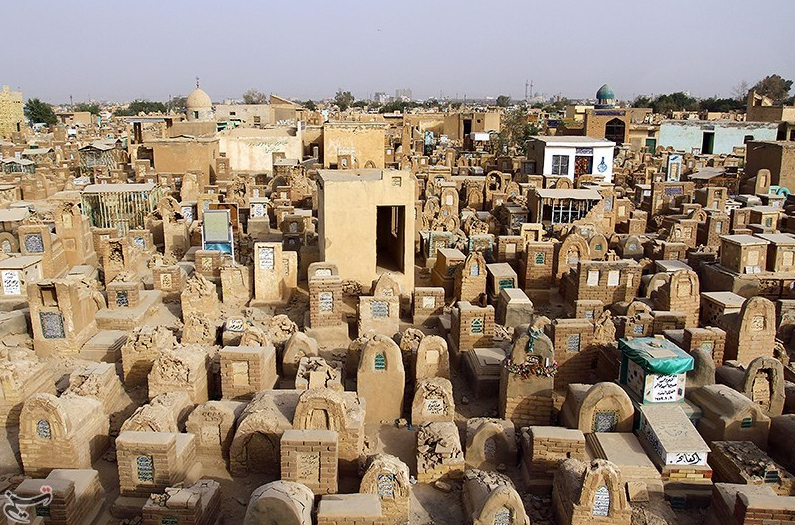 If Find A Grave's website says that a cemetery is 60% done (or similarly for any other percentage) that just means that 60% the entries or memorials created for that cemetery have been photographed. It does not mean that 60% of the entire cemetery has been photographed.
For example, according to Wikipedia, the Wadi-us-Salaam Cemetery in Najaf, Iraq has tens of millions of burials. Find A Grave's website for the Wadi-us-Salaam cemetery shows that there are 20 memorials created for people who have been buried there and 60% of those have been photographed.
Most people who look at the Find A Grave website would assume that 60% of the tens of millions of gravestones have been photographed, not just that 60% of 20 memorials have some sort of photo added to them.
If you look at those 20 memorials, you will see that the photos are not all of gravestones – they are portrait photos and other things.
Is it easier to find an ancestor's gravestone at a cemetery with BillionGraves or Find A Grave?
I talked with a couple that tried to find an ancestor's final resting place in a cemetery with nearly 30,000 gravestones. They knew the ancestor was buried there because the grave was posted on Find A Grave. But they spent four hours in the hot summer sun searching up and down the rows to find it.
I told them about how simple that would have been with the BillionGraves app. In just a few minutes they could have gone straight to the gravestone. Here's how: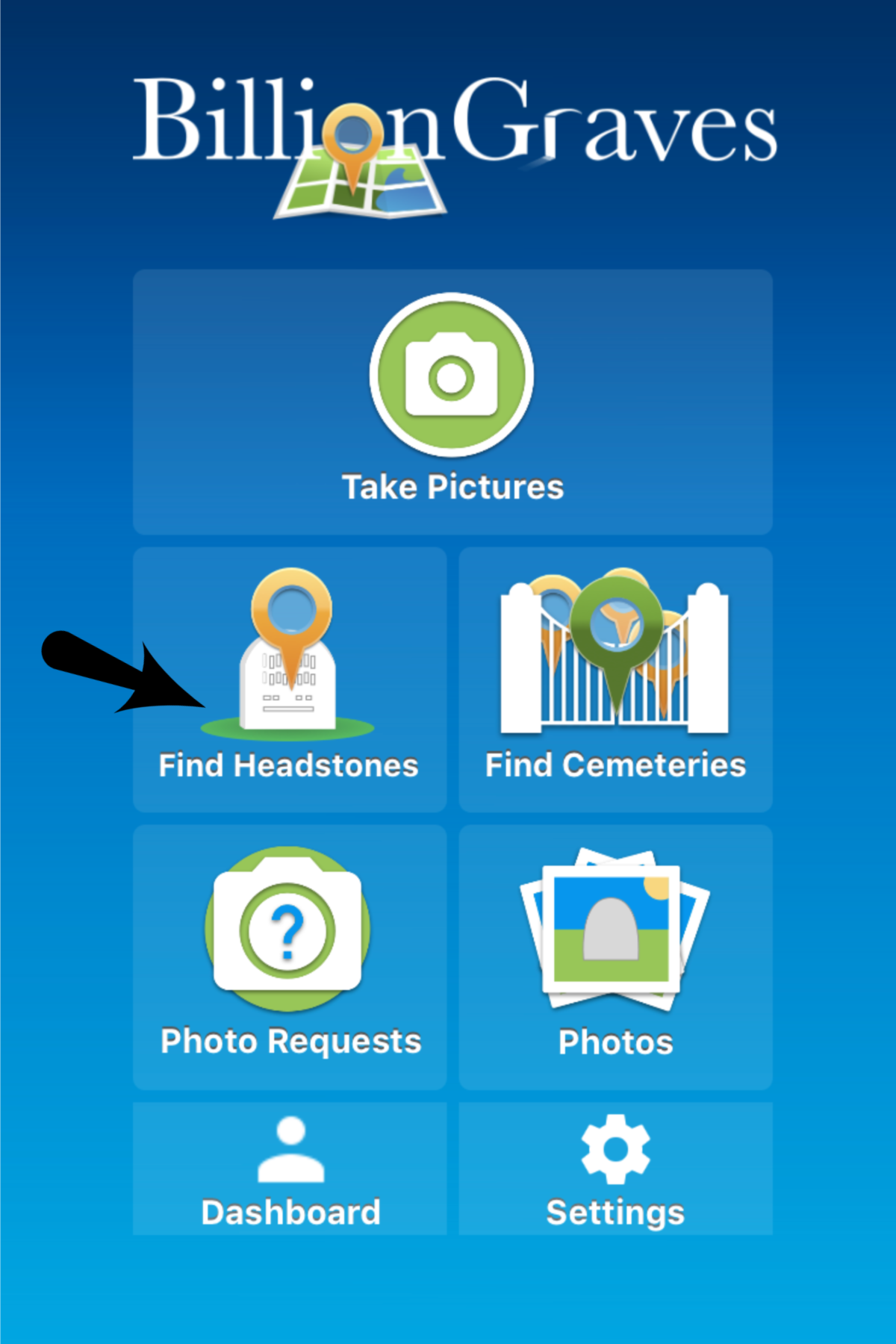 First, open the BillionGraves app and click on "Find Headstones."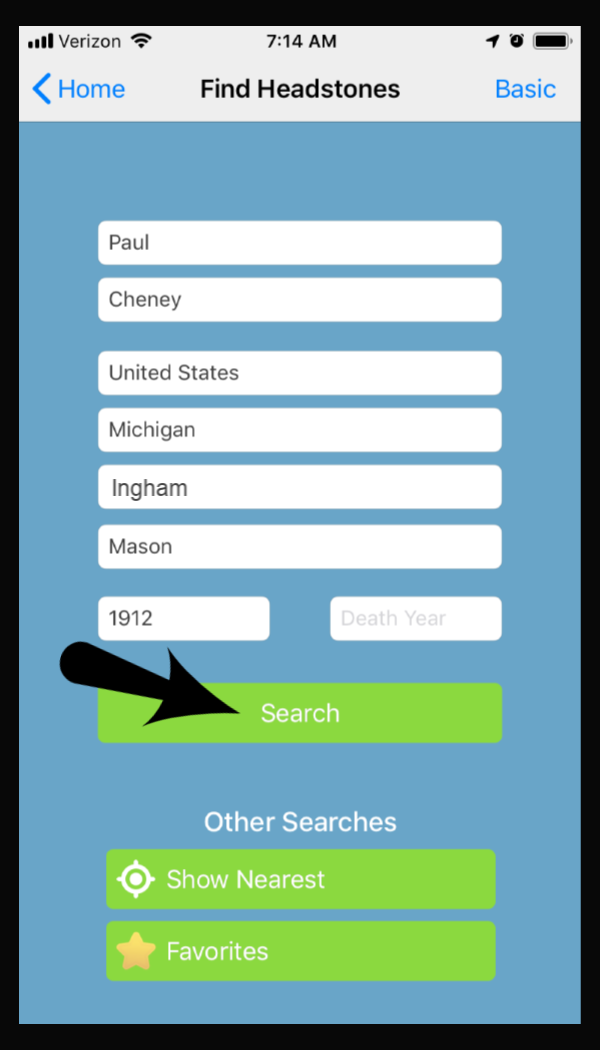 Then enter your ancestor's information. Usually, just the name is enough to find it, but you can enter birth and death years if you like. Click "Search." A page opens with information about the individual.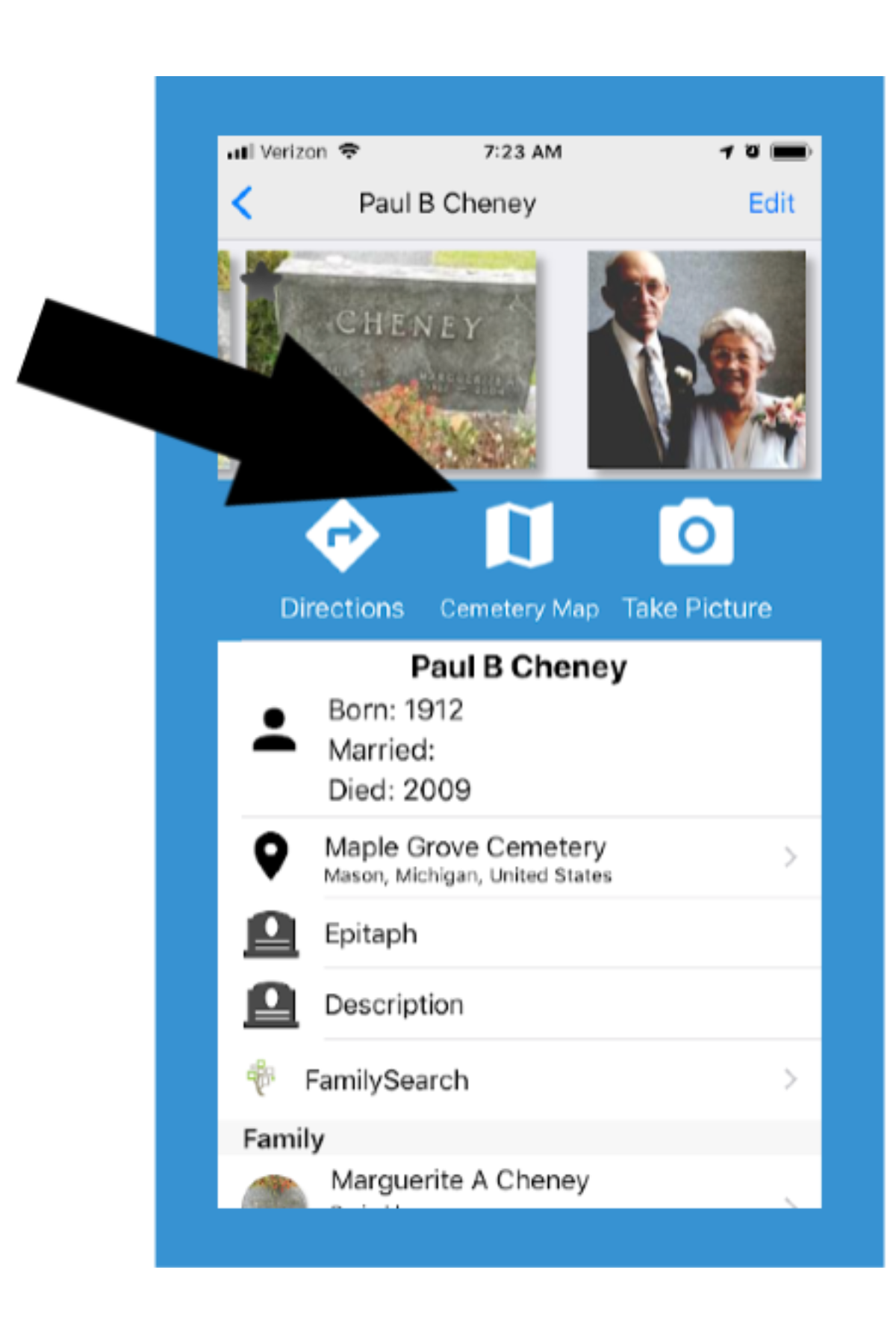 Next, click on the white icon in the center of the blue bar labeled "Cemetery Map."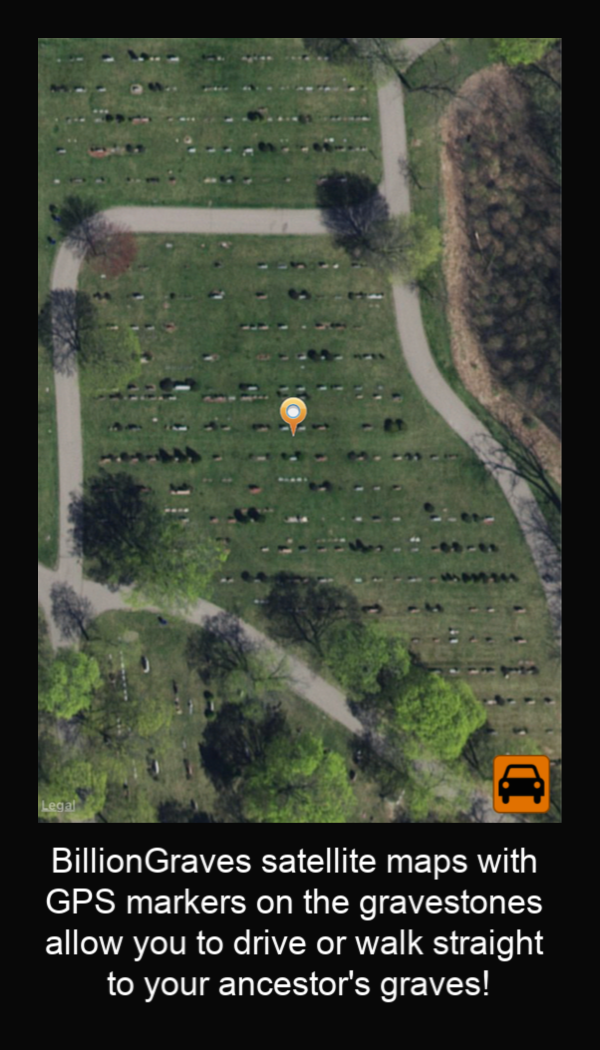 A satellite map of the cemetery opens with a GPS marker tagging your ancestor's gravestone!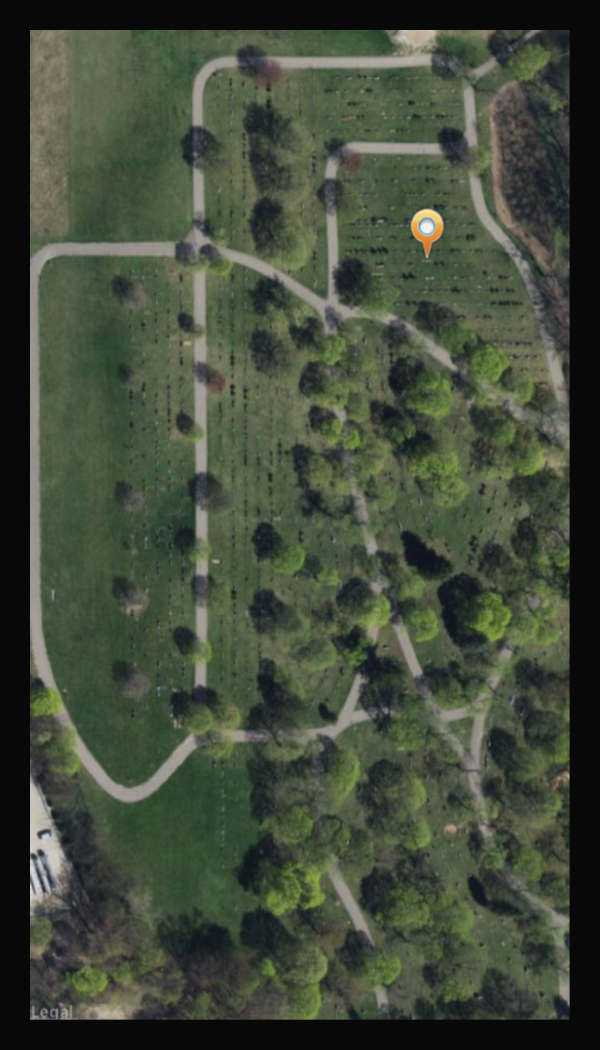 As you can see from this map as we zoom out, it would have taken a long time to search this cemetery to find this particular gravestone if you did not have a GPS marker!
When I showed the couple how simple it was to find gravestones with the BillionGraves app they said, "Oh, if we had only known! It would have saved us so much time!" Within minutes of arriving at the cemetery, you can be standing in front of your ancestor's grave by using the BillionGraves app!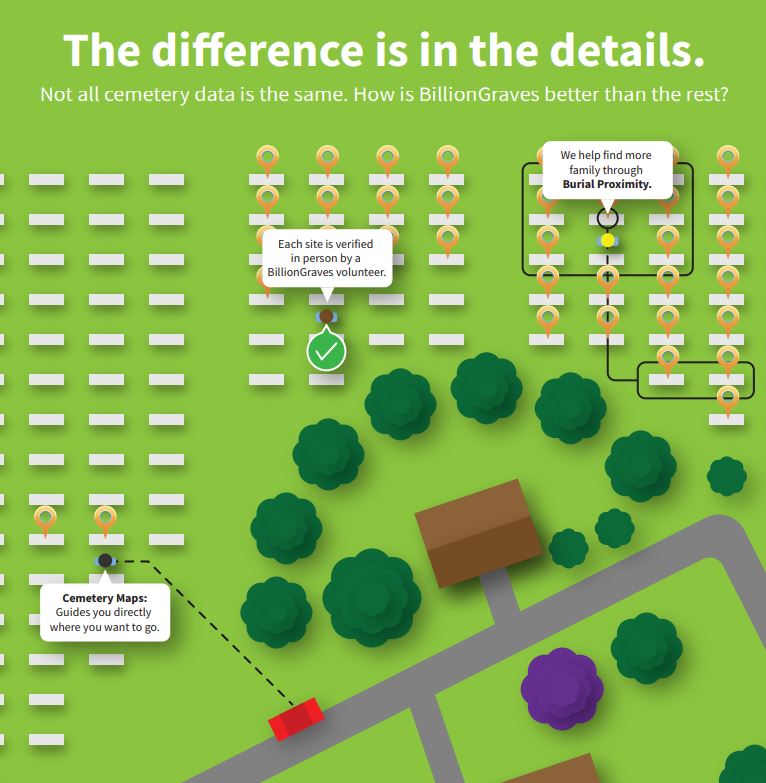 How can I find unknown relatives with BillionGraves or Find A Grave?
Did you know that 70% of people are buried in family plots?
The BillionGraves Plus Nearby Graves feature allows you to search the cemetery to see who is buried in close proximity to your ancestor.
Those in close proximity to each other usually indicate familial relationships.
So when you find your ancestors on a BillionGraves' record you may also find cousins. You may find sisters with different last names due to marriage. Your search may even reveal grandparents buried near babies that were, in fact, their grandchildren with different last names.
You can then use the connections you found with the GPS-linking to do further genealogical research to locate additional sourced-documentation.
Take Thomas Jefferson for example . . .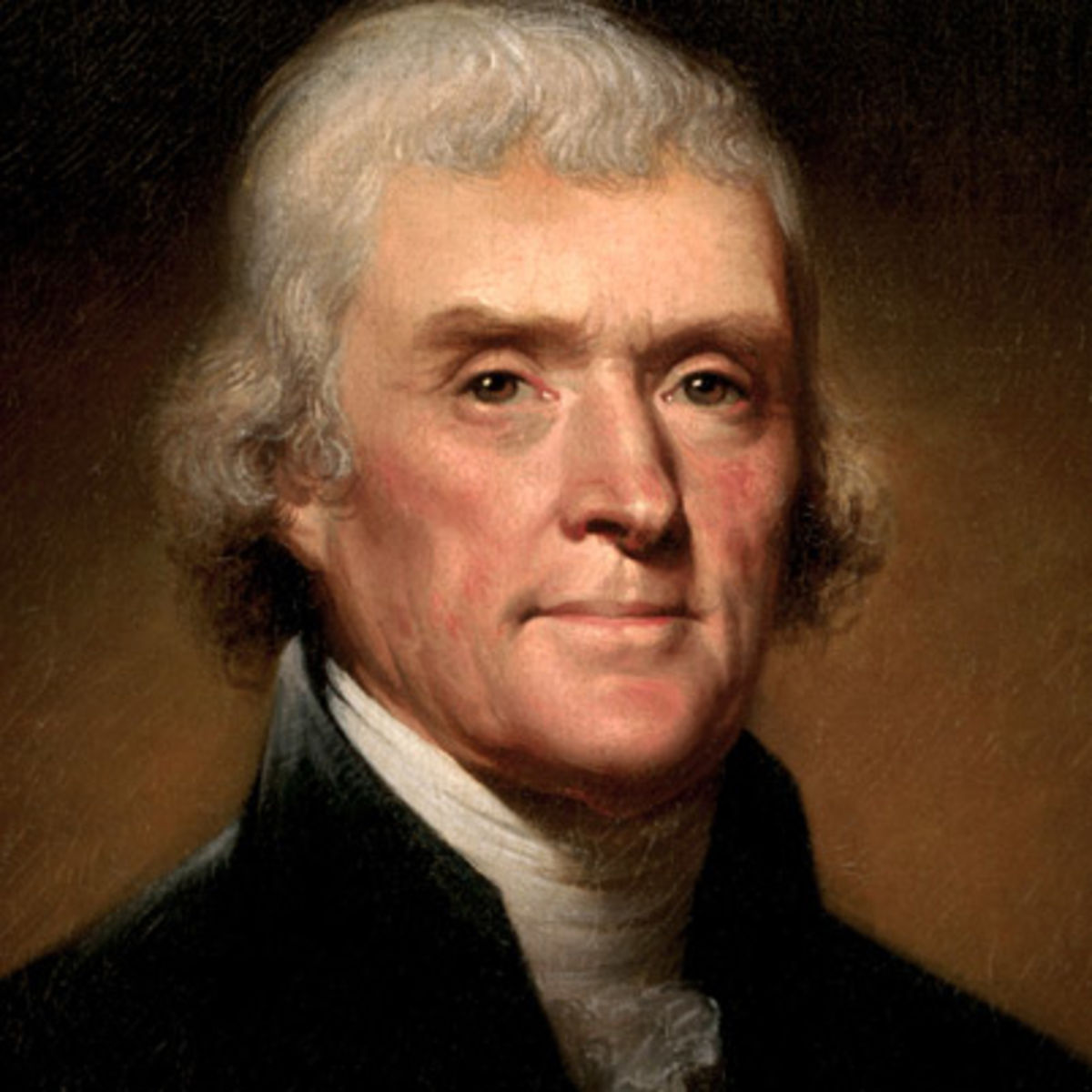 This BillionGraves blog post shows how to use BillionGraves GPS Nearby Graves feature to find people who are buried near United States president, Thomas Jefferson. Once they have been found, research can confirm if the nearby graves belong to family members.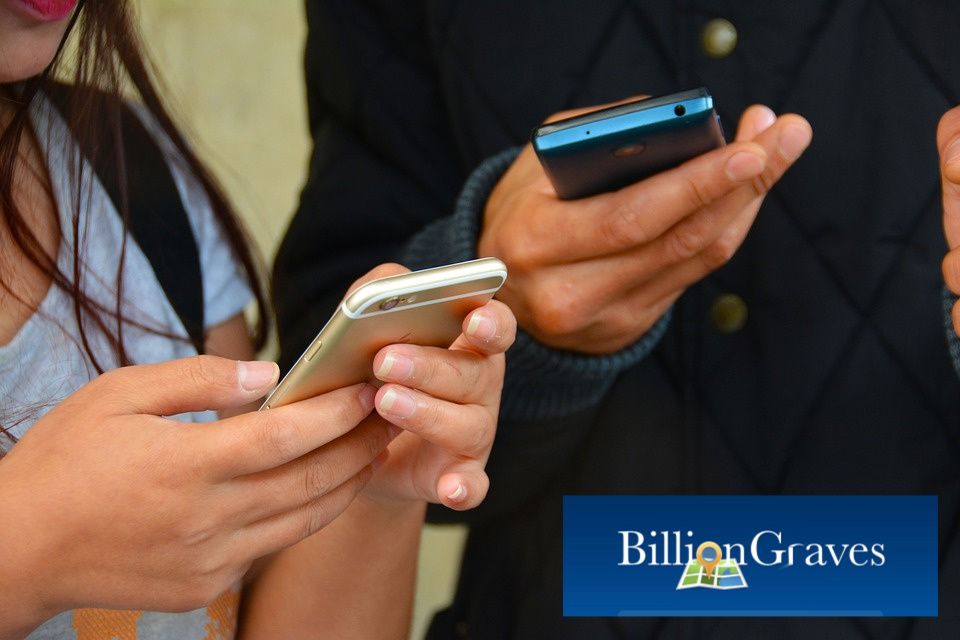 Why don't BillionGraves and Find A Grave work together?
Well, because we aren't doing the same thing. BillionGraves emphasizes the importance of every headstone having an image and a GPS location. This ensures accuracy in your family tree that follows the Genealogical Proof Standard.
Who owns BillionGraves and Find A Grave?
BillionGraves is an independently owned company. BillionGraves partners with FamilySearch, My Heritage, FindMyPast and other genealogical companies. Each of these companies has indexes of BillionGraves records. The data has been shared with these partners to help get the genealogical data into the homes of more users.
Find A Grave is owned by Ancestry.com. The company was sold to Ancestry.com in 2014 and continues to work under their umbrella.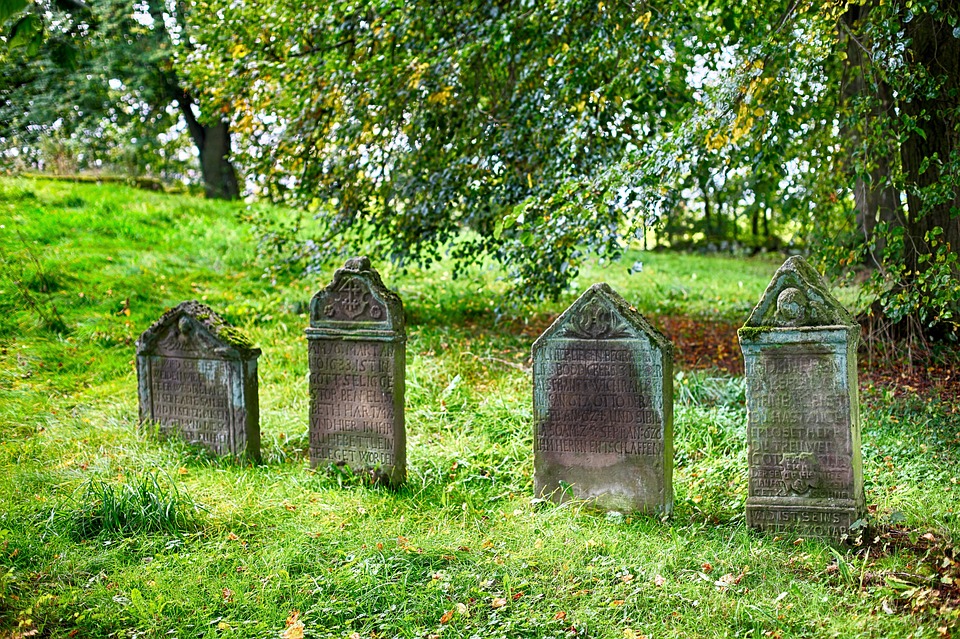 How can understanding the differences between BillionGraves and Find A Grave impact your family tree?
To see how the information about BillionGraves and Find A Grave can impact your own family tree, let's look at an example.
Genealogist Anna Young wanted to extend her family tree by finding the gravestone of her great-aunt, Alice Bower.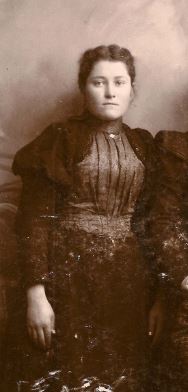 Anna initially turned to Find A Grave to search for Alice's gravestone. She discovered an entry that said that Alice was buried at the Manor Church of the Brethren Cemetery in Washington County, Maryland. There was even a photo of Alice's headstone.
So Anna took a trip from Utah to Maryland to see the headstone. She also planned to gather additional information about those buried nearby.
When Anna arrived at the cemetery in Maryland she began walking the rows of gravestones to find her family members. Eventually, she found some relatives buried there, but no Alice.
Anna had traveled 2000 miles to see that headstone. Needless to say, Anna was very disappointed. When she contacted the individual who had uploaded the photo, she never received a response. She later found that the record had been removed altogether from Find A Grave without mention.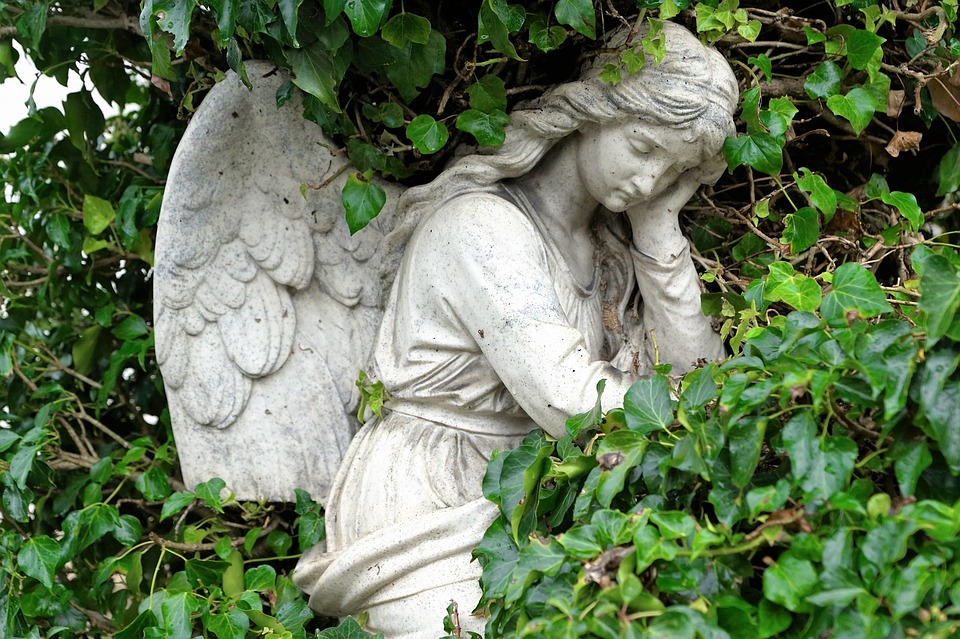 Anna's Testimonial
"I now use BillionGraves because it is the only website with verified headstone data," Anna said. "In order to take a photo, a user has to be in the cemetery with the headstones. When photos are taken with the app, a GPS marker is placed in the cemetery with pins. This way when a loved one goes to a cemetery looking for a specific headstone, they can find it quite easily and know it is there for certain."
Anna continued, "I have used Find A Grave in the past and continue to use it only as a reference for older stones that are hard to read. However, on their site, you have to trust that the stone is where they say it is. Unfortunately, in all my years of research, I have found many mistakes in Find A Grave's stone placement. With BillionGraves you know for certain where a stone is because of their GPS tracking."
BillionGraves and Find A Grave have different purposes.
The mission of BillionGraves is to provide sourced documented records that genealogists can rely on. It follows the Genealogical Standard of Proof by providing GPS-linked gravestone images as a foundation for additional information. It follows the pattern of providing evidence first. BillionGraves has grown to be the world's largest GPS-linked cemetery database.
Your research matters to us! We want to help your family tree be the best, well-sourced documented tree it can possibly be!
Happy Researching!
Cathy Wallace and the BillionGraves Team
P.S. Would you like to take photos with the BillionGraves app? Or lead a group in documenting a cemetery? Click HERE to get started.
You are welcome to do this at your own convenience, no permission from us is needed. If you still have questions or concerns after you have clicked on the link to get started you can email us at Volunteer@BillionGraves.com.
Related posts