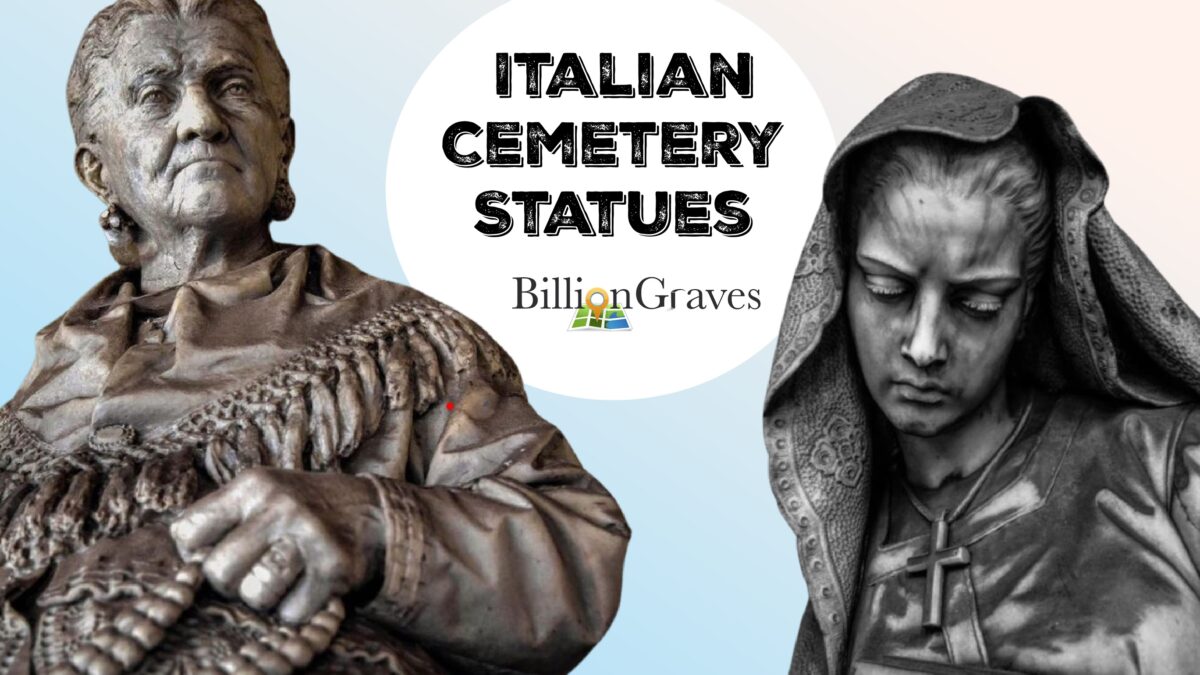 Breathtaking Italian Cemetery Statues
Cathy Wallace, 2 years ago
7 min

read
13151
Breathtaking Italian cemetery statues are a tourist's delight at Monumental Cemetery of Staglieno in Genoa, Italy! It is one of the largest cemeteries in Europe.
This hillside resting place is home to hundreds of sculptures that literally turn it into an outdoor art museum. Many of them are so lifelike that cemetery visitors want to reach and touch them. Others just stare in wonder or wish they could make friends with the lovely people they represent.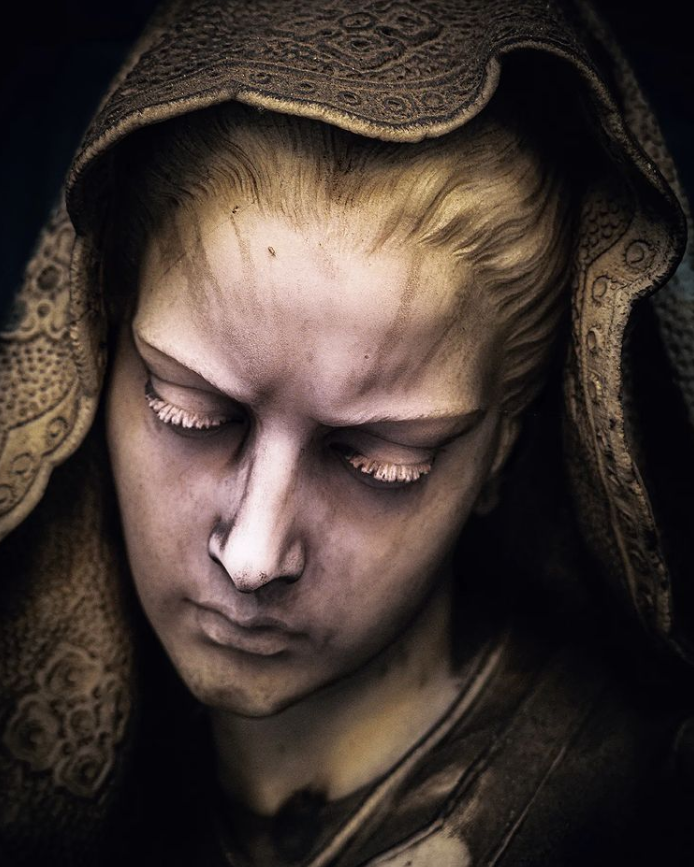 The History of Cimitero Monumentale di Staglieno
The idea for Monumental Cemetery of Staglieno – Cimitero Monumentale di Staglieno – was conceived in the early 1800s at a time when Napoleon put an end to burials within churches, temples, synagogues – and their surrounding yards – in an attempt to improve public health.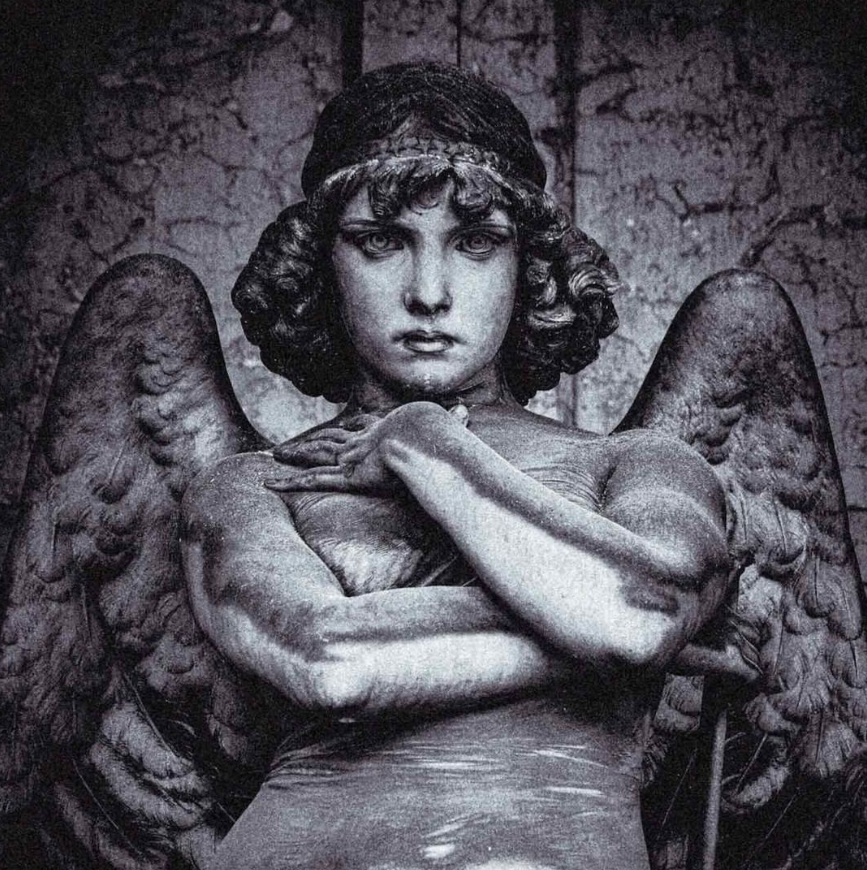 Genoa's city architect, Carlo Barabino, began putting designs on paper in 1835. But Barabino died during a cholera epidemic that same year so the project was taken up by his assistant, Giovanni Battista Resasco.
Work on the cemetery began in 1844 and was completed in 1851. Four burials took place the day it was opened.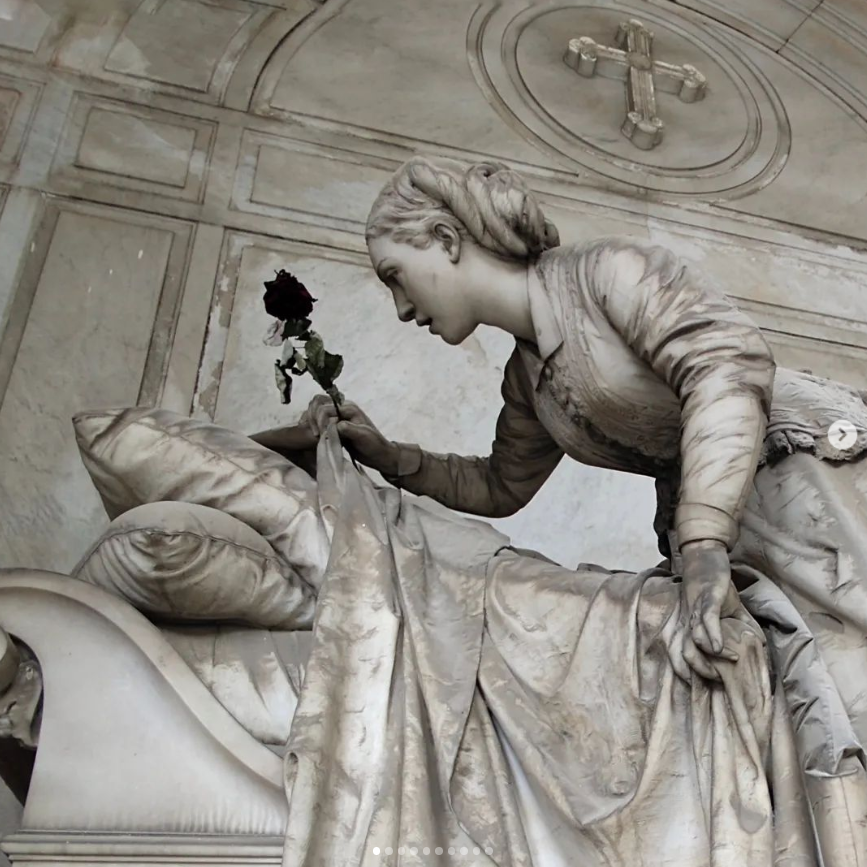 About Monumental Cemetery
To view the breathtaking Italian cemetery statues at Staglieno you would need to cover 3.5 million square feet. The entire cemetery covers about 250 acres.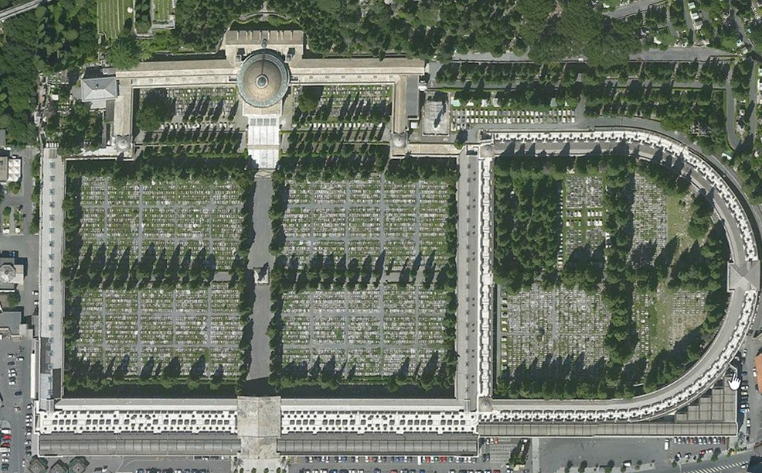 There are 290 sculptures in the open arches of the arcades aisle.
There are another 468 sculptures in the internal gallery niches.
In addition, there are several thousand individual memorials with everything from relief carvings on small graves to multi-story mausoleums.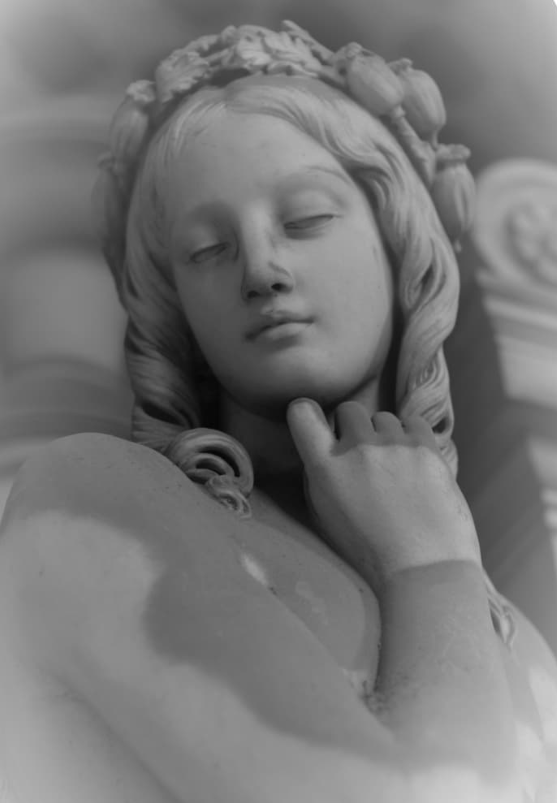 Cemetery Sections
Staglieno is primarily a Catholic cemetery, but it also serves those of other faiths. The grounds are divided into the following sections:
British civilian
British military
Catholic
Eastern Orthodox
Jewish
Muslim
Protestant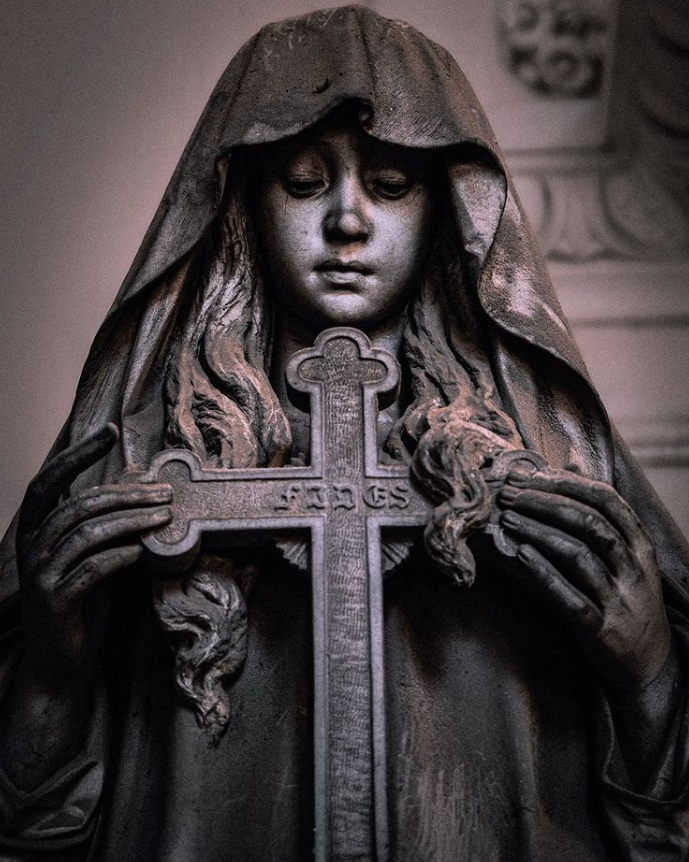 Neglect and Restoration at Monumental Cemetery
Many of the breathtaking Italian cemetery statues at Monumental Cemetery have fallen into disrepair.
During the Holocaust, the Jewish community in Genoa was devastated. As a result, very few Jewish descendants remain to tend to their ancestor's gravesites. Consequently, the two Jewish sections of Monumental Cemetery are in the saddest state of decay.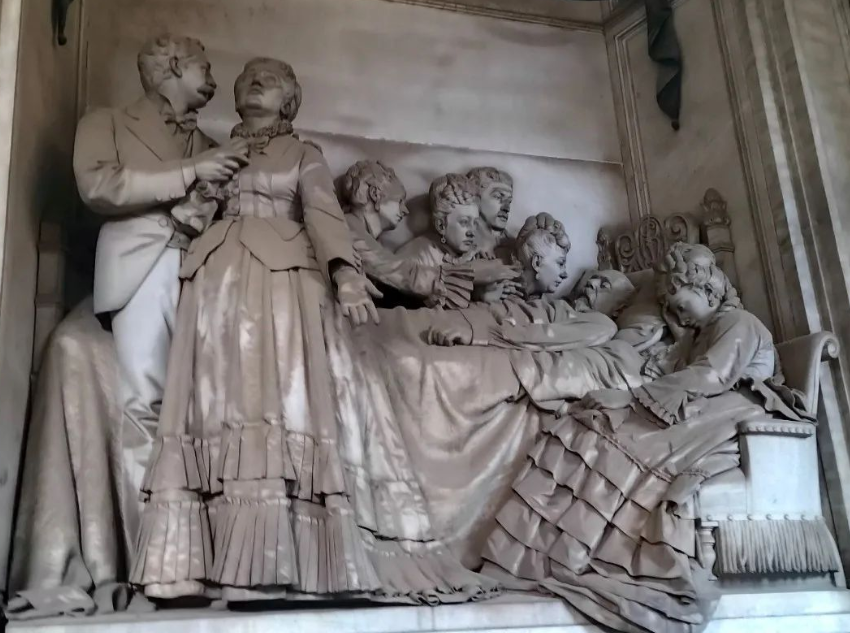 The American Friends of Italian Monumental Sculpture organization is working to repair the breathtaking Italian cemetery statues at Staglieno. Their website states, "The restorers we work with at Staglieno are very careful to not over-clean the sculptures. They remove the biological growth, black crust, and chemical deposits from pollution that eat away at the surface of the marble, but they leave some of the natural patina. The end result is to preserve the sculpture for many more years without trying to make it look too pristine and sterile."
The restorers at Staglieno use biocides and lasers. Click HERE to learn about BillionGraves' recommended method and solutions for cleaning your own family gravestones.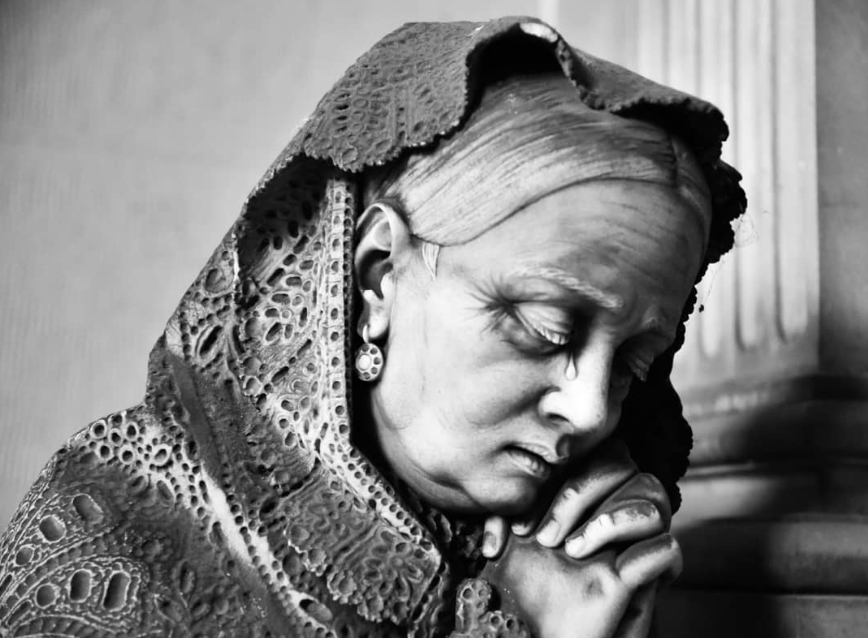 Notable People Buried at Monumental Cemetery at Staglieno
The first architect who worked on the project of the Cemetery, Carlo Barabino (1768-1835)
Violinist Renato de Barbieri (1920-1991)
Explorer Giacomo Doria (1840-1913)
Philanthropist and poet Davis Chiossone (1822-1873)
Playwright Paolo Giacometti (1816-1882)
Author Oscar Wilde's wife, Constance Mary Wilde (1859-1898)
Photographer Alfredo Noack (1833-1895)
Singer-songwriter Fabrizio de Andrè (1944-1999)
Knocking at Death's Door
This widow is knocking on death's door with one hand and bearing a wreath of victory in the other. The wreath is symbolic of victory over death, or in other words, resurrection.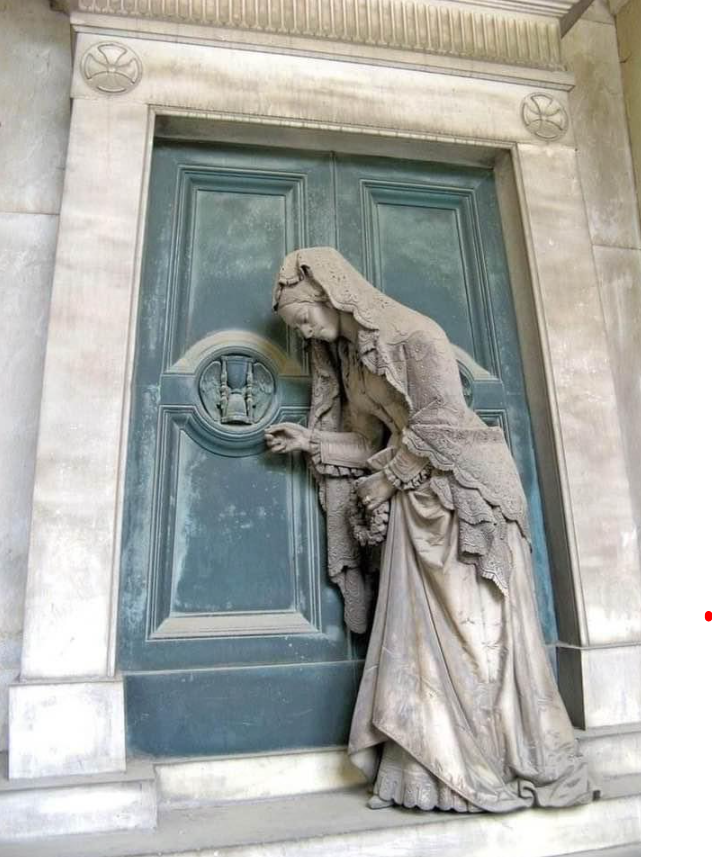 The sculpture was created in 1875 and is of the widow of Pietro Badaracco. Her clothing shows that the family was wealthy.
The symbols above the door include a compass, an anchor, some books, a globe, and a ship's helm – revealing that the deceased was a captain of a ship or shipping fleet.
The door-knocker has a winged hourglass on it, symbolic of fleeting time.
To learn more about cemetery symbols, click HERE.
A Little More Time
These sculptures were carved in 1870 by P. Costa for the Da Passano tomb.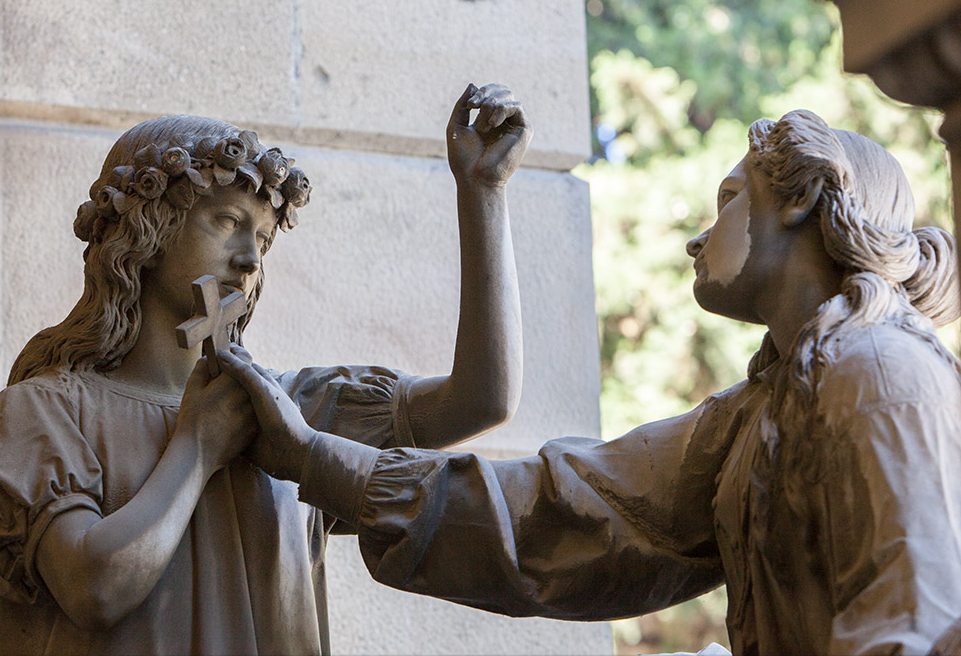 The young woman on the right is rising from an unmade bed. She is dressed in a nightgown and is sick, yet still alive. She is reaching for the hand of another young woman with a gentle pleading petition.
The figure on the left is an angel, coming to take her to heaven. The angel holds a cross and motions to the heavens. She wears a flowering crown, a symbol of victory over death.
This sculpture is particularly poignant since it was created for a young lady who died right before her wedding. She is young and begging for a little more time on earth.
Sailing through Life's Journey into a Safe Harbor
This nautical sculpture was created by Giovanni Scanzi in 1886 for the family of Giacomo Carpaneto, a talented and skilled merchant.
The fragile little boat tossed about on a stormy sea is symbolic of life's journey. Life brings unexpected gusts of wind, currents, and undertows that can throw us off course.
A youthful winged angel lowers the sails, signifying that the passengers have come to the end of their journey. His face is peaceful as he brings the boat into a safe harbor.
The Peanut Lady
There is a section of the Staglieno Cemetery that is reserved for the wealthy bourgeoisie – the richest of the rich. So how is it that an illiterate nut-seller has a lovely monument there?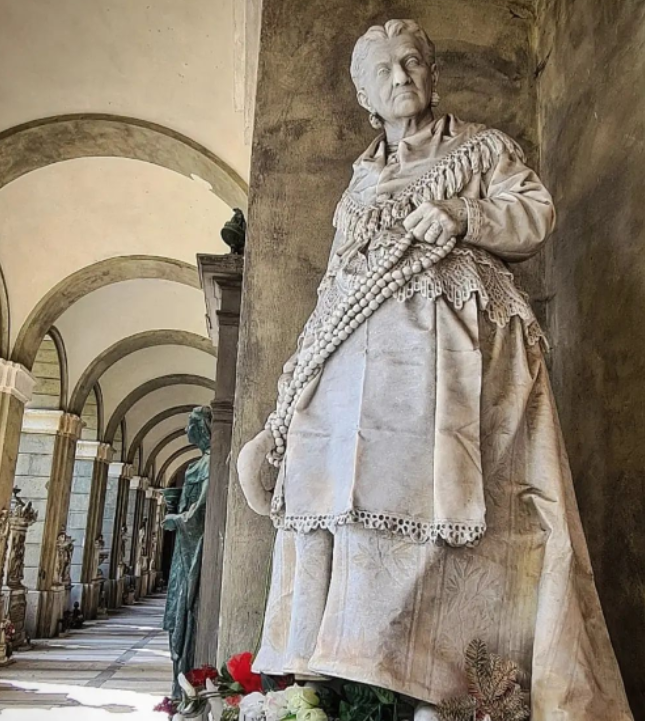 Caterina Campodonico (1804 – 1881) was an independent woman who traveled from city to city selling her reste (translated as hazelnuts, chestnuts, or peanuts) necklaces made of nuts and homemade bread.
As the story goes, her family thought she was too independent for her own good – at a time when women did not own or run their own businesses – and she often felt judged by them. But she toiled away year after year.
By the age of 76, Caterina was feeling the effects of aging and fell ill. As death seemed inevitable, Caterina's family members began arguing about how they would distribute her wealth after she died.
Caterina overheard this but surprised them all by recovering from her illness. Then – true to her independent nature – she determined that she would not leave her hard-earned money to any of them. Rather, she would commission the most prominent sculptor of the time to create a gravesite monument for herself.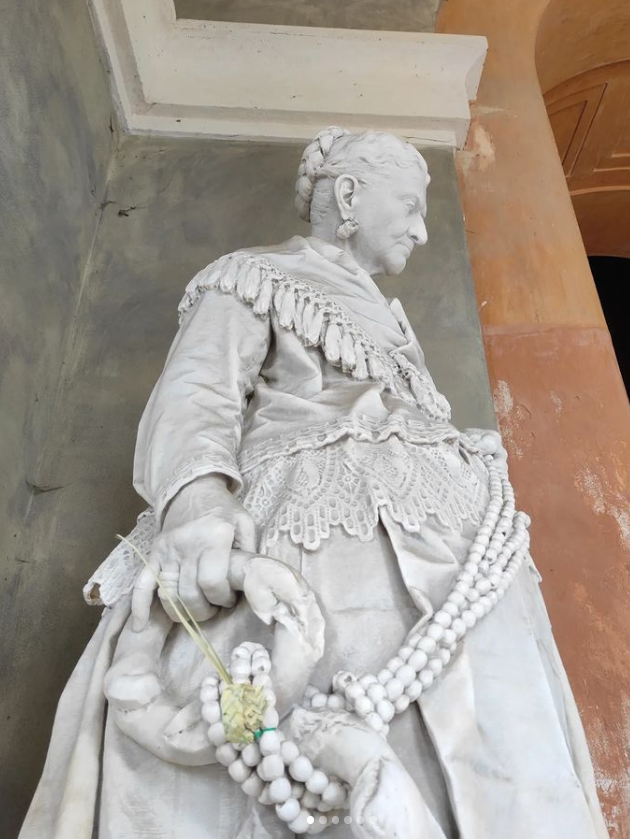 Caterina asked the sculptor to carve the finest of clothing on her marble statue – the type of clothing she had never been able to wear in life.
And, like the entrepreneurs and hawkers of her day, she asked that a symbol of her means to wealth be carved as well. In her case, it was circular twists of bread and chains of hazelnut necklaces.
Her hands show the reality of her hard life. They are rough and worn from years of hard work.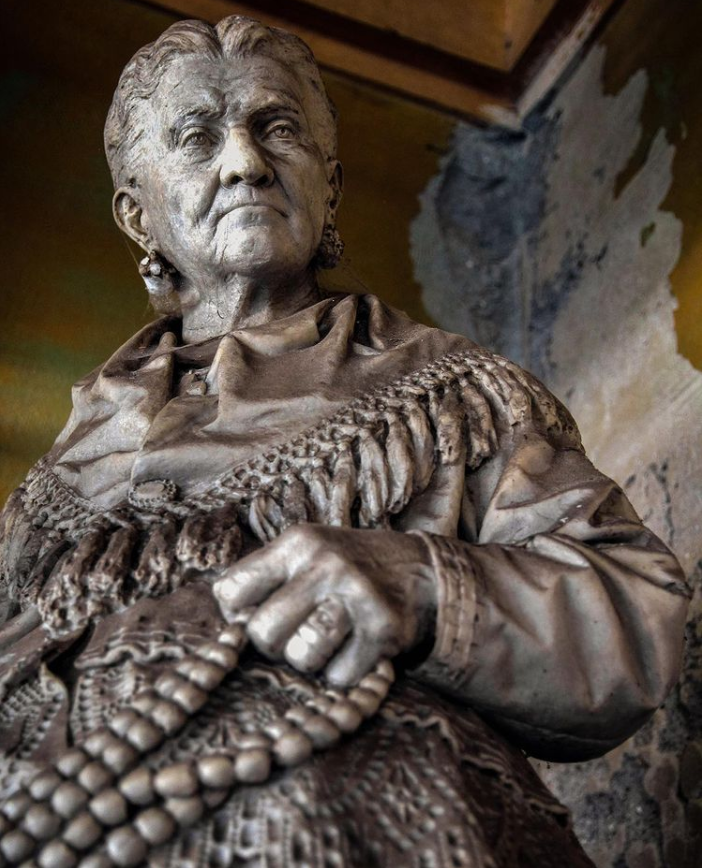 Caterina's epitaph was written by a fine poet and while it sounded better in Italian, it is still a fine tribute in English:
"By selling necklaces of nuts and sweets at the Sanctuaries of Acquasanta, Garbo and St. Cipriasso, defying wind, sun, and water coming down in buckets, in order to provide an honest loaf for my old age; among the little money laid by myself to the furthest ends of time, with this monument, which I Caterina Campodonico (called the Peasant) an authentic inhabitant of Portoria, have erected while still alive. 1881.

Oh, you who pass close to this, my tomb, if you will, pray for my peace." 
Yes, she had it erected while she was still alive! And it is said that in the months before she died, she delighted in standing next to it – in her peasant's clothes – to listen to the reactions of visitors when they saw her likeness looking like a princess.
London's Magnificent 7 Cemeteries
If you enjoyed this blog post, you may also enjoy the BillionGraves' blog post titled London's Magnificent Seven Cemeteries. Click HERE to read it.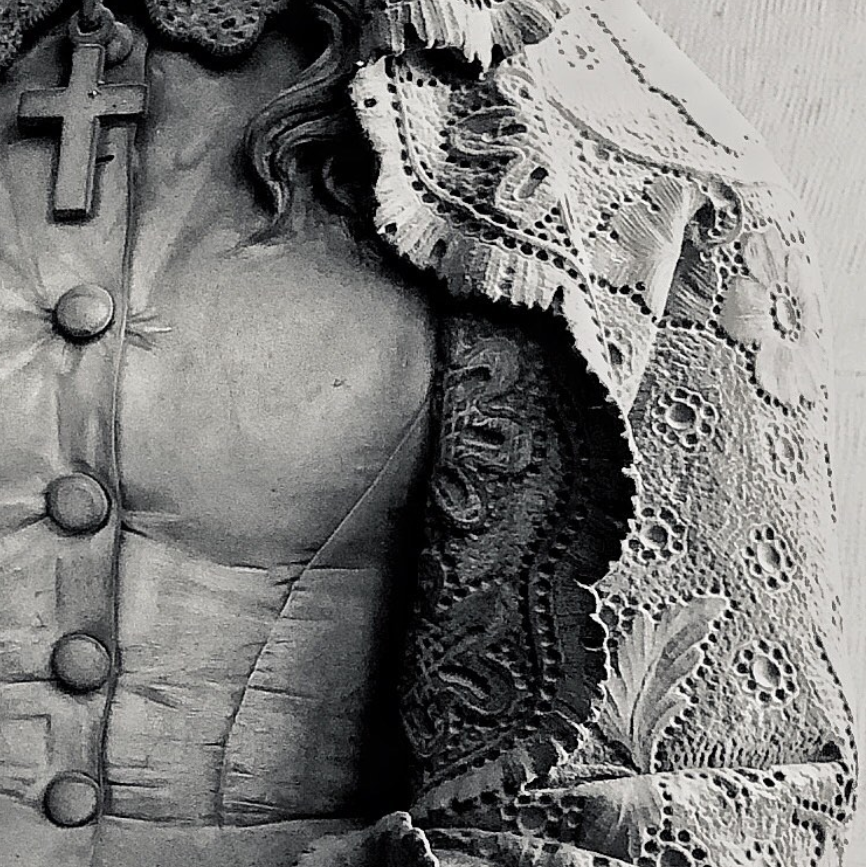 Volunteer to Take Gravestone Photos
We need your help to take photos of gravestones! It is easy and done completely with your smartphone! Click HERE to get started.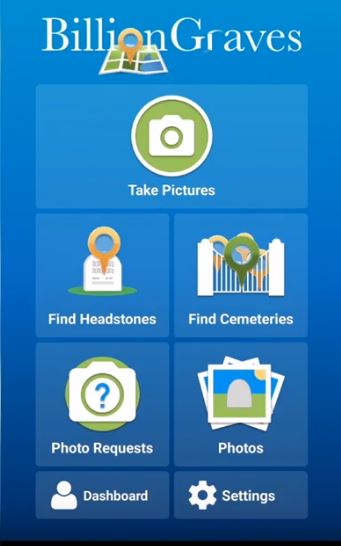 Taking photos of gravestones with the BillionGraves app helps to preserve history!
You are welcome to do this at your own convenience, no permission from us is needed. If you still have questions after you have clicked on the link to get started, you can email us at Volunteer@BillionGraves.com. We'll be happy to help you!
Are you planning a group service project? Email us at Volunteer@BillionGraves.com for more resources. We will help you find a cemetery that still needs to have photos taken.
Happy Cemetery Hopping!
Cathy Wallace and The BillionGraves Team
Related posts