A Month of Gratitude
BillionGraves, 10 years ago
2 min

read
4105
As we reflect on what we are grateful for this holiday season, we realize we have a lot to be thankful for. BillionGraves has blossomed so much in this last year and we have accomplished so much! We are very dedicated to the goal of BillionGraves and are very excited to see what the next year will bring. With that being said, we know we wouldn't have been able to do any of it without all of YOU!
So we are going to take the whole month of November to spotlight YOU–the people who have made BillionGraves what it is today!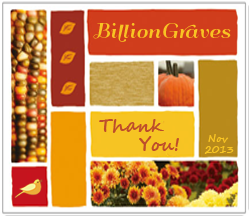 We will be randomly spotlighting you on the blog and our social media sites (with your permission of course) as a simple way of letting you know we appreciate you. We know we could never pay you enough for all the amazing work you do, but we would at least like to give you some recognition for what you do.
So if you have a story of some success you've had on BillionGraves or you would like to share how you got started doing BillionGraves, contact us and let us know! We want to hear from you and to share your stories on the blog! So comment below or contact lisa@billiongraves.com.
If nothing else, keep an eye on the blog this month to meet some wonderful BillionGraves contributors like yourself. And remember, we sure are grateful for EVERYTHING you do!
UPDATE:
Below are the posts about our wonderful contributors that we spotlighted this month:
Colette Hokanson: If You Want Miracles, Take Pictures for BillionGraves!
Lyle Clugg: Paying It Forward
Related posts