OctoberFest Winners!
BillionGraves, 10 years ago
2 min

read
6190
Thanks to all who participated in our OctoberFest competition! We sure appreciate all you do!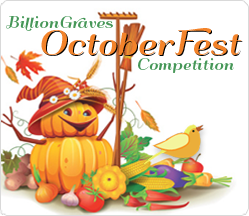 Below are the winners of this month's giveaway. Please watch for an email in your inbox today requesting your name and address where you would like us to ship your prize. If you don't receive an email today, please email contests@billiongraves.com. 
| | | | |
| --- | --- | --- | --- |
| # | Top Uploaders | Images | Prize |
| 1 | Greg | 17,901 | Mini External battery |
| 2 | huskerken | 17,465 | $15 iTunes/Google Play gift card |
| 3 | stewjt | 10,464 | $15 iTunes/Google Play gift card |
| 4 | CopCruisers | 9,196 | $10 iTunes/Google Play gift card |
| 5 | Whitejaegar | 7,846 | $10 iTunes/Google Play gift card |
| 6 | Ken Couch | 6,372 | $10 iTunes/Google Play gift card |
| 7 | jaitken | 6,353 | $10 iTunes/Google Play gift card |
| 8 | Paulwuzhere | 6,342 | $10 iTunes/Google Play gift card |
| 9 | alexgeagleproject | 6,270 | $10 iTunes/Google Play gift card |
| 10 | Jim Pack | 6,237 | $10 iTunes/Google Play gift card |
| 11 | George | 5,794 | $10 iTunes/Google Play gift card |
| 12 | TJLudwig | 4,816 | $10 iTunes/Google Play gift card |
| 13 | Campbell2u | 4,791 | $10 iTunes/Google Play gift card |
| | | | |
| --- | --- | --- | --- |
| # | Top Transcribers | Images | Prize |
| 1 | HonestAbe | 24,243 | $25 Visa gift card |
| 2 | vblackledge | 15,300 | $15 iTunes/Google Play gift card |
| 3 | MollyM | 10,135 | $15 iTunes/Google Play gift card |
| 4 | Angel | 8,888 | $10 iTunes/Google Play gift card |
| 5 | gopanowitz | 7,703 | $10 iTunes/Google Play gift card |
| 6 | Mptothill | 5,957 | $10 iTunes/Google Play gift card |
| 7 | TBearra | 5,771 | $10 iTunes/Google Play gift card |
| 8 | erinb1983 | 5,683 | $10 iTunes/Google Play gift card |
| 9 | melohnt | 5,627 | $10 iTunes/Google Play gift card |
| 10 | KRobDFW | 5,316 | $10 iTunes/Google Play gift card |
| 11 | huskerken | 4,674 | $10 iTunes/Google Play gift card |
| 12 | jaitken | 4,548 | $10 iTunes/Google Play gift card |
| 13 | Restorationranch | 4,500 | $10 iTunes/Google Play gift card |
Related posts