A State of Growth – 8 Million Records | 100,000 Users!
BillionGraves, 10 years ago
1 min

read
4878

The BillionGraves team is proud to announce that we have reached 100,000 registered users and 8,000,000 million records! This is a big milestone in growth of BillionGraves! Thanks to all the contributors around the world!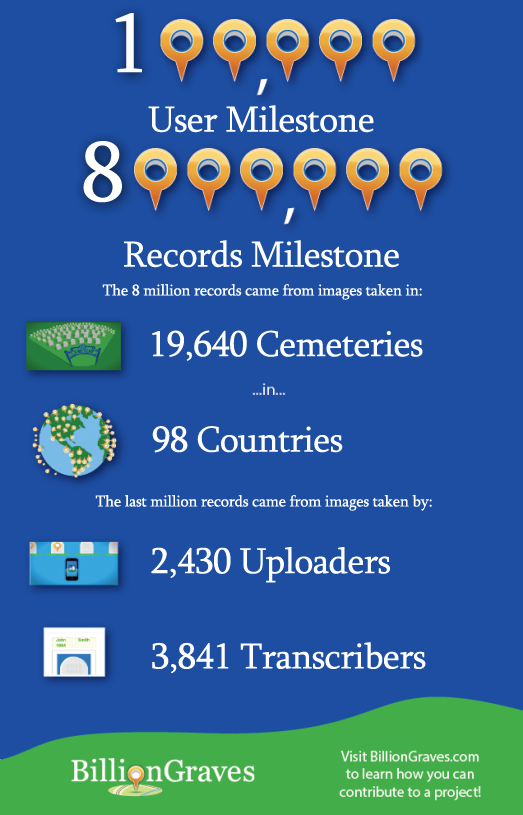 We are reaching each Million Mark faster and faster each time around. With new partnerships and dedicated contributors, we are growing our headstone record database internationally!
We couldn't have done it without the wonderful contributors who are visiting and photographing cemeteries throughout the world as well as all those transcribing all those images!
Here are some additional statistics:
101,267 Total BillionGraves Users
19,640 different cemeteries contain more than 1 record
Top 5 Cemeteries
Springvale Botanical Cemetery, Australia: 83,932 Records
Greenwood Cemetery, United States: 60,148 Records
Petach Tikva Sgula Cemetery, Israel: 52,093 Records
National Memorial Cemetery of Arizona, United States: 47,640 Records
Salt Lake City Cemetery, United States: 38,690 Records
98 different countries
Top 10 Countries:
US: 5,324,240
Australia: 480,622
United Kingdom: 270,747
Canada: 219,141
Israel: 68,507
New Zealand: 51,018
Mexico: 28,602
Sweden: 21,992
The Netherlands: 20,245
Thailand: 10,893
3841 Users helped transcribe the last 1 million records
2430 Users help take the photos of the last 1 million records
Who took the 8 millionth photo?
Zsolt Pogány 
from Montreal, Canada
Who transcribed the 8 millionth record?
Nilou from Vllemoirieu, France
Please visit our 
leaderboard
 to keep up on our current state of growth! Thanks again!
-The BillionGraves Team
Related posts