NEW! FamilySearch Tree Connect
BillionGraves, 11 years ago
2 min

read
8815
Introducing BillionGraves' latest feature: FamilySearch Tree Connect! This feature allows you to attach BillionGraves images to their corresponding FamilySearch record. These images aid family members by giving them another source to draw valuable information from.
Watch this video to see how it works!
Missed a step while watching the video? Here's the step-by-step process:
Go to the Tools Tab and click "FamilySearch" in the dropdown menu.
Register for FamilySearch or authenticate with FamilySearch (a.k.a. log in with your FamilySearch username and password)
Click "Get Started."
Choose a cemetery by clicking on the drop-down menu under the top left FamilySearch icon and hit "Go."
When a BillionGraves record pops up, see if there are any FamilySearch matches on the right hand-side that match the information on the headstone.
When a FamilySearch record comes up that matches the birth and death dates of the BillionGraves record, click "Match."
Otherwise, click next to browse through BillionGraves records to find other FamilySearch matches.
As you're getting started, here are some helpful hints to aid in connecting these records:
Look for the link on any records page to connect it to FamilySearch.
That's right, we've made it as simple as clicking a button on any records page to link it to FamilySearch.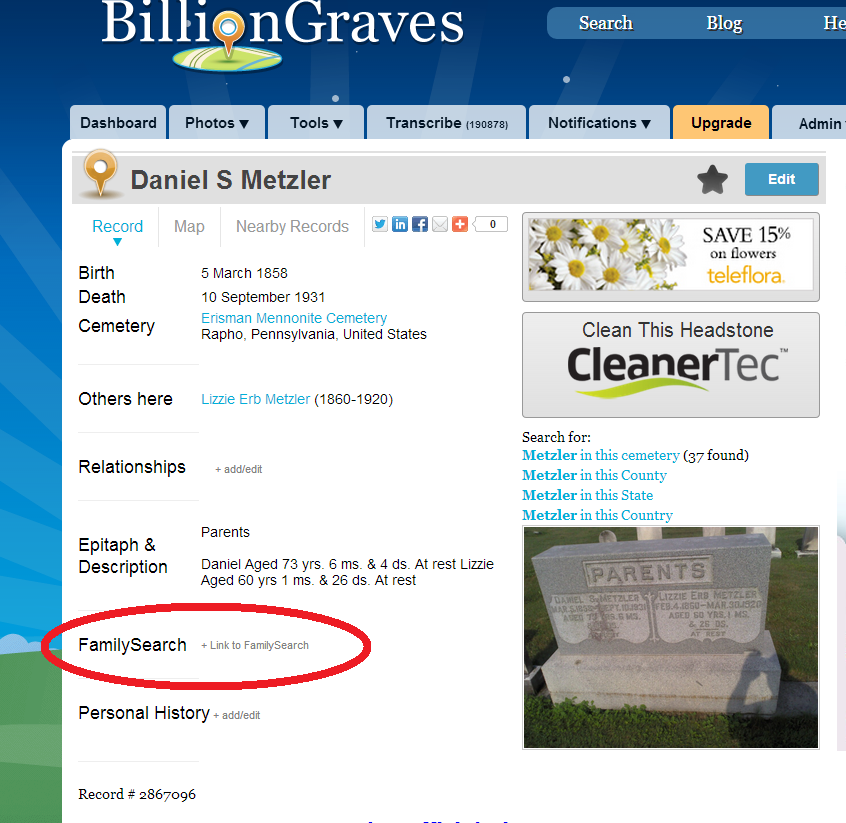 This will make linking any family records to FamilySearch (as well as any records uploaded in the future) very simple and easy!
Don't forget to search for everyone who is buried together.

A lot of married couples are buried close together and share the same headstone, so don't forget to search for every record attached to an image (including children!!). You will see these below the default person (the record that came up initially) in a section called "buried with."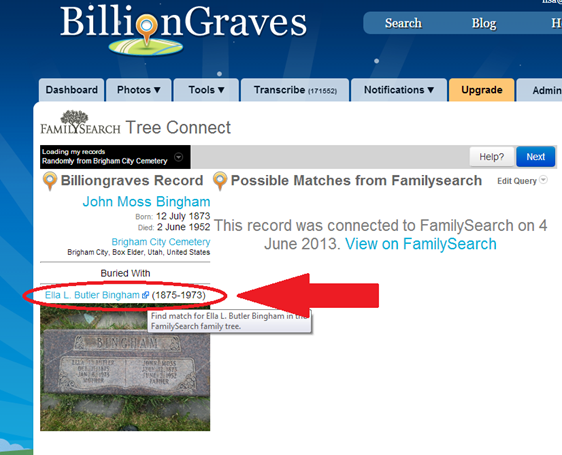 To see if they are on FamilySearch, click the arrow on the right side of their name.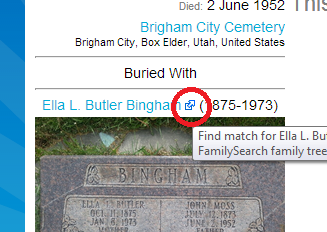 If you find a match for one of the people on that record, chances are their wife and children are in FamilySearch too, so don't forget to search for all of the people buried with that headstone!
If you are unable to connect a female record to FamilySearch, edit the search query to only include their maiden name.

Most women are listed in FamilySearch by their first name and maiden name only. So, if a FamilySearch record doesn't come up automatically, click "edit query" on the right hand side of the page. Take out any initials and/or family names so you are searching by their first and maiden name only.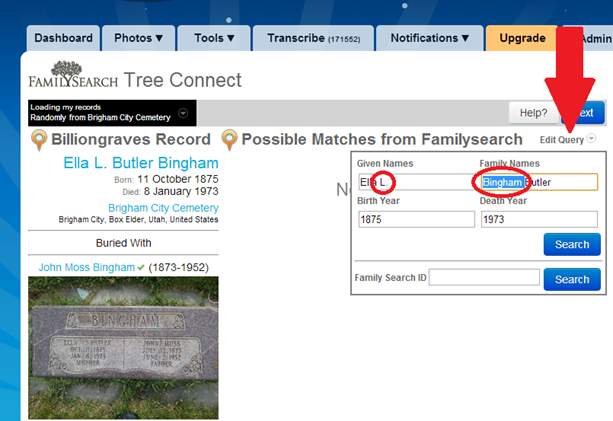 Questions/comments about this? Contact our support team at support@billiongraves.com or comment below and we will be happy to help!
Related posts