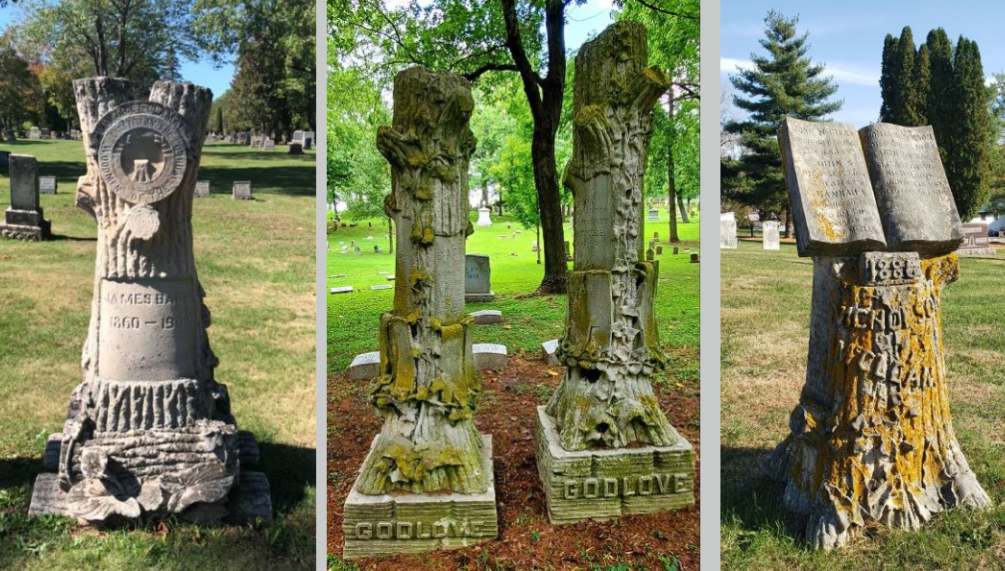 Tree Gravestones for Woodmen of the World
Cathy Wallace, 1 month ago
13 min

read
8899
Tree gravestones are unique. Have you ever seen one? The first time I saw a tree gravestone at a cemetery, I did a doubletake. It looked so real that it blended in with the surrounding trees, appearing at first to be part of nature.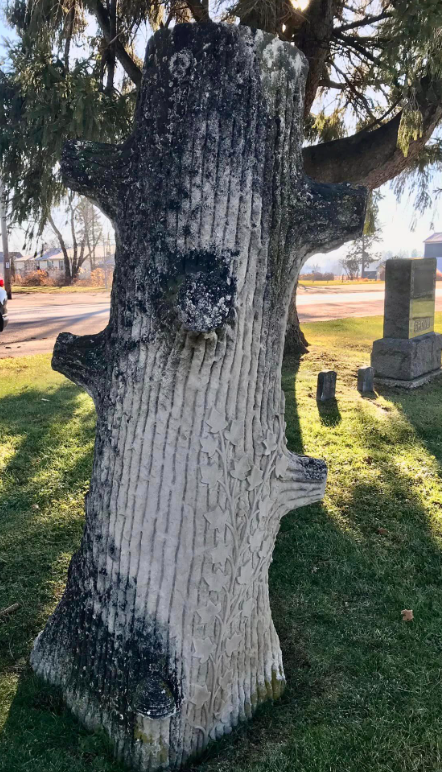 Why would anyone want a grave marker made of stone that looked like a realistic tree stump?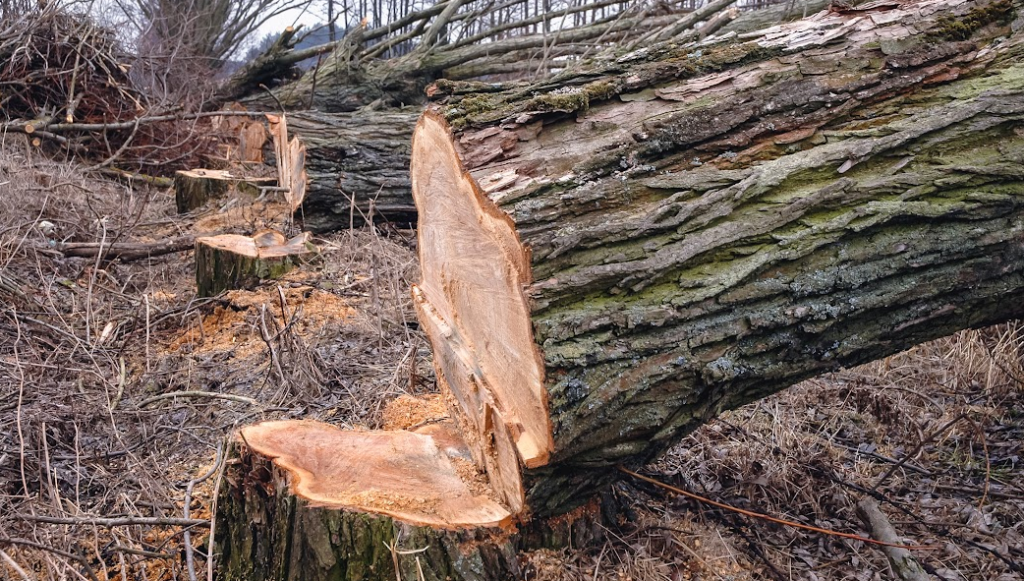 There are several theories as to why tree-like gravestones became popular.
As the industrial revolution grew in the late 1800s, it infringed on forests. Trees were being removed at what some felt was an alarming rate to clear land for farming and for cities.
At the same time, funerary art was in transition.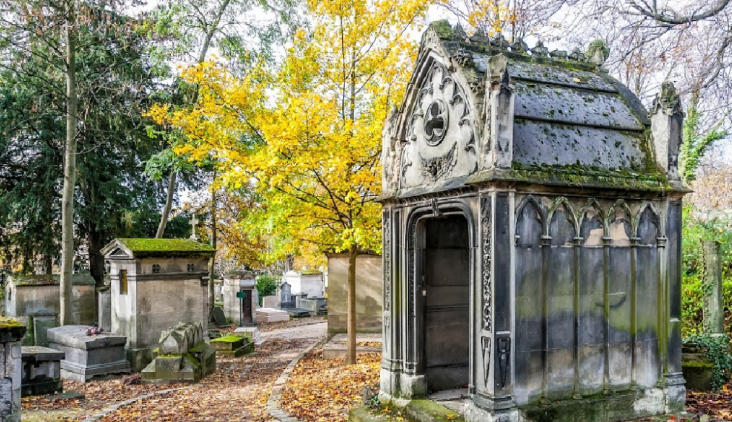 Modest gravestones were taking the place of elaborate monuments. This trend was following a theme in art and architecture in general. It was becoming more popular to own simple, back-to-nature, rustic items than elaborately carved furniture and elegant formal homes.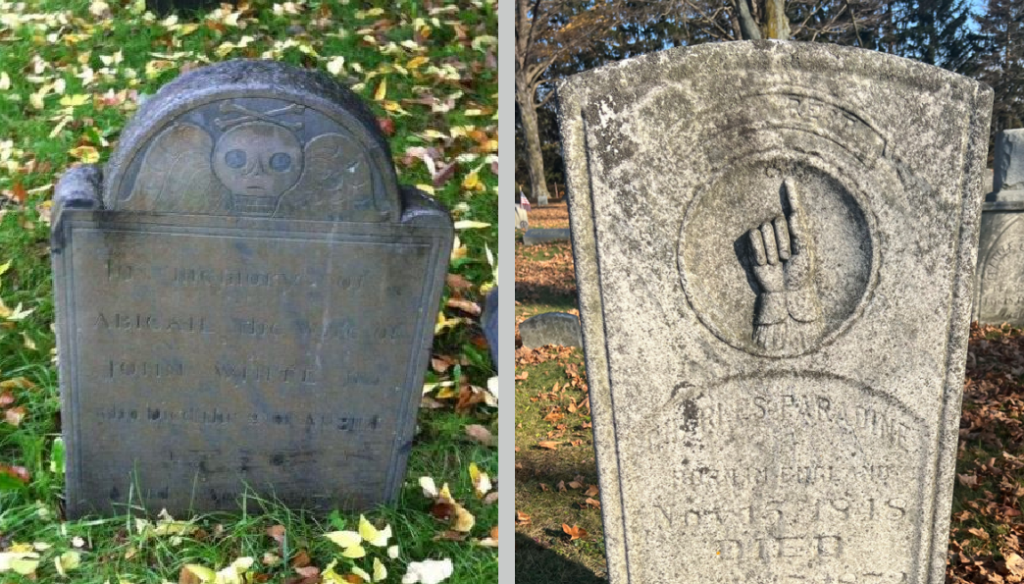 Gravestones with the morbid winged skulls of the 1700s and the pointing fingers of the early 1800s went by the wayside.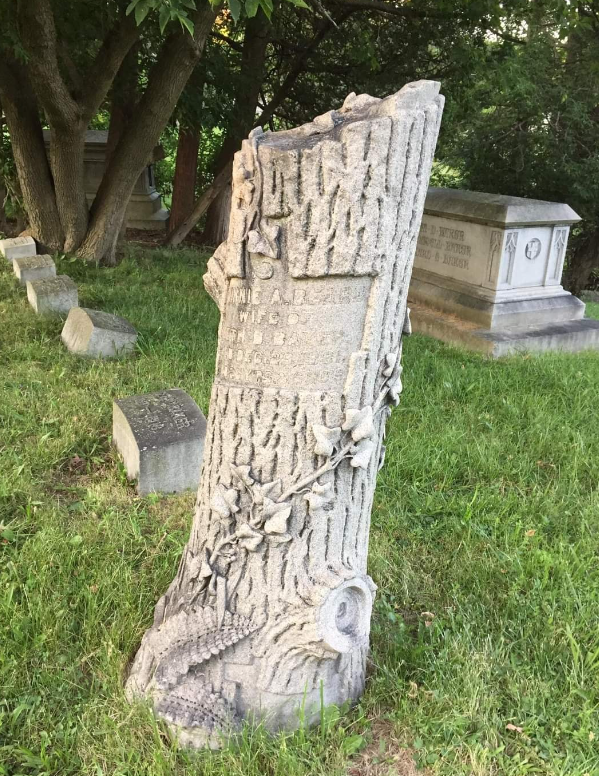 By the mid-1800s, gravestone symbols shifted from reminders of eminent death to a focus on the deceased's life. Trees became a natural choice for grave markers. Trees were a powerful symbol of life, drawing from the Bible's tree of life and tree of knowledge.
If live trees were planted on a gravesite, the roots would often interfere with the caskets below the ground. But trees made of stone would be a great solution!
Woodmen of the World
In 1882, a gentleman named Joseph Cullen Root heard a church sermon about pioneer men who were clearing the forests to provide for their families.
The preacher praised those who were clearing the land. He pointed out that hard-working men were working hard to provide for their families and they were launching the country into a new era of development. He felt that they should be honored and coined the title "woodmen" for those who were so industrious.
The sermon inspired Root so much that he wanted to help provide for others too.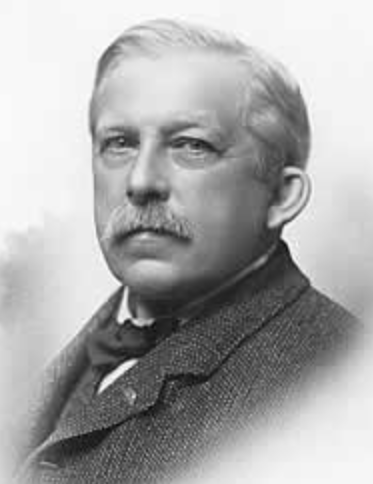 So in 1890, Root started a non-profit organization designed for the common man so no one would have to die without life insurance. It was more than an insurance company, it was a fraternity. He called it the Woodmen of the World.
The Woodmen of the World promoted their organization as being for the "Jew and Gentile, Catholic and Protestant, the agnostic and atheist." The company motto stated that "no Woodmen shall rest in an unmarked grave."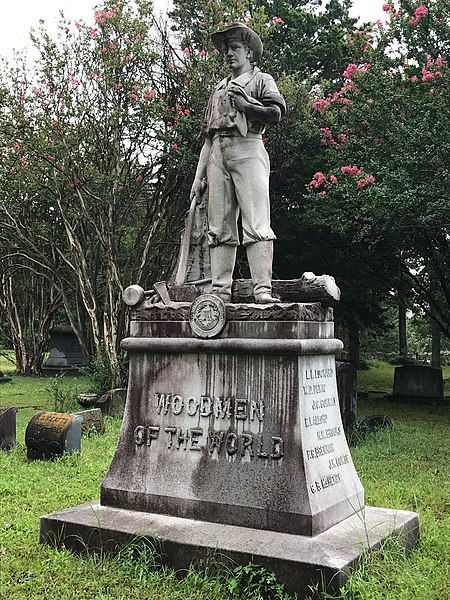 Rustic treestones were already popular when the Woodmen of the World was founded but the fraternity made them even more popular.
The Woodmen of the World created standard designs for treestones and sent them to local stonecutters for carving.
Initially, each person that bought life insurance through the Woodmen of the World was also given a free gravestone. The company later changed their policy to providing $100 toward a tombstone if it had the Woodmen of the World logo on it.
The Latin phrase often seen on Woodmen of the World gravestones, Dum Tacet Clamat, means "though silent, he speaks".
Woodmen of the World Tree Gravestones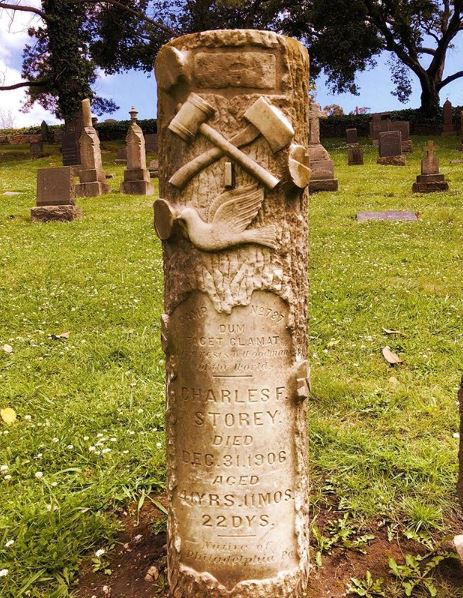 The symbols of the Woodmen of the World were the ax, wedge, and sledgehammer (also known as a beetle or maul) – symbolizing industry, power, and progress.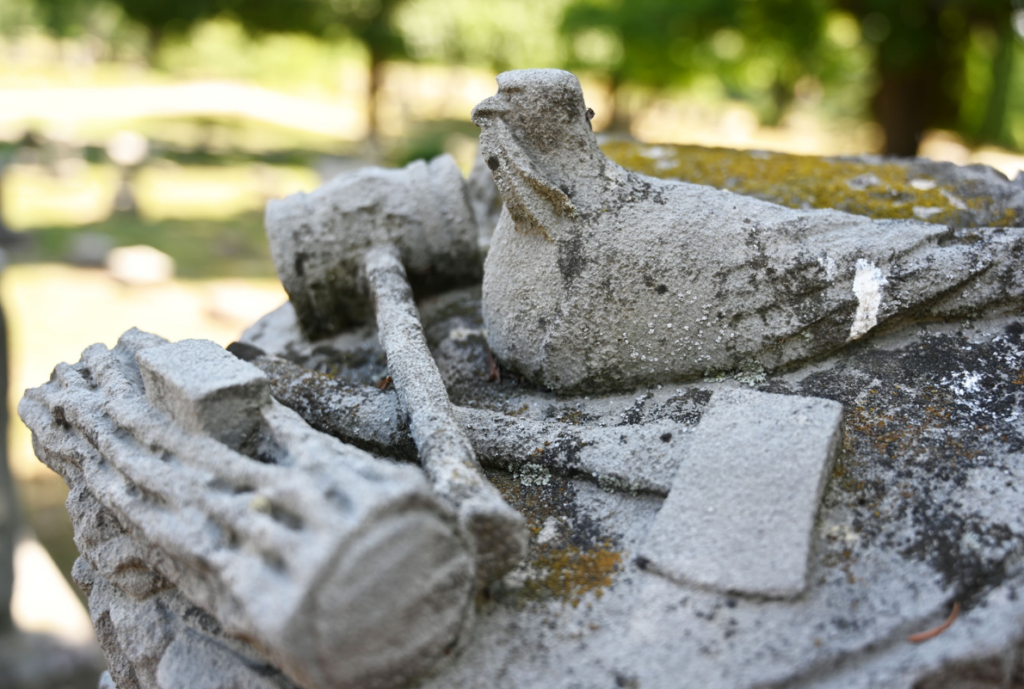 Many of the Woodmen of the World gravestones had doves with olive branches on them as well.
The olive branch is a symbol of peace. It is a reminder of the dove sent out from Noah's ark that returned with an olive branch in its beak (Genesis 8:11).
We sometimes hear the expression, "extending an olive branch" to another person as a desire for peace.
Treestones for Sale by Sears and Robuck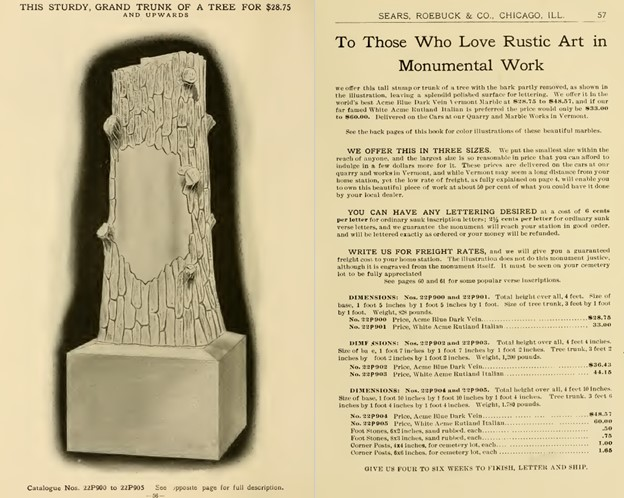 At first, tree gravestones were carved by local stonecutters.
Later, treestones were sold through Sears and Roebuck mail-order catalogs. A 4-foot treestone went for as little as $28.75 plus 6 cents per character for engraved names and dates. They were shipped from Vermont and would arrive in 4 – 6 weeks.
Families could even choose to purchase a treestone from the Sears catalog and then hire a local stonecutter to customize it with details to suit the personality, hobbies, or occupations of the deceased.
Requirements to Join the Woodmen of the World
Joseph Cullen Root patterned the traditions of the Woodmen of the World after other club, society, and fraternity symbols and rituals.
This was natural to him because he was a joiner! Joseph had previously belonged to the Freemasons, The Independent Order of the Odd Fellows, The Knights of Pythias, The Knights Templar, The Iowa Legion of Honor, and The Ancient Order of Workmen and Mechanics. Whew! He was a busy man!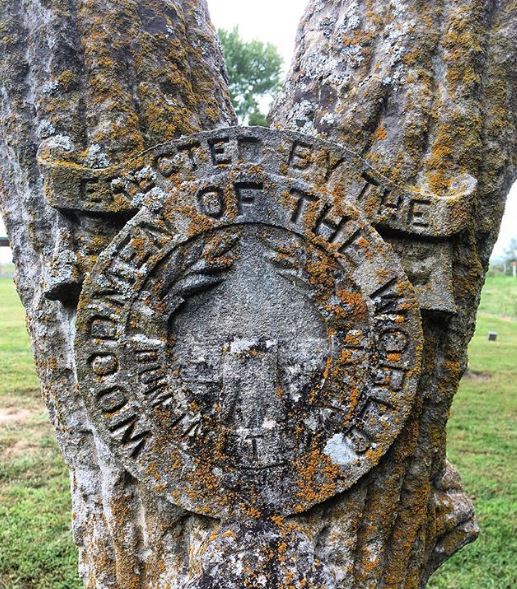 For all their talk of equity, not just anyone could join the Woodmen of the World at first. These were the original requirements to join the Woodmen of the World:
Male
Caucasian
Age 18 to 45
Any religion
Reside in one of the 12 "healthiest" states: Indiana, Illinois, Iowa, Kansas, Michigan, Wisconsin, Minnesota, Missouri, North and South Dakota, Nebraska, Ohio
No hazardous occupations, such as underground miners, gunpowder factory employees, saloon keepers, sailors, aeronauts, railroad workers, liqueur manufacturers or wholesalers, and professional baseball players
All of these requirements have since been rescinded, with the exception of religious freedom.
Knowing these requirements can be useful to genealogists. If your ancestor has a Woodmen of the World gravestone that was placed in the mid-1800s to early 1900s, you now have some clues about their life.
Plants on Tree Gravestones
Early treestones, in the mid-1800s, were simple. They had life-like bark and stumps of branches.
Over time, local stonecutters began to take liberties with the patterns provided by the Woodmen of the World. They started to add plants to the tree gravestones.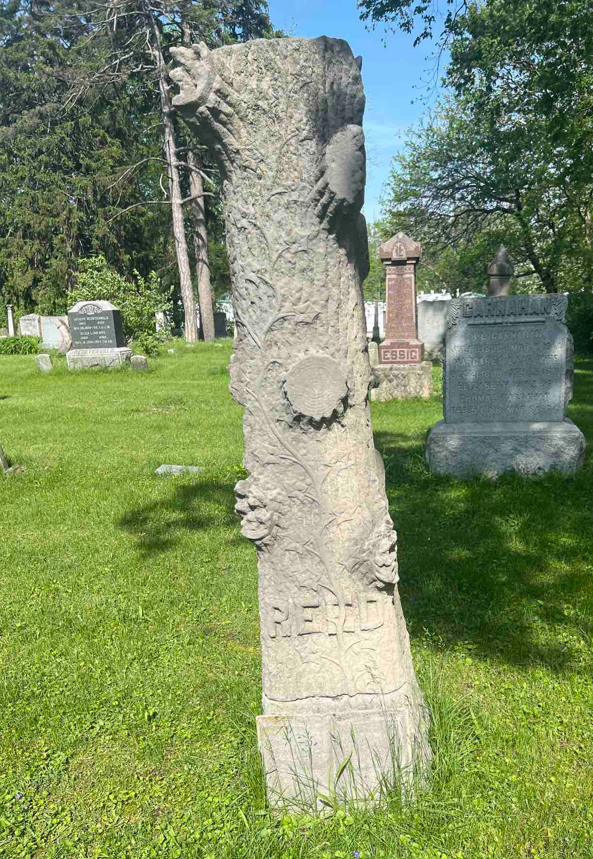 Some treestones had ivy on them. Ivy, being an evergreen plant, represents eternity, fidelity, and a strong affectionate attachment to the deceased.
Since ivy clings, it can also be a symbol of the deceased effort's to cling to life and can mean they had a long battle with illness before they died.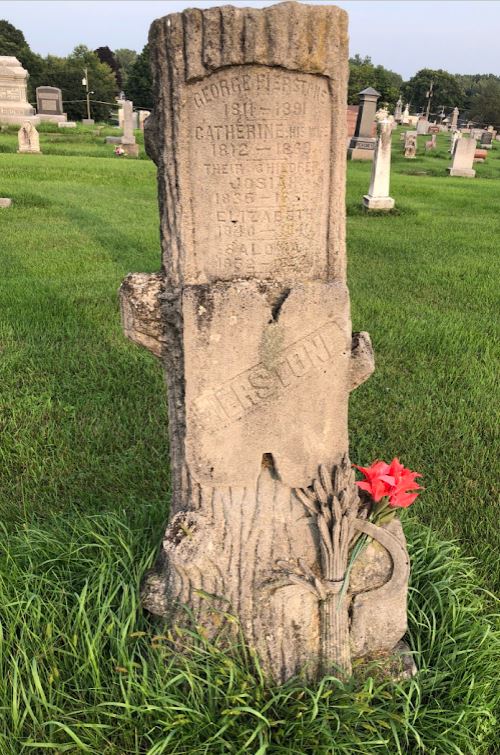 There is a bundle of wheat at the bottom of this treestone. Wheat symbolizes a long life for one that was "harvested" by the reaper when it was time.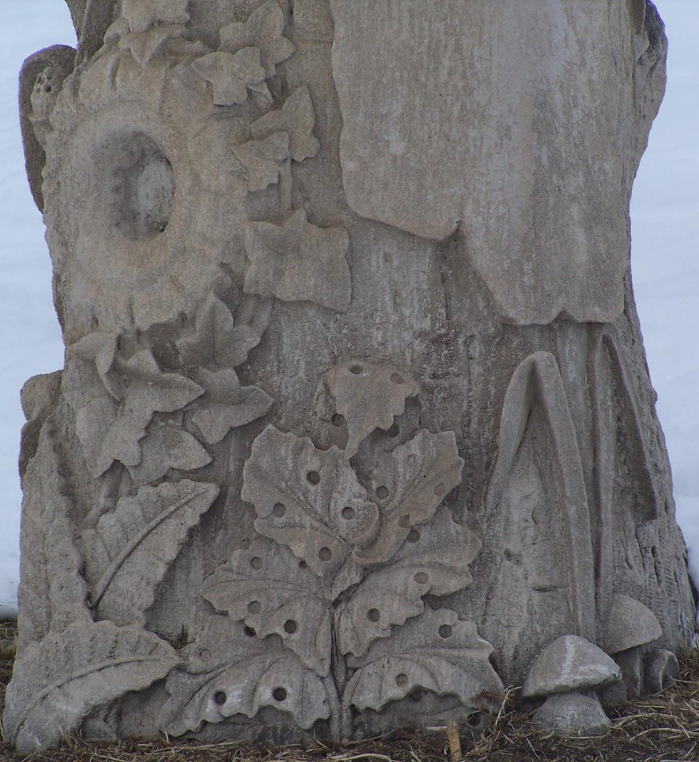 The base of this tree gravestone is surrounded by ferns, ivy, grass, mushrooms, a sunflower, and a plant with holes that looks almost like lace.
Personalized Tree Gravestones
By the end of the 1800s, treestones became even more personalized.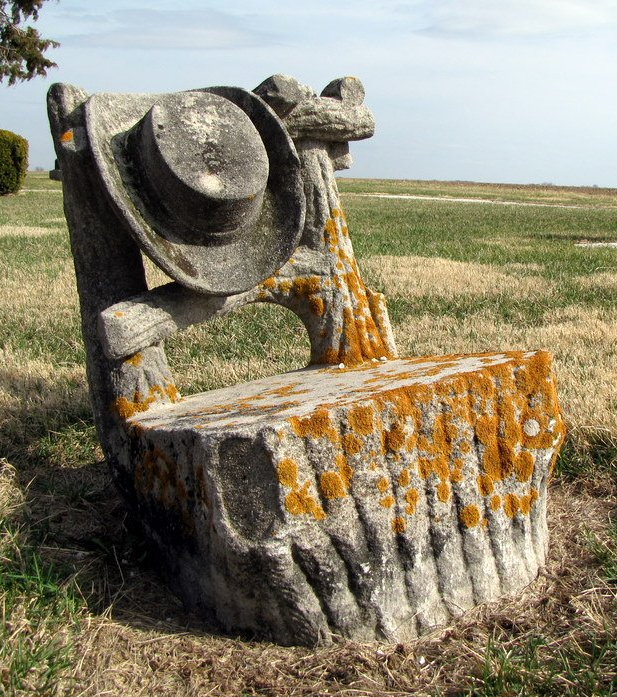 Treestones were sometimes customized with symbols from the deceased's life – such as their hat, a favorite animal, or a symbol of their occupation.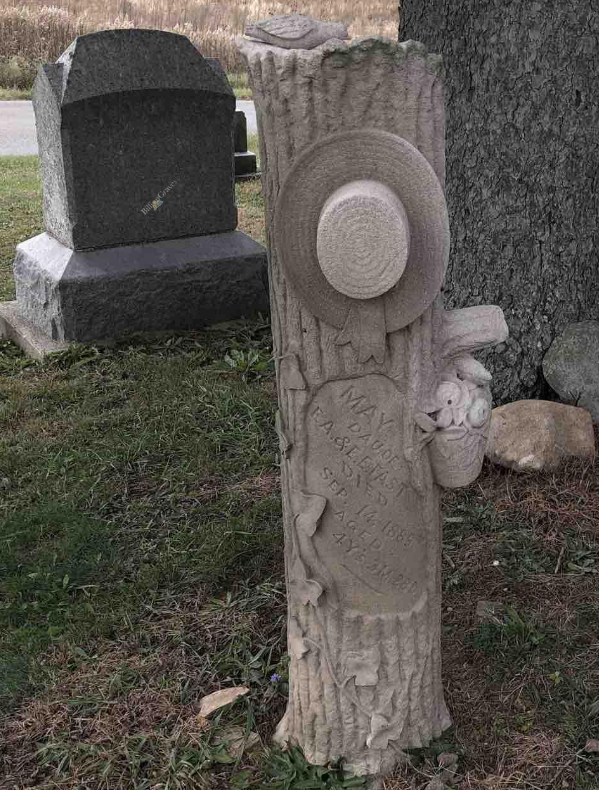 This young lady's treestone has a detailed straw hat and a basket of flowers hanging on it. A bird rests on top. She died at the age of 4.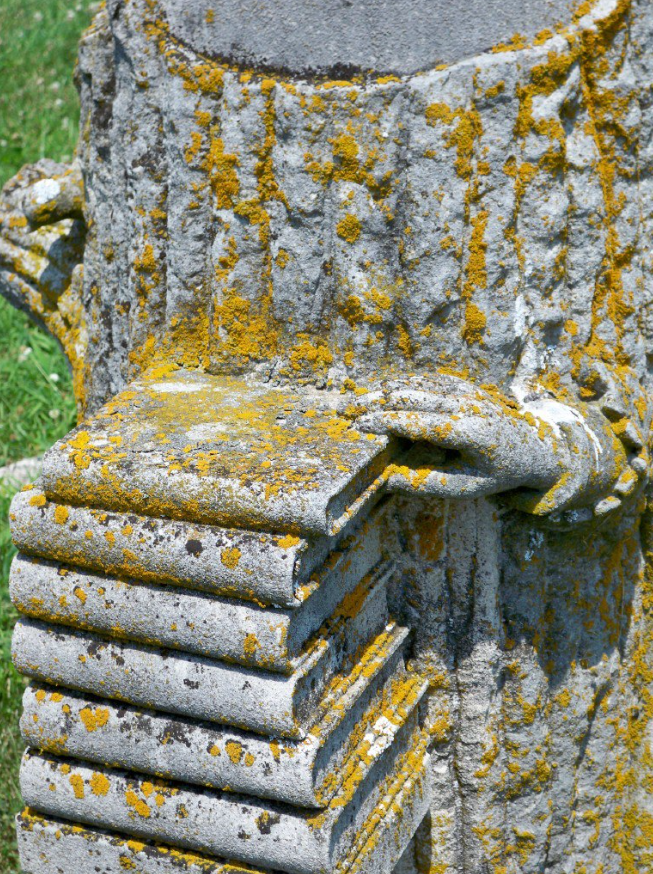 This tree gravestone shows the deceased's love of reading.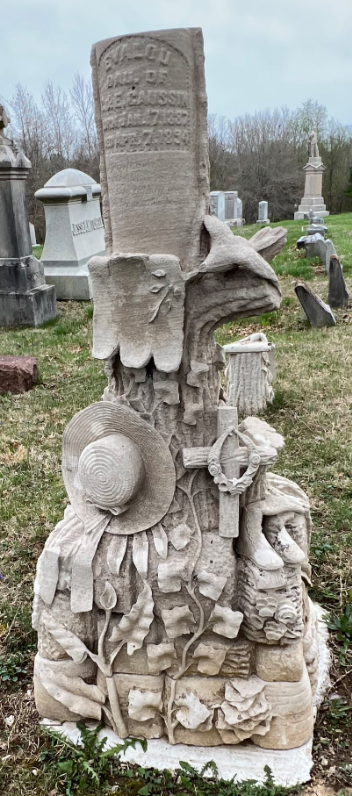 Some really went all out on personalizing their loved one's treestone. The details on this one include a ribboned hat, a scroll, a dove with an olive branch, a cross with a laurel wreath, plants, and a little pair of boots.
Animals on Tree Gravestones
Some families had animals added to their loved one's treestone.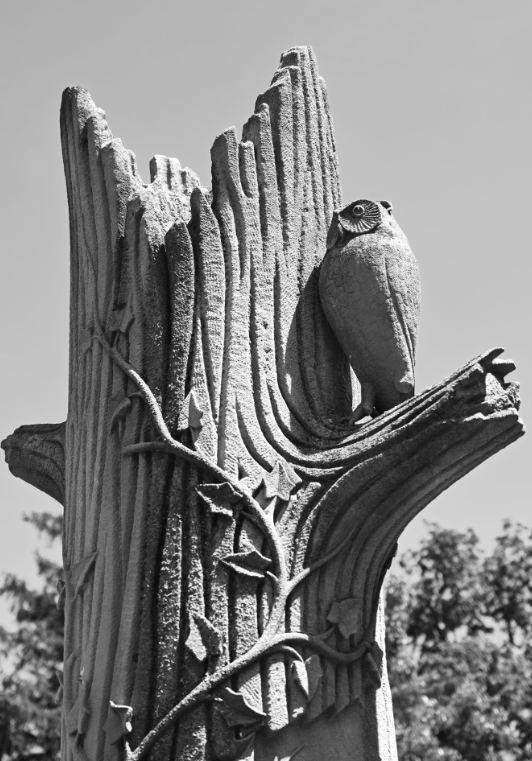 A wise old owl watches from the branch of this treestone.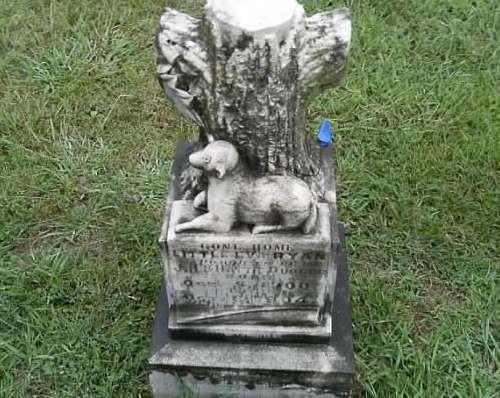 This little treestone has a lamb on it – a symbol of an infant's death.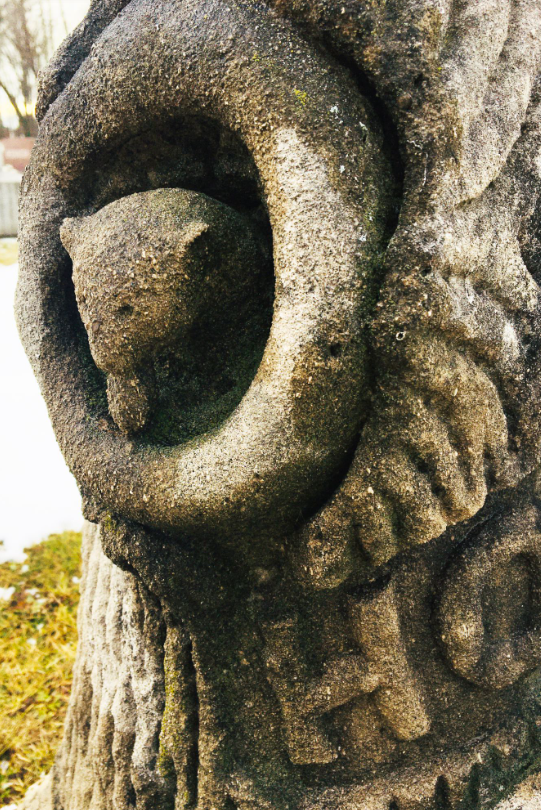 Many treestones have squirrels peeking out of the knotholes.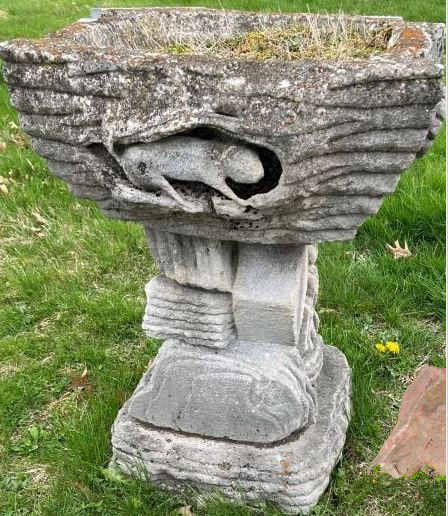 This tree gravestone serves as a planter and has an odd little stone ground hog carved into it.
A Clue to Family Size
Gravestones shaped like a stack of logs, were another form of the Woodmen of the World gravestones.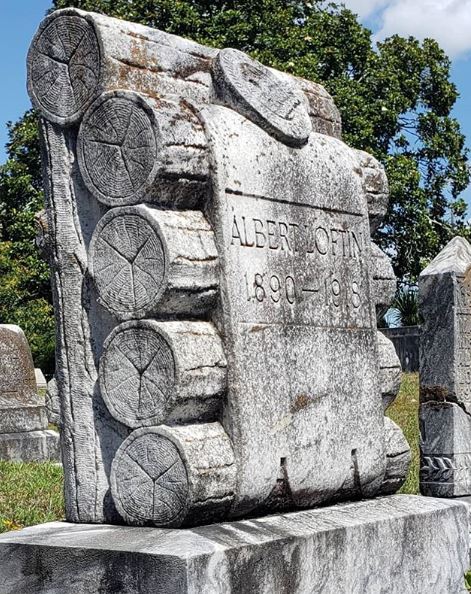 Each log represented one of the deceased's children – so 5 children in this case. Now that is a GREAT clue for genealogists!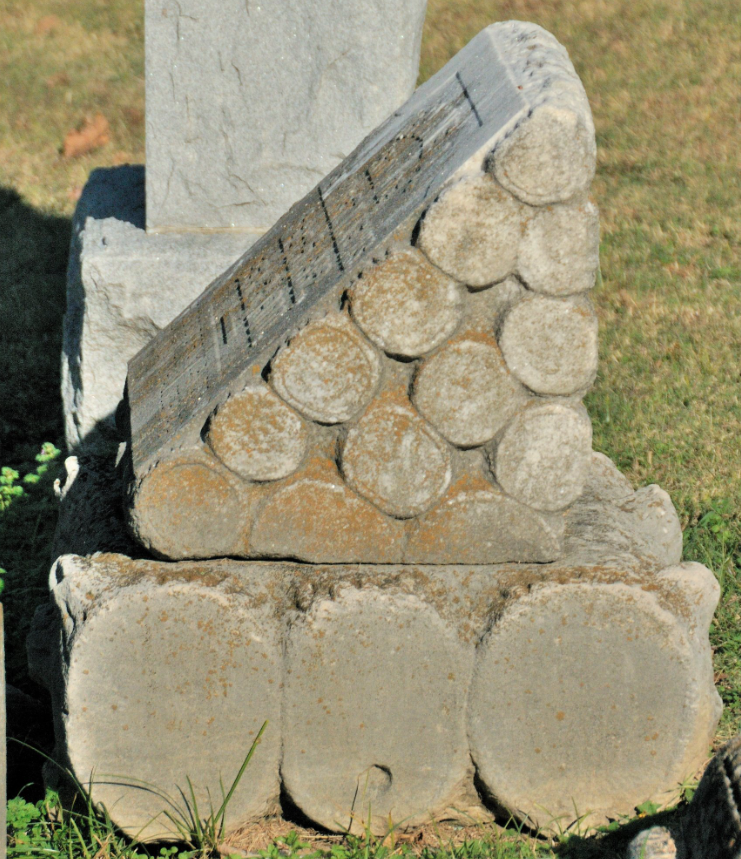 This person had an even larger family. Count them!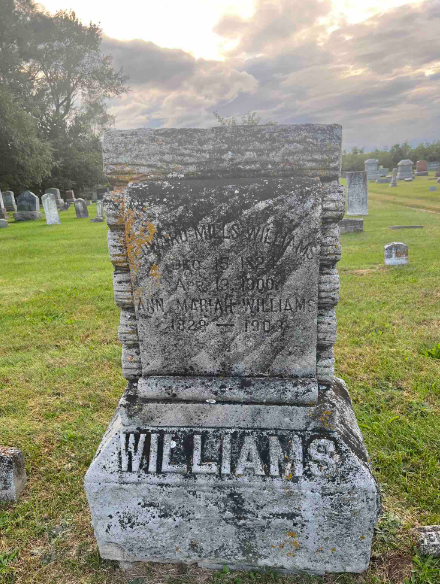 Sometimes just the names of the parents are engraved.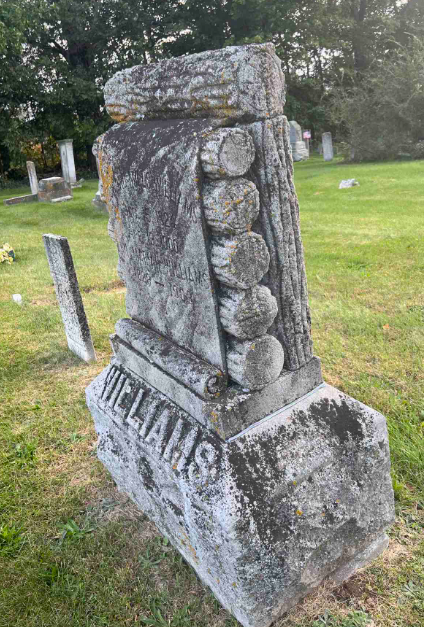 The gravestone becomes a real treasure when the children are listed too.
Woodmen of the World – A Step Out of Poverty
So how did fraternities and insurance companies come to be intertwined in the first place? A little history lesson will help explain.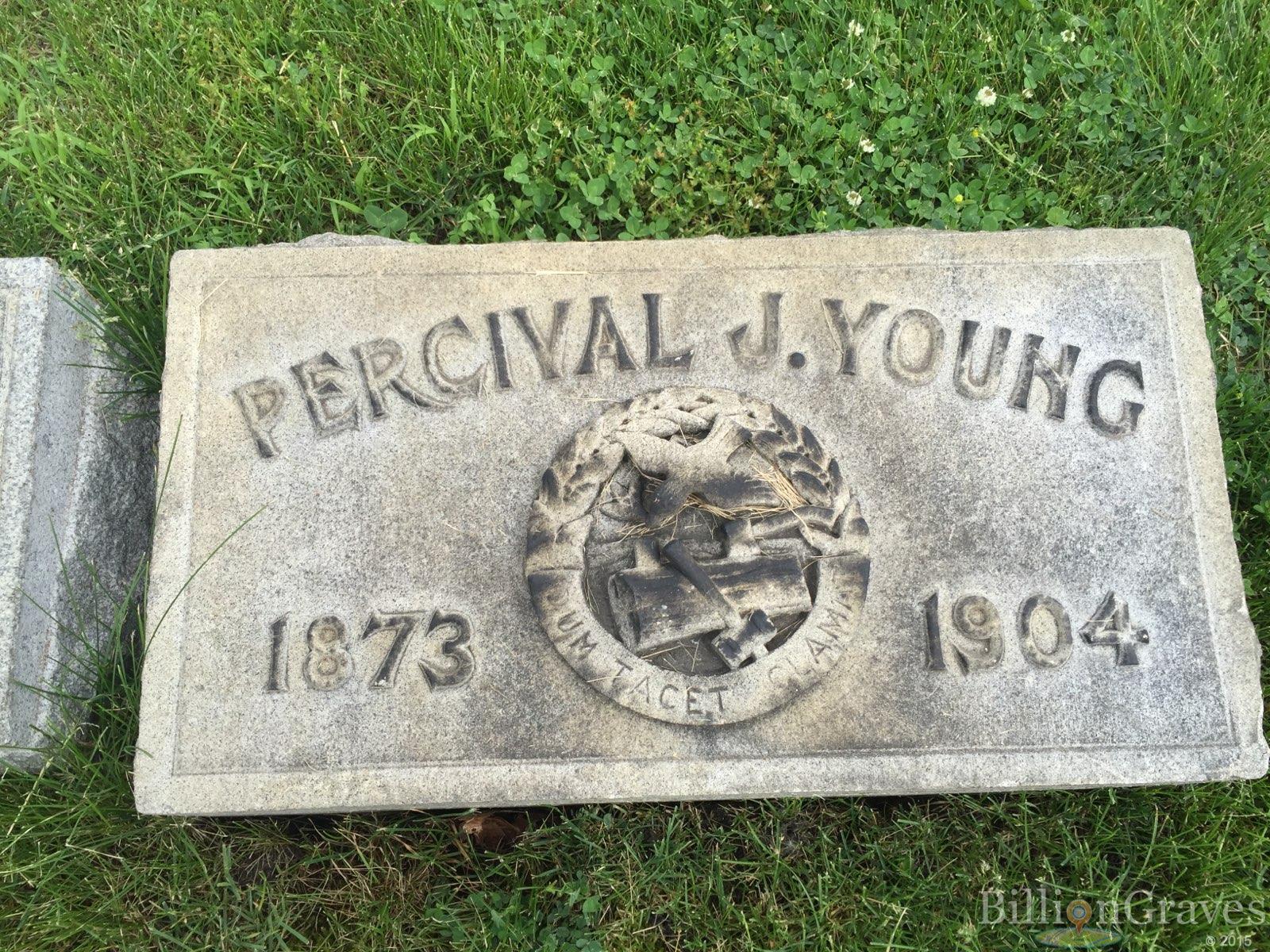 In 19th century America, only the very wealthy bought life insurance.
At that time, men were usually the breadwinners of the family so women were not allowed to take out life insurance policies for their husbands. If a man took out a policy for himself, creditors came after the money soon after his death.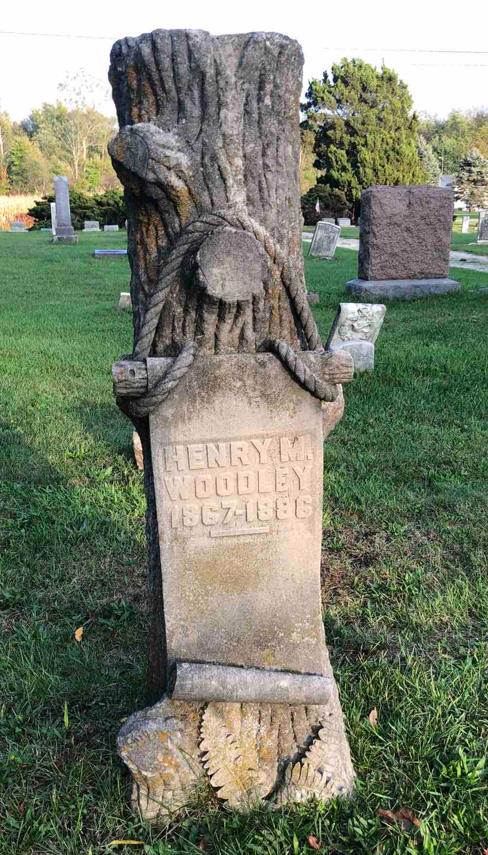 This meant that the death of a husband and father would leave his wife and children destitute. In the mid to late 1800s, many families were hit hard with this reality since more than 620,000 men died during the American Civil War alone. Epidemics and fatal injuries left many more in jeopardy.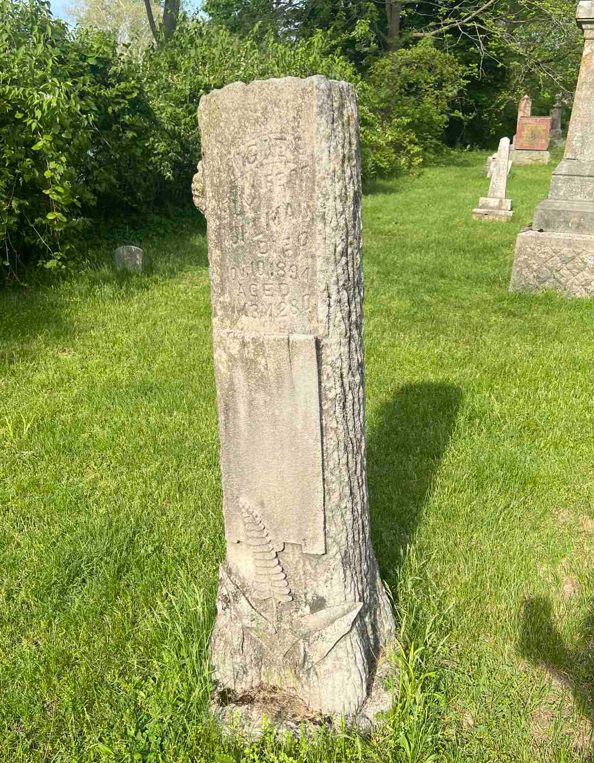 In addition, accepting charitable donations during that time period was seen as a sign of weakness. So families were often hit with the double stigma of shame on top of grief.
To combat these problems, working-class men joined clubs, societies, and fraternities that supported families after a member's death. The compensation wasn't seen as a humiliating hand-out because the man had "earned" it by proving himself to be hard-working and of good character during his membership in a lodge.
And what about all the wild fun that typically went with membership in a club, society, or fraternity? Well, that kept the man coming back for more – and paying his insurance premiums for decades.
A Stump for a Baby
Many treestones are symbolic.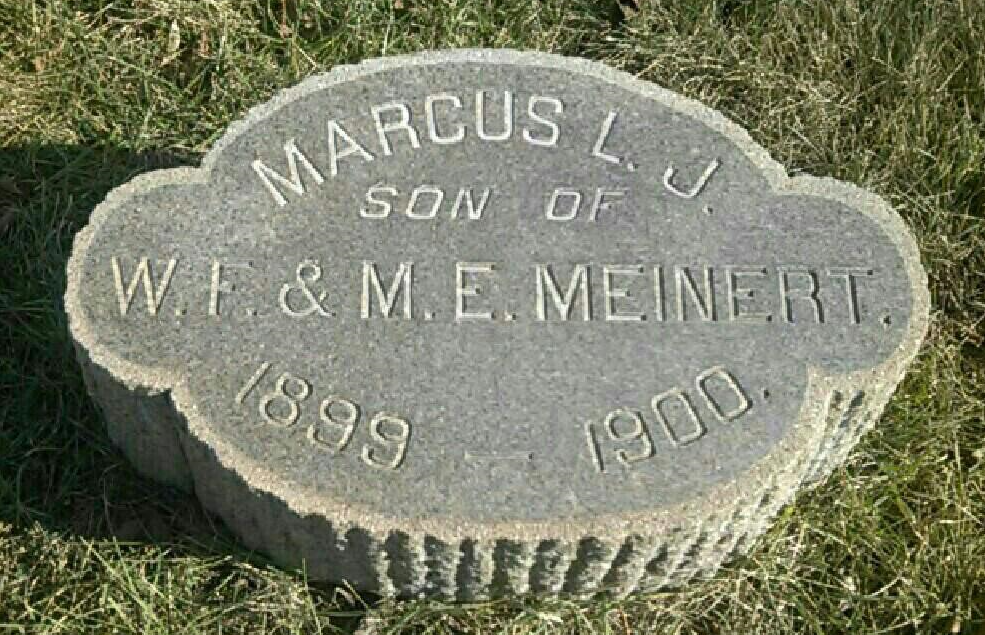 Treestones that were merely stumps symbolized a life cut short. or in other words, the death of a little one. This boy lived from 1899 to 1900.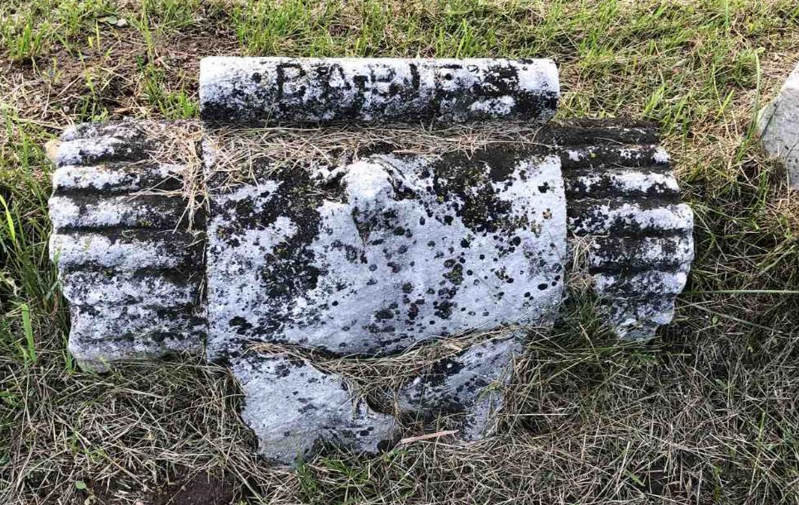 This little tree stump says "babies" on it and was placed for multiple children that died within one family.
Tree Gravestones for More than One Person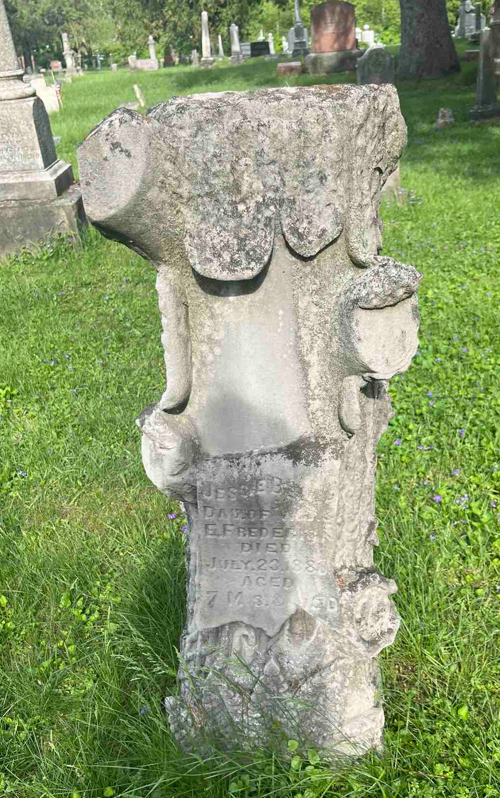 Jessie, a little girl that died at the age of 7 months and 15 days, is buried here.
The space above her name was left blank so her parent's names could be engraved there when they passed away. But now nearly 140 years later, the space is still blank. I wonder if the parents moved away from the area before they passed away? Or maybe the family could not afford to pay for engraving after the parents died?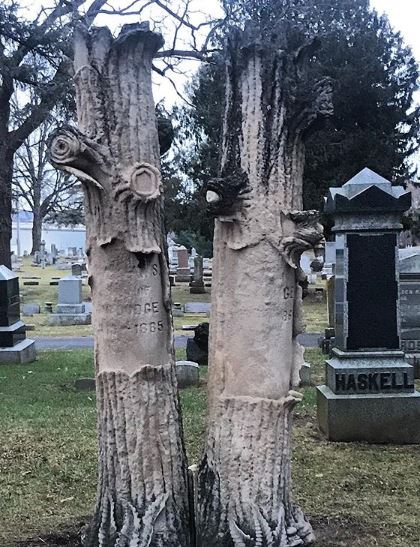 This double treestone is in Evergreen Cemetery in Auburn, Indiana.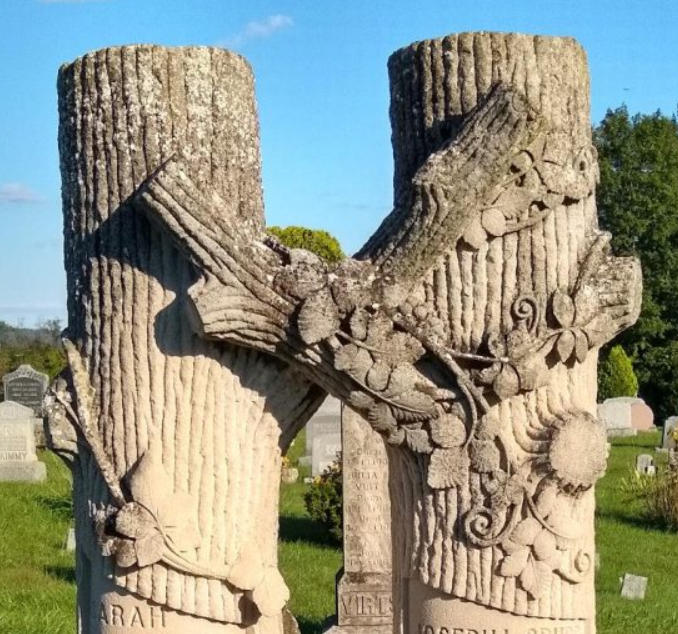 Double treestones are somewhat unusual and are typically found on the graves of a husband and wife.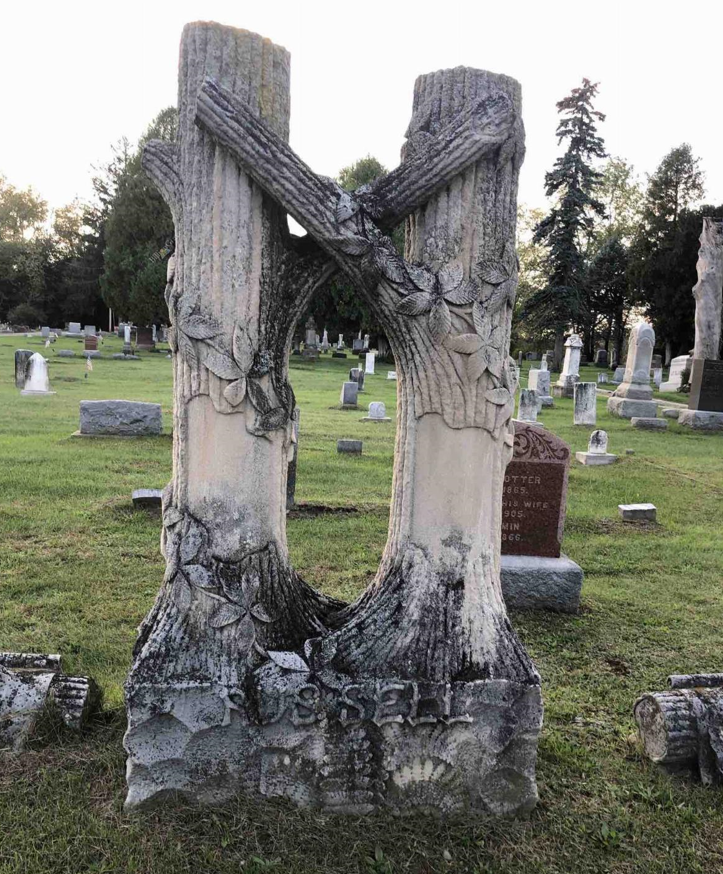 The crossed branches symbolize the close relationship or embrace of the deceased – a little hug from beyond the veil.
Treestone Symbols of Hope
When someone dies, family members tend to cling to hope. They lean on hope in the resurrection, hope of eternal life, and hope of seeing one another again.
Symbols of hope show up on tree gravestones.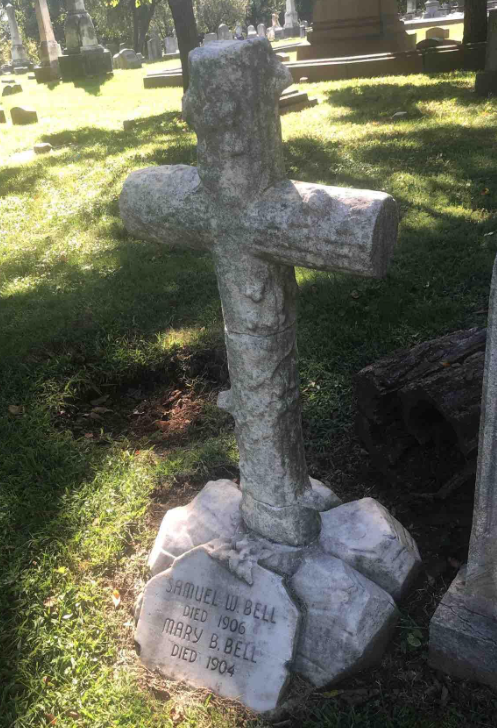 Some treestones are in the form of a cross, a reminder of Christ's sacrifice, atonement, and resurrection.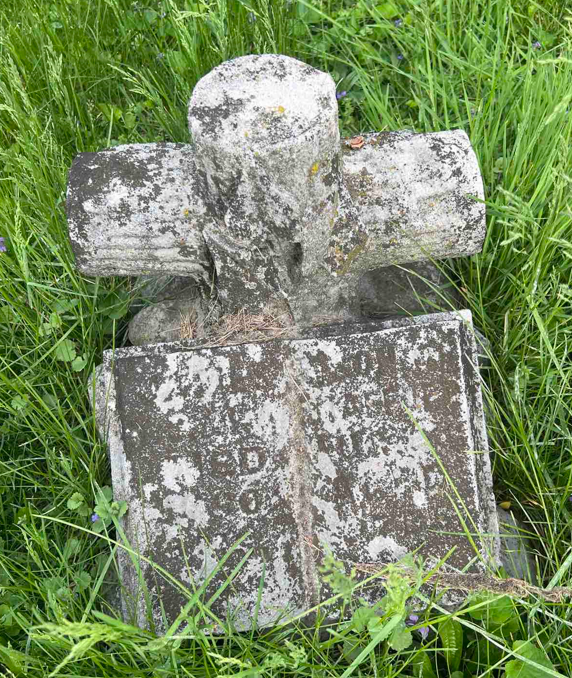 This cross treestone has a Bible leaning against it.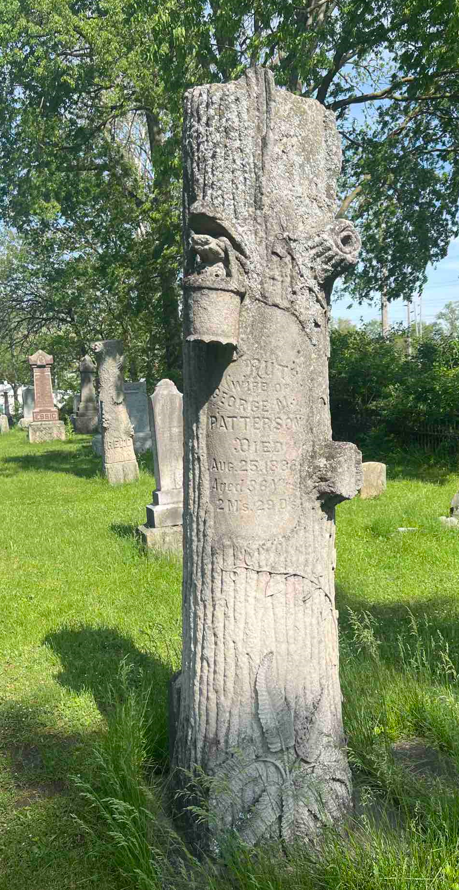 A lantern is another symbol of hope and can represent the light of Christ.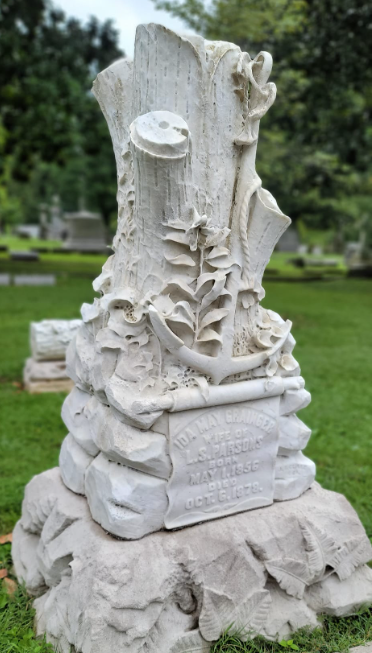 Sometimes an anchor was carved on the gravestones of seamen since it was their last resort in a storm. But more often, the anchor on a gravestone was a symbol of hope.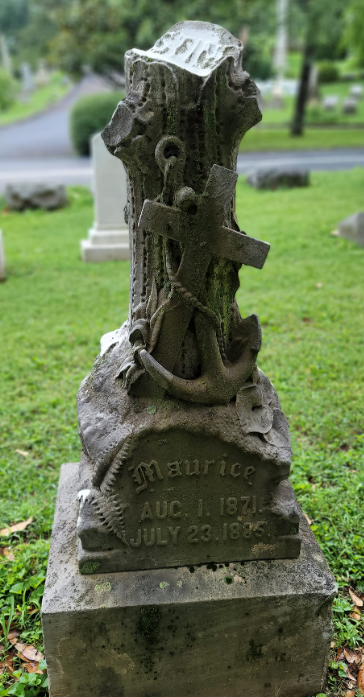 The Bible references an anchor in connection with hope in Hebrews 6: 18-19, "lay hold upon the hope set before us: which hope we have as an anchor of the soul, both sure and steadfast". Those without hope may be like a ship tossed on the sea, their emotions being carried in every direction.
The anchor would remind family members visiting the grave to hold on to the hope of seeing their loved one again.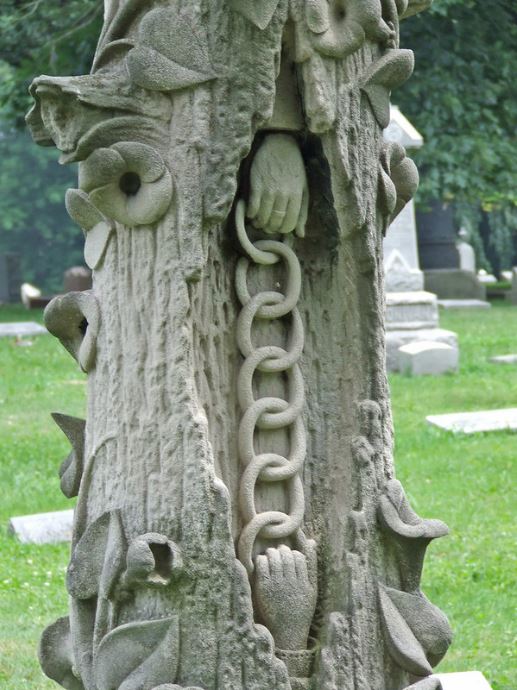 The chain on this gravestone shows the binding link between a husband and wife. The seven links in the chain represent their seven children.
Log Cabin Gravestone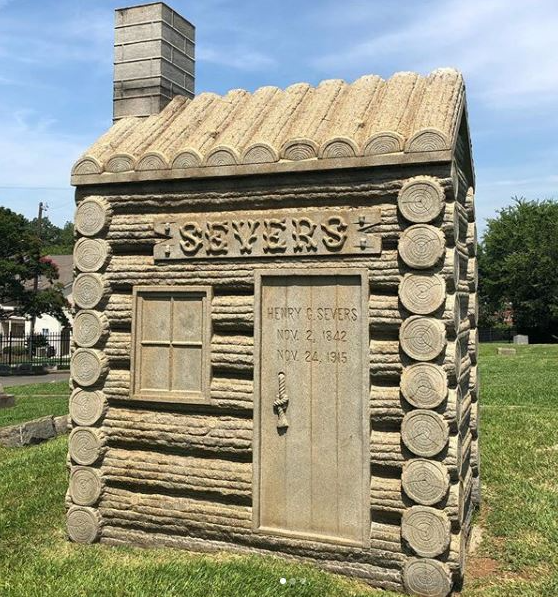 Wow! How's that for a big gravestone!? This log cabin tomb is eight feet high, eight feet long, and four feet deep.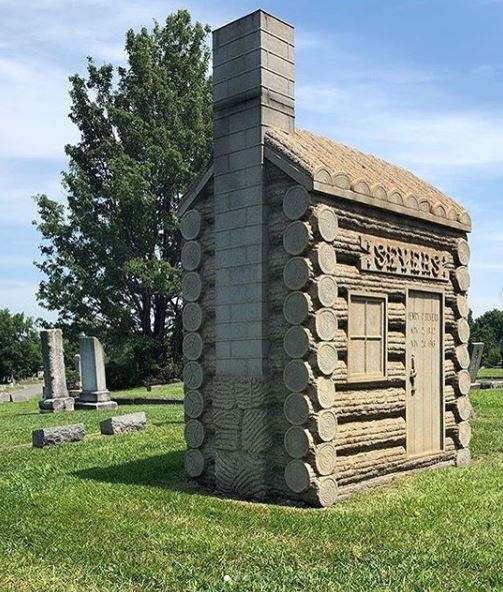 Henry Clontz Severs (1842 – 1915) is buried beneath this log cabin monument, carved from a 15-ton piece of granite, in Charlotte, North Carolina.
The End of an Era
For many years, the Woodmen of the World organization continued to grow. Membership reached 88,000 by 1898 and 750,000 by 1915.
This was a highly successful organization at first, but as the initial members began to age and pass away, it became expensive to put a treestone on every Woodman's burial site.
Production costs for treestones continued to rise. Then came the Great Depression and it hit fraternal organizations hard, causing the use of treestones to dwindle in the 1920s.
Furthermore, the creation of welfare and social security programs in the 1930s made charitable insurance plans obsolete and the Woodmen of the World's plan to provide every member with a gravestone died (no pun intended ;).
A Tree Gravestone Family Plot
Though now a trend of the past, treestones preserve a special part of American history.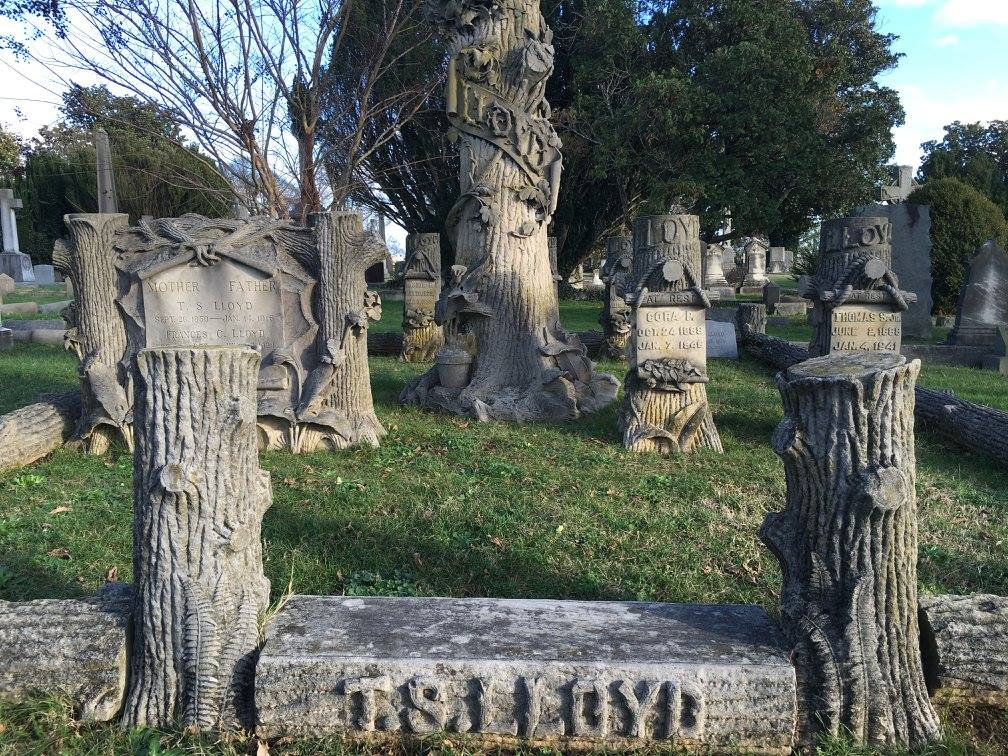 One of the greatest tree gravestone legacies can be found at Hollywood Cemetery in Richmond, Virginia.
It is the family plot of T.S. Lloyd, a man who was influential in railroad development in Pennsylvania.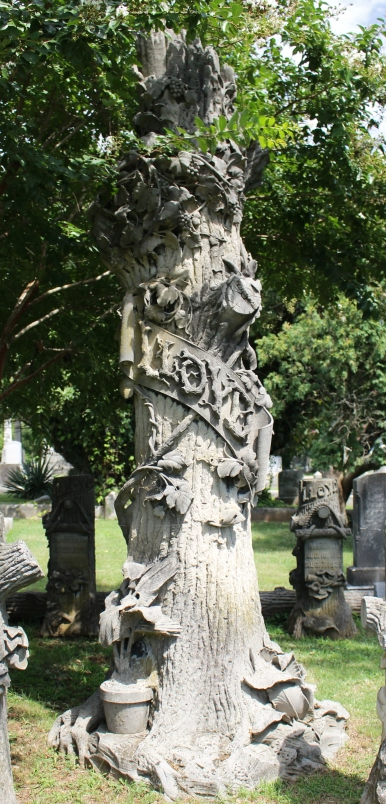 Each monument in the Lloyd family plot is carved to resemble tree stump. In keeping with the theme, the curbing around the family plot is shaped like logs.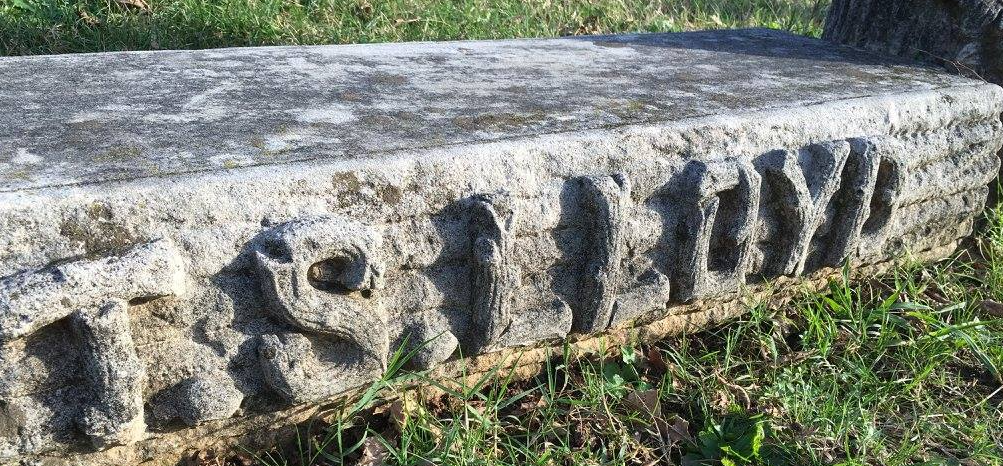 Even the name of T. S. Lloyd is spelled out in log-like lettering.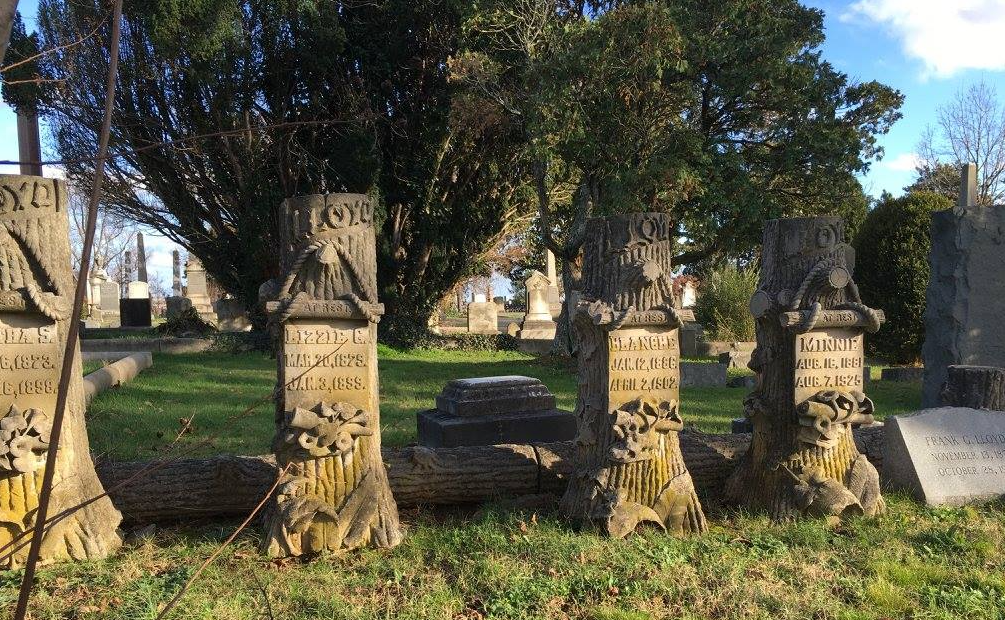 A scroll hangs on each tree trunk, marking the names and the years spent on earth for each of the Lloyd family members.
Finding Your Family Gravestones
Have you ever tried to find one of your ancestor's gravestones in a large cemetery? One with tens of thousands of gravestones? If so, you know how time-consuming, and even frustrating, it can be.
Unless you use the BillionGraves app! Then it's easy! Do a search with the app, walk toward the marker on the BillionGraves map, and BOOM, within minutes you are there!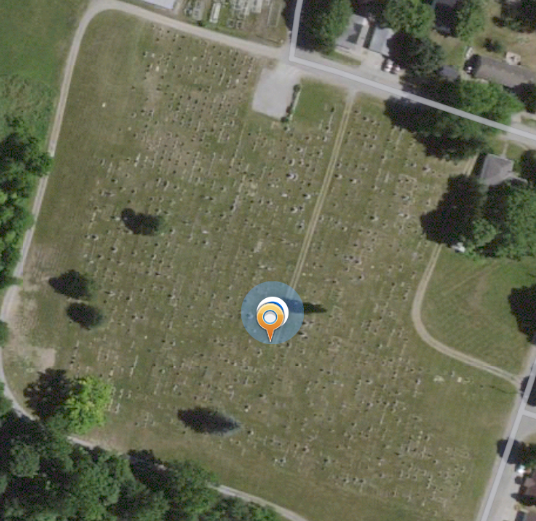 It's unbelievable how many people have told us that they wish they knew about the BillionGraves app before they spent half the day hunting for their ancestor's gravestone!
Click HERE to learn how to use the BillionGraves app to find your ancestor's graves at a cemetery.
Volunteer to Take Photos of Gravestones
We need your help to take photos of gravestones at your local cemetery! It is easy and done completely with your smartphone! Click HERE to get started.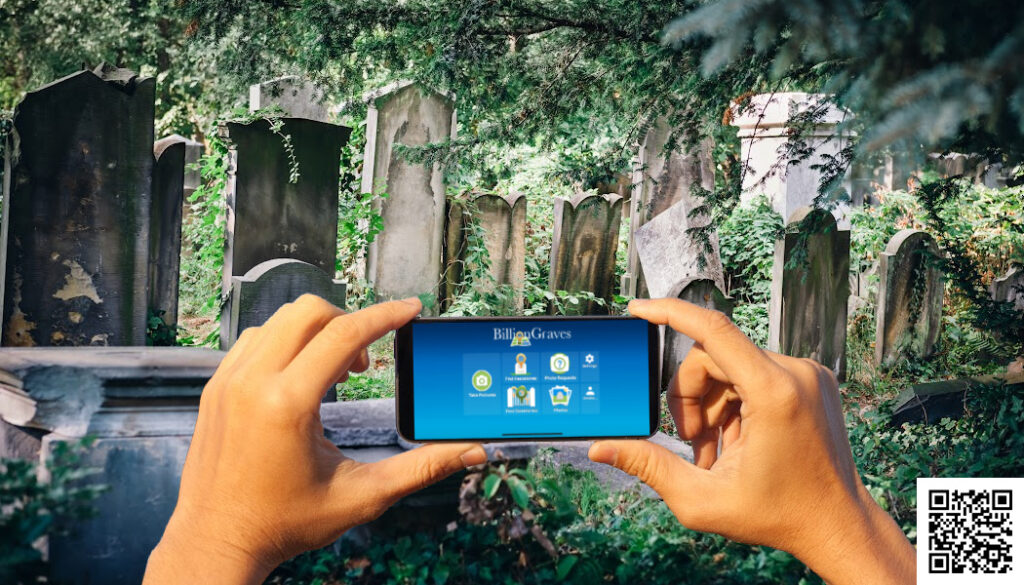 Taking photos of gravestones with the BillionGraves app helps to preserve history!
You are welcome to do this at your own convenience, no permission from us is needed. If you still have questions after you have clicked on the link to get started, you can email us at Volunteer@BillionGraves.com. We'll be happy to help you!
Are you planning a group service project? Email us at Volunteer@BillionGraves.com for more resources. We will help you find a cemetery that still needs to have photos taken.
Happy Cemetery Hopping!
Cathy Wallace
Related posts