Today we want to highlight an experience shared by Geniaus, a great Australian genealogy blogger. She shared her experience with BillionGraves on her blog recently, and she is so gracious as to let us share that post with you!
On our recent trip we travelled back to Sydney via a few towns where some ancestors buried.
One of the cemeteries I had previously visited in Cobar many years ago but the images I had taken of my grandparents' headstones were poor quality. I wanted to rephotograph these and also look for other family resting spots. The two other cemeteries where I managed to find some family graves, in Broken Hill and Forbes, were new to me.
Locating the graves in each of these sites wasn't particularly easy. In Cobar and Forbes there was no resource available to pinpoint the graves' exact location; the map of Broken Hill Cemetery that was available by the Cemetery gate was quite confusing even for Mr Geniaus who is not spatially challenged like me.
Ben Hall the Bushranger – Forbes Cemetery
In order to make it easy for cousins who may be seeking these graves in the future I added each of them to Billiongraves. The GPS coordinates that Billiongraves attaches to these images will make finding them in the future much easier for those who make use of the Billiongraves site or app.
As we were on a tight time schedule I could not commit myself to photographing all of the graves in each of these cemeteries. I did, however, take and upload a few rows of headstones  around the graves I was visiting in Cobar and Broken Hill.
In less than half an hour I was able to photograph over 100 images in Cobar cemetery. These are now available on Billiongraves site; those who wish to visit these graves can use the GPS coordinates to locate them efficiently.
How about joining and downloading the Billiongraves  app to your Android or other device so that you can contribute to the database when you find yourself (above ground) in a cemetery. While in a cemetery take some time to photograph a row or two of graves. This is a painless and enjoyable way of helping others connect with their ancestors.
Thanks for being part of the BillionGraves effort, Geniaus! Go check out her blog to get some great advice on your genealogy work. And use her experience as motivation to take more pictures. After all, we all benefit from this volunteer effort. 
Read More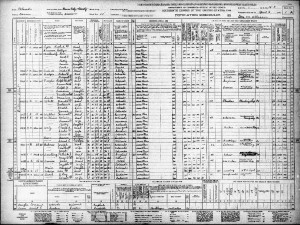 The 1940 Census is out! Not only can you view the records for free (unlike previous census images), but you can download your research right from the site.
An index for the 1940 census does not yet exist, but FamilySearch is providing a way for volunteers to index the census so that it can be searchable and available to the public. The indexing project will greatly improve your ability to research the wealth of information included in the census, so to expedite the indexing process, you can join the volunteer effort! Visit the FamilySearch website to get started. You can also sign up on the 1940 Census website.
When you need a break from indexing the Census, head out to your local cemetery for some fresh air and snap some pictures while you're there! It's always exciting to have access to new research like the 1940 Census, and when you document a cemetery for the BillionGraves database, you are providing new and valuable research for people all over the world.
Besides the obvious excitement of gaining access to new family history research, the hubbub surrounding the release of the 1940 census is the fact that there are many people alive today who are actually included on it. Babies born in 1940 are only in their early 70s now, and their parents could still be alive as well. When you study the census, you'll be able to make important family connections as well as find occupations, immigration data, and locations for your own relatives.
You can access the 1940 Census at these sites:
[Correction] Images are free until the end of 2013 at Ancestry.com
Read More