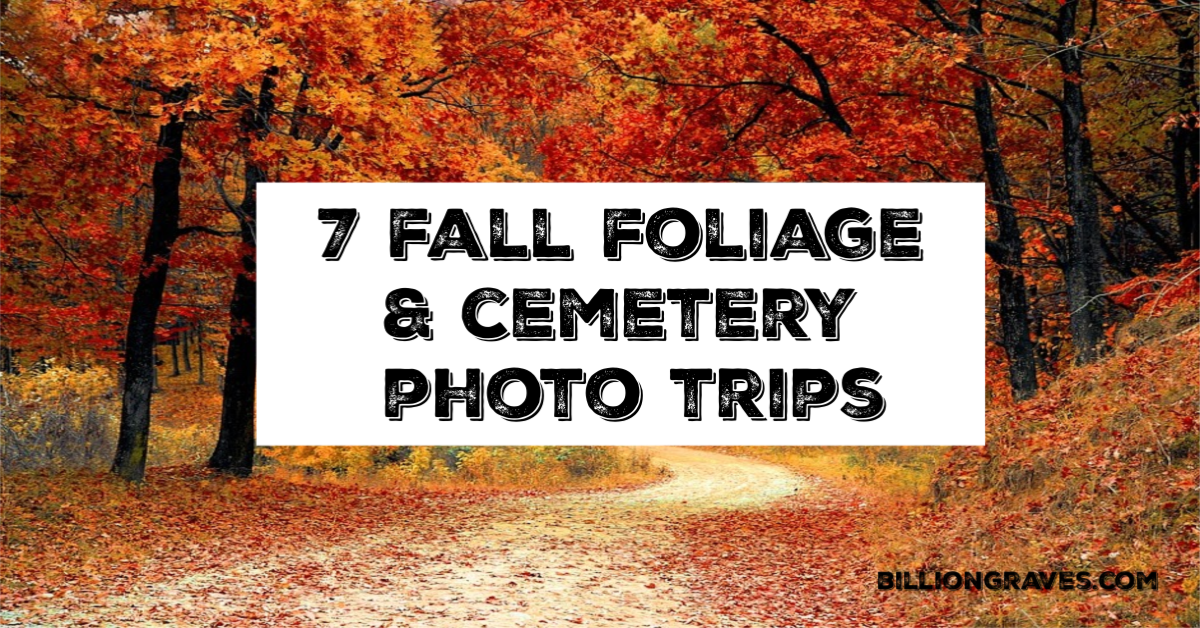 7 Fall Foliage and Cemetery Photo Trips – from BillionGraves
Cathy Wallace, 5 years ago
11 min

read
13264
Fall is one of the best times to take your camera – and your BillionGraves photo app – on the road. The leaves are changing to breathtaking reds and golds, the weather is cooler, and there is less traffic on the road. Combine your love of beautiful fall foliage with taking photos in cemeteries and it will be an autumn to remember.
These 7 trips are a guide to exploring fall foliage "eye candy" and photographing gravestones in some of America's most amazing cemeteries with the BillionGraves app. Fall foliage cemetery photo trips may become one of your annual traditions!
What is BillionGraves?
If you would like to a make difference in the world, share data that has never yet been published, and help families connect then download the BillionGraves app to your smartphone.
The BillionGraves app allows you to quickly and easily take photos of gravestones as you stroll through beautiful tree-lined cemeteries decked out in fall foliage. In just a short visit you can take hundreds of photos.
As you take photographs they are automatically linked with GPS location pins enabling families around the globe to find their ancestor's graves for family history and to honor their loved ones.
After your photos are uploaded you will be able to transcribe them yourself or choose to have someone else transcribe the names and dates from the gravestones.
To find a cemetery that needs photos and to learn more about taking cemetery photos go to https://billiongraves.com/

7 Photo Trips with Beautiful Fall Foliage and Amazing Cemeteries
Lincoln Cemetery in Gettysburg, Pennsylvania
4 Historic Burial Grounds in Boston Massachusetts
Sleepy Hollow Cemetery in Sleepy Hollow, New York
3 Mackinaw Island Cemeteries in northern Michigan
Lakewood Cemetery in Minneapolis Minnesota
Hope Cemetery in Barre, Vermont
Mount Caramel and Wildwood Cemeteries in Williamsport, Pennsylvania
BillionGraves Fall Foliage and Cemetery Photo Trip #1: Lincoln Cemetery in Gettysburg, Pennsylvania
Fall foliage and Gettysburg cemeteries are a perfect match. You'll walk on carpets of golden leaves under canopies of red.
Many of Gettysburg's cemeteries have been documented using the BillionGraves photo app, but Lincoln Cemetery has been overlooked. Lincoln Cemetery is the final resting place for Gettysburg's black citizens and Civil War veterans.
In keeping with the customs of the time, African American soldiers were denied the right to be buried in the National Cemetery even though they risked their lives in battle to fight for the Union, for liberty, and for their families.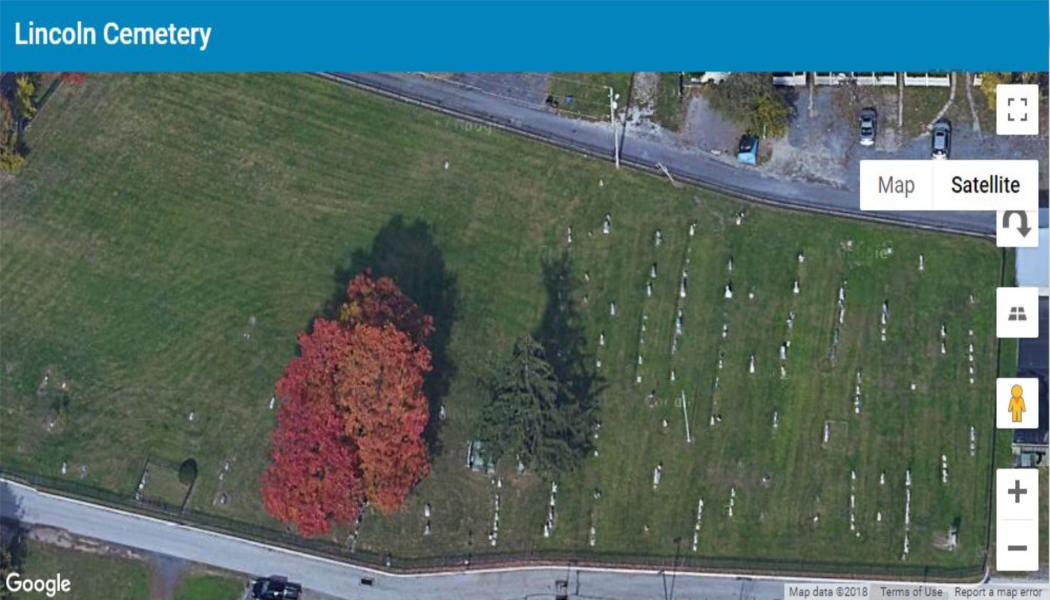 Lincoln Cemetery draws its name from Abraham Lincoln who dedicated the cemetery in 1863. A memorial plaque at the site quotes Lincoln as saying of the black war veterans buried here, "without the benefit of citizenship they fought for freedom." Let us not forget them.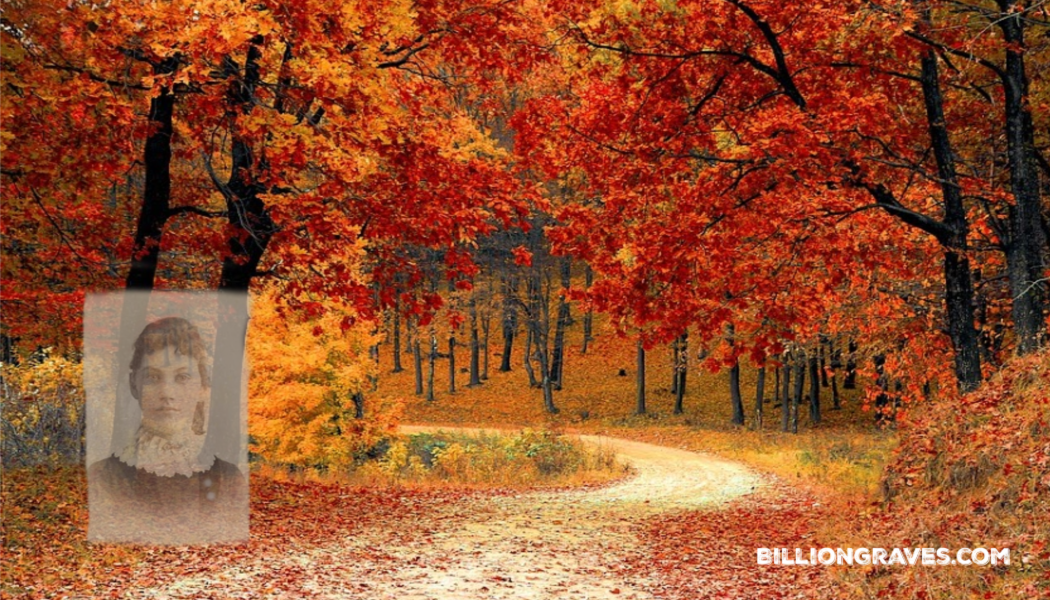 BillionGraves Fall Foliage and Cemetery Photo Trip #2: Four Historic Burial Grounds in Boston, Massachusetts
Copp's Hill Burying Ground: Fall foliage as yellow as sunshine lights up Boston's second oldest cemetery, Copp's Hill Burying Ground. The cemetery was founded in 1659, less than 40 years after Mayflower pilgrims landed at Plymouth Rock.
This historic cemetery is one of the official stops on Boston's Freedom Trail and is listed on the National Registry of Historic Places.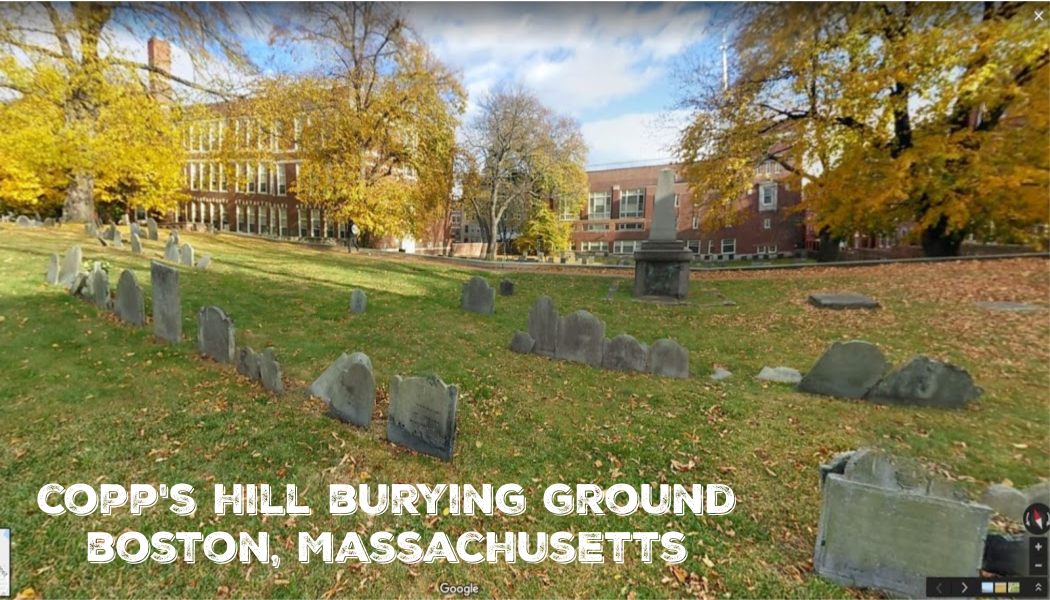 Some of the notable people who are buried at Copp's Hill cemetery are:
Robert Newman, a colonist who put the lanterns in the steeple at Old North Church to signal the start of Paul Revere's midnight ride to Lexington and Concord at the beginning of the American Revolution
Increase Mather, president of Harvard College
Cotton Mather, Puritan minister often remembered for his involvement with the Salem Witch trials
Prince Hall, an abolitionist and the father of Black Freemasonry
The Google map photo below shows the pins where photos have already been taken. The gravestones without pins still to be GPS documented with BillionGraves app.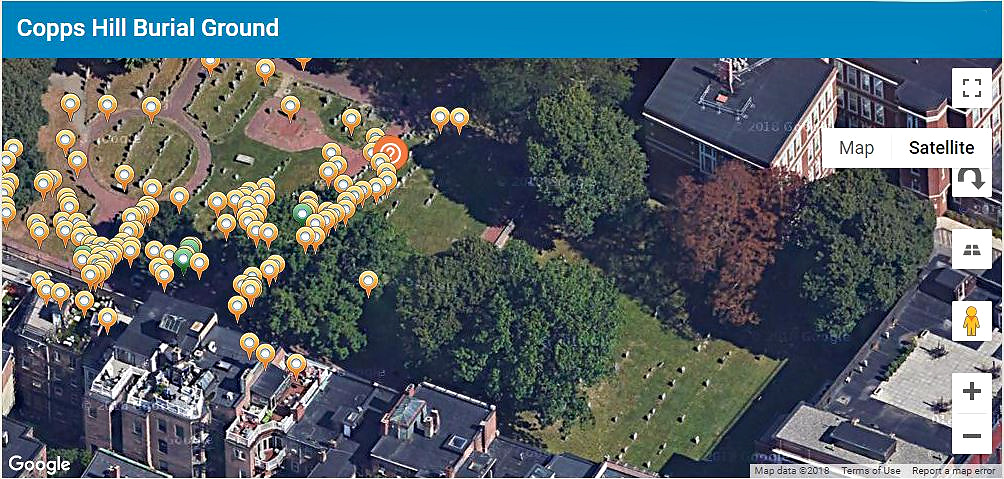 Central Burial Ground: Buried at this historic cemetery are American patriots from the Boston Tea Party and the Battle at Bunker Hill, composer William Billings, and British soldiers who died during the American Revolution. Central Burial Ground, located in the heart of Boston, currently has no BillionGraves photos taken.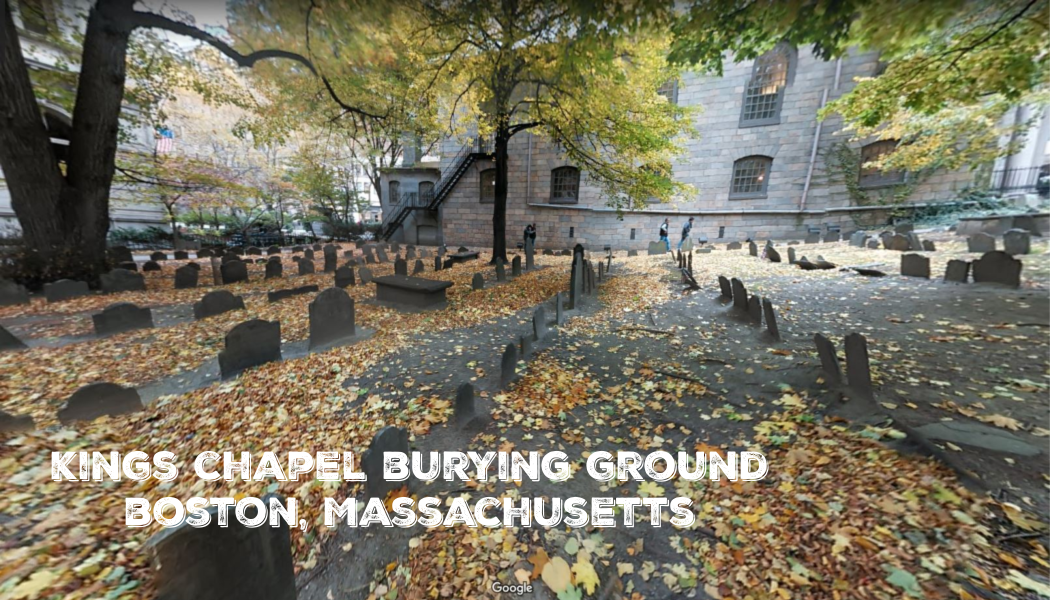 King's Chapel Burying Ground: Famous people buried at King's Chapel Burying Ground include Mary Chilton, the first European woman to set foot in New England; John Cotton, a Puritan minister; and John Winthrop, the first Puritan governor of Massachusetts.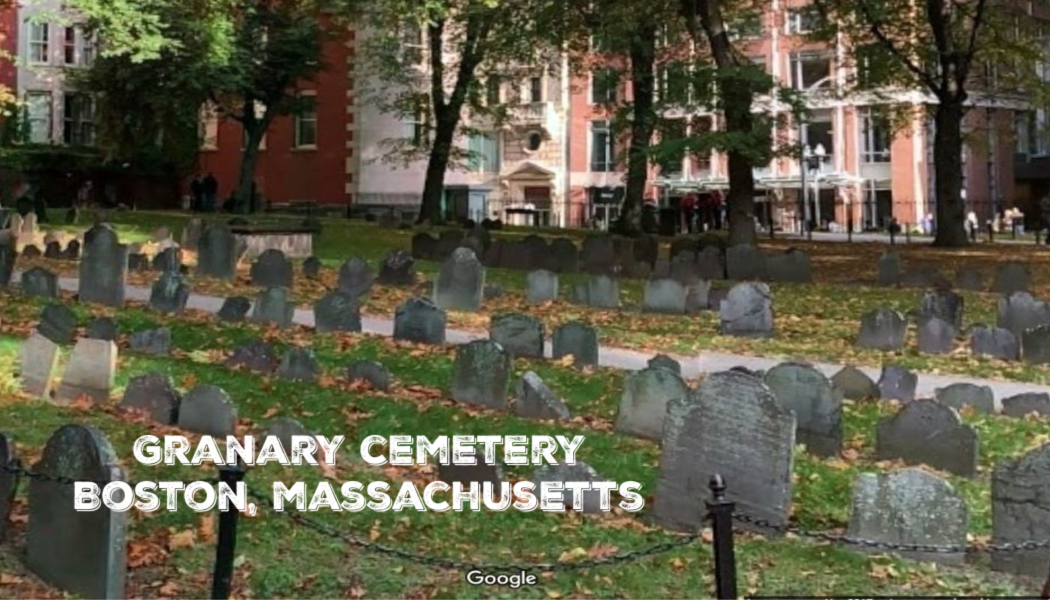 Granary Burying Ground: This cemetery is also on the Freedom Trail and is surrounded by beautiful fall foliage. 281 BillionGraves photos have been taken at the Granary Burying Ground, but there are more than 2,000 gravestones in the cemetery, so there are still many picture-taking opportunities.
Famous people buried at this cemetery include Samuel Adams, Paul Revere, and John Hancock.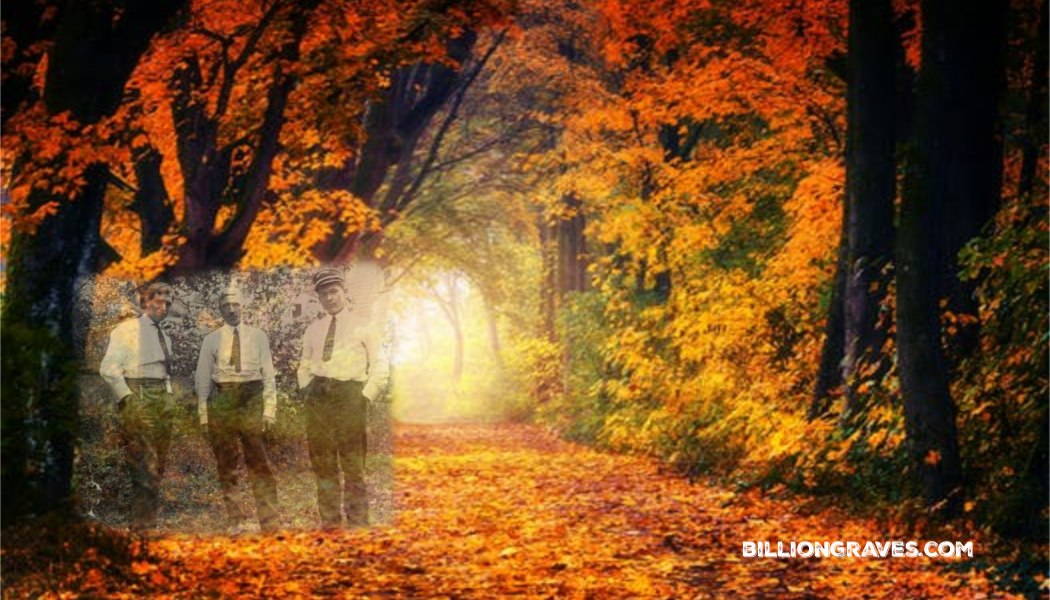 BillionGraves Fall Foliage and Cemetery Photo Trip #3: Sleepy Hollow Cemetery in Sleepy Hollow, New York
Trees covering the hillside at Sleepy Hollow Cemetery are aflame with color in the fall.
The author of The Legend of Sleepy Hollow, a folktale about the headless horseman, Washington Irving, is buried here.
So is steel business tycoon Andrew Carnegie, one of the richest men of the 19th century and a generous philanthropist in both America and England.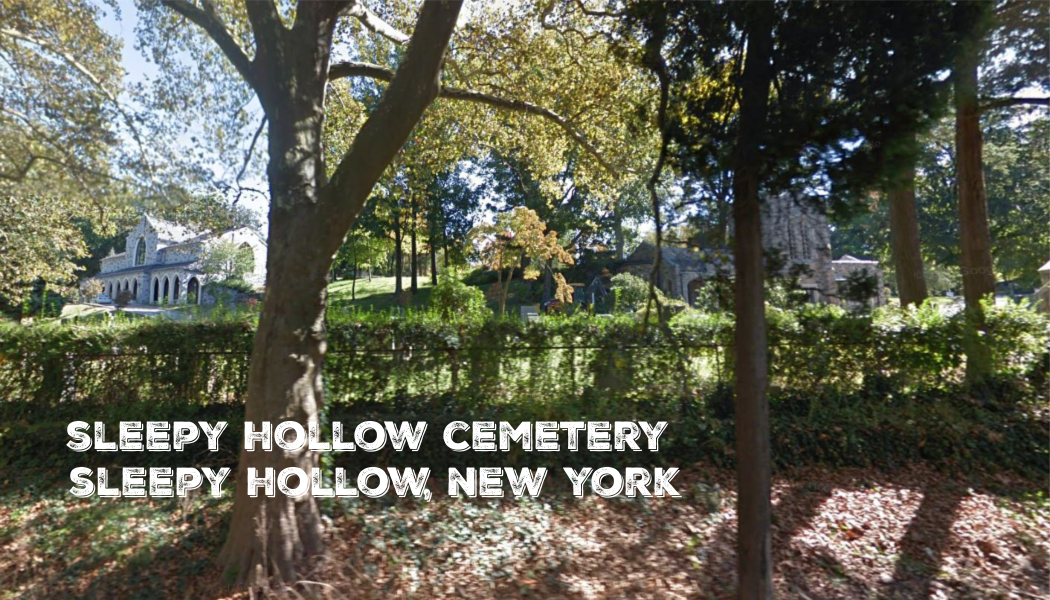 J.D. Rockefeller's huge mausoleum stands at the center of the Sleepy Hollow Cemetery. It has been photographed and GPS documented with the BillionGraves app, but as you can see on the Google satellite map below not much else in the cemetery has been recorded.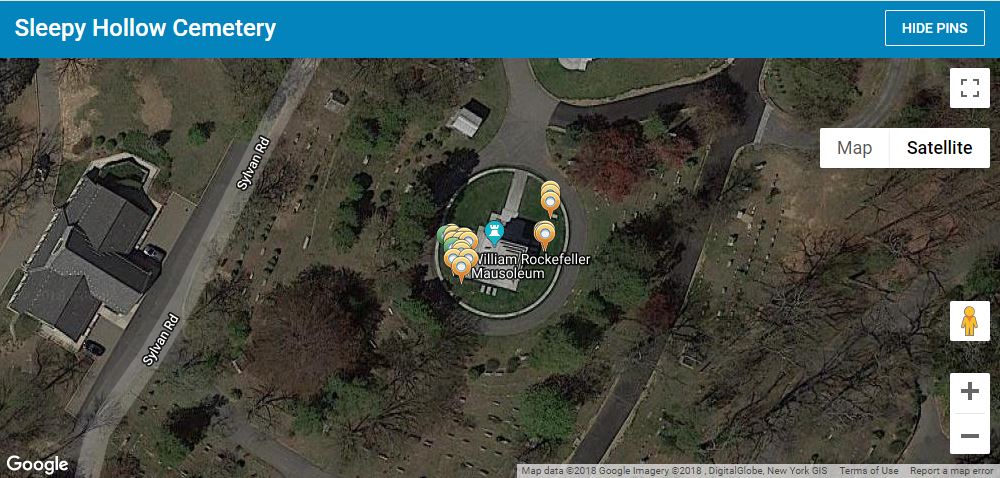 As the gravestones in many eastern states cemeteries age, they are deteriorating and becoming unreadable. Capturing images of the memorials before it is too late will help preserve the memories of those buried there.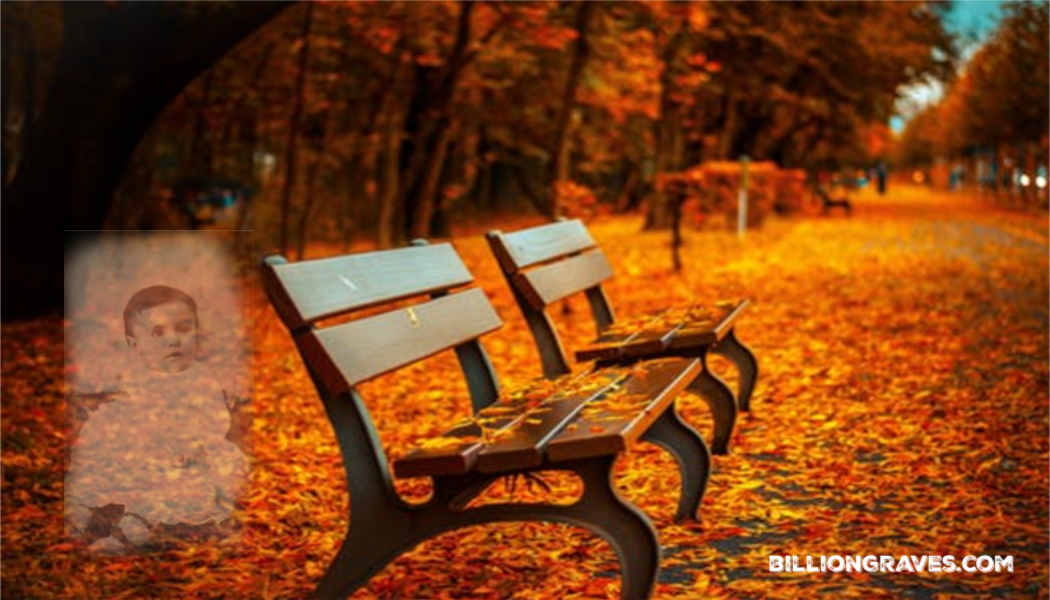 BillionGraves Fall Foliage and Cemetery Photo Trip #4: Mackinaw Island, Michigan Cemeteries
Northern Michigan is known as one of the prettiest places for fall foliage color tours. And Mackinaw Island is the star of northern Michigan in autumn. The views of brilliant orange leaves set against the blue water surrounding the island are breathtaking.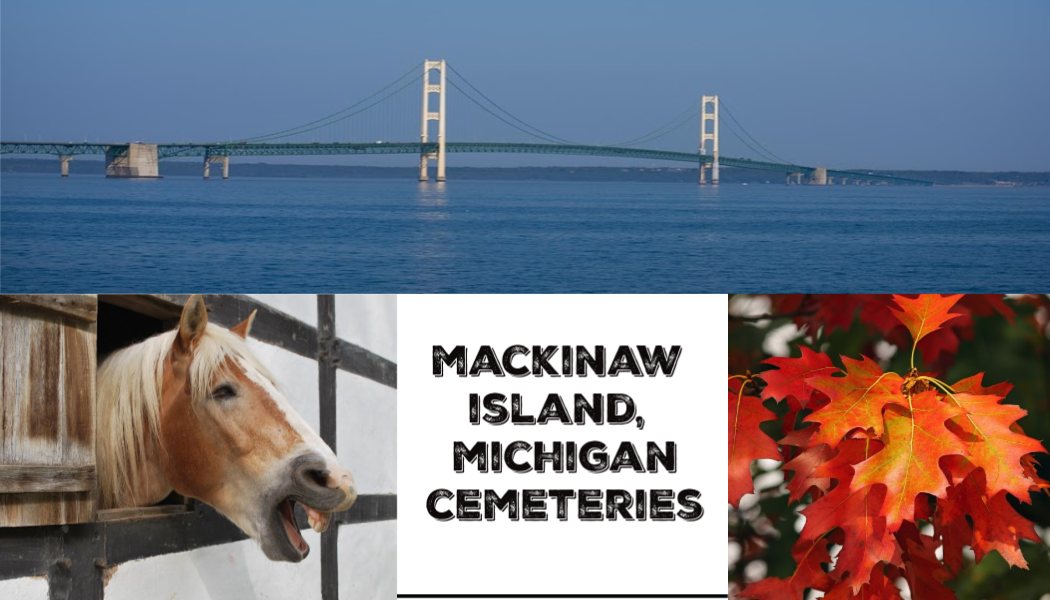 Stepping off a boat onto Mackinaw Island is like taking a step back in time. The only vehicles allowed on the island are for emergencies – most travel is done by horse, bike, or on foot.
While you are exploring, take in Mackinaw Island's rich history. Past residents of the island include British and Colonial soldiers from the War of 1812, fur traders, and Native Americans. You'll encounter many of their graves in the 3 cemeteries on the island that need additional BillionGraves GPS documentation.
Tip: Don't miss out on Mackinaw Island's delicious fudge! It's so famous that northern Michigan tourists are often referred to as "fudgies"!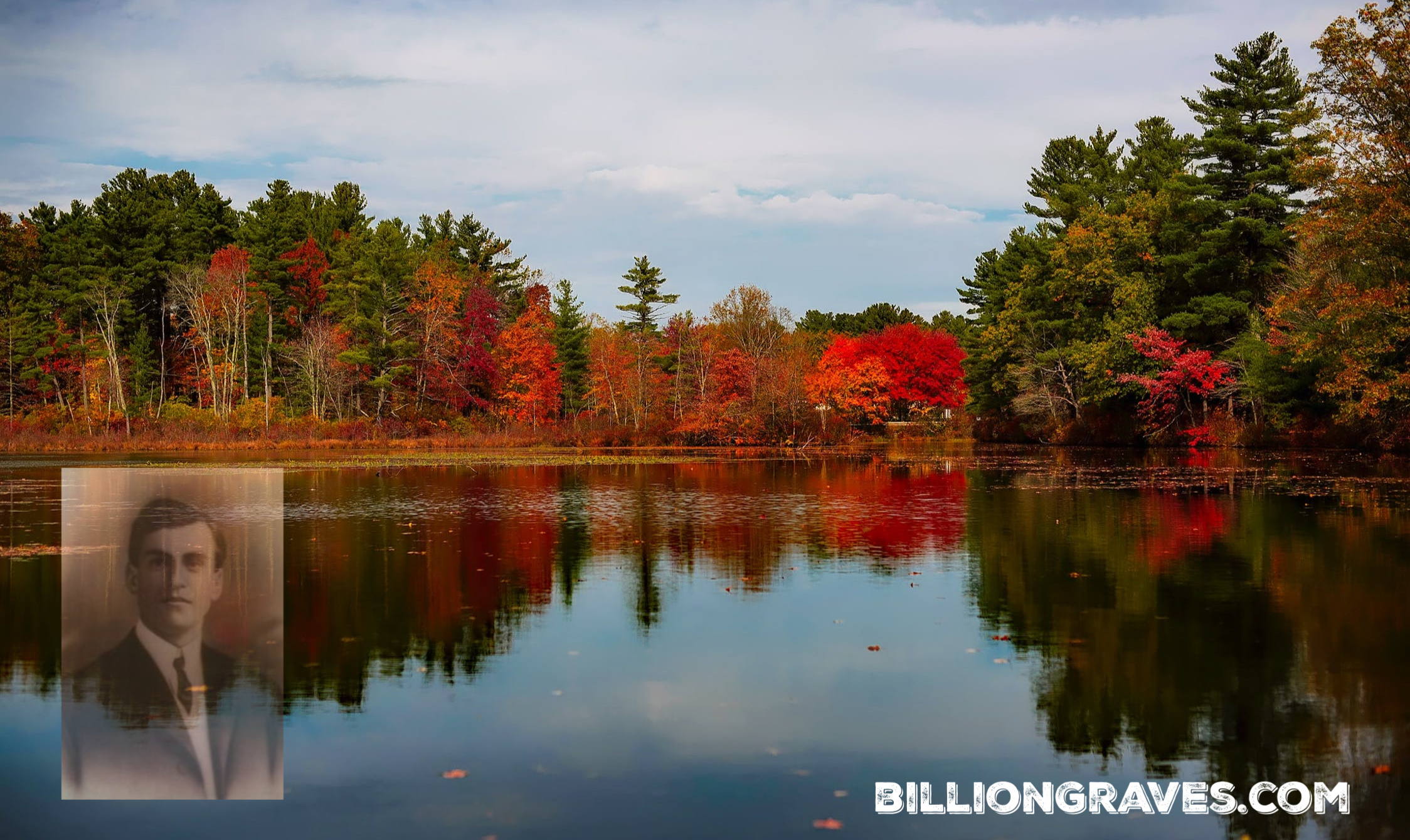 BillionGraves Fall Foliage and Cemetery Photo Trip #5: Lakewood Cemetery, Minneapolis, Minnesota
Though it may not be your first thought to go leaf-peeping at a cemetery that is exactly what Lakewood Cemetery is known for. The cemetery hosts a fall foliage color tour in mid-October complete with trolley rides and bird-watching tours.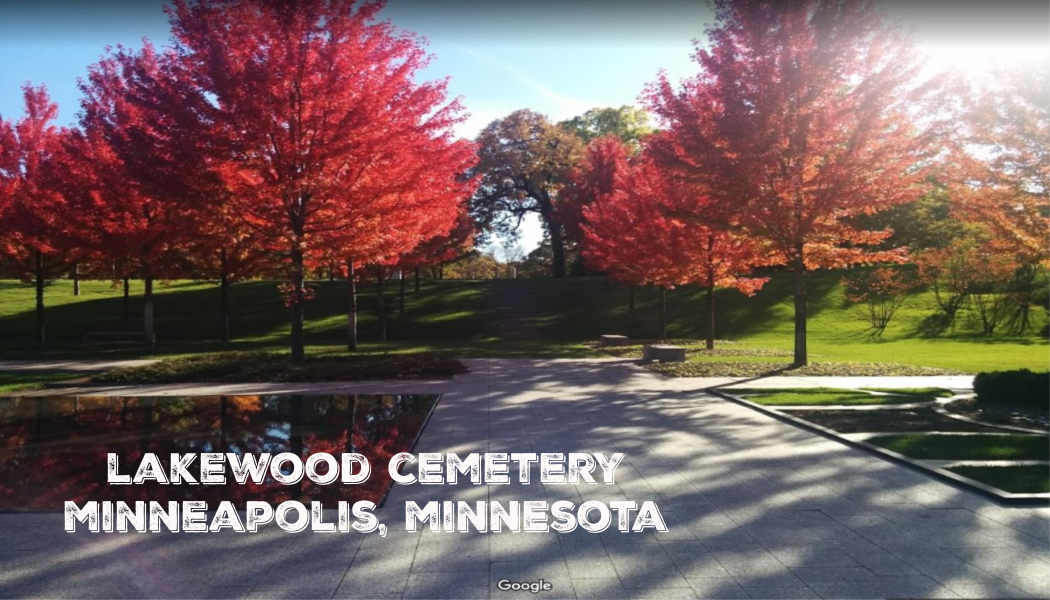 Minneapolis' Lakewood Cemetery has more than 125,000 grave markers and many of them are unique and beautiful. The name of the cemetery, Lakewood, is fitting since it is made up of a lake and woods. There are over 11 miles of winding trails and tree-covered hills surrounding an 8-acre lake.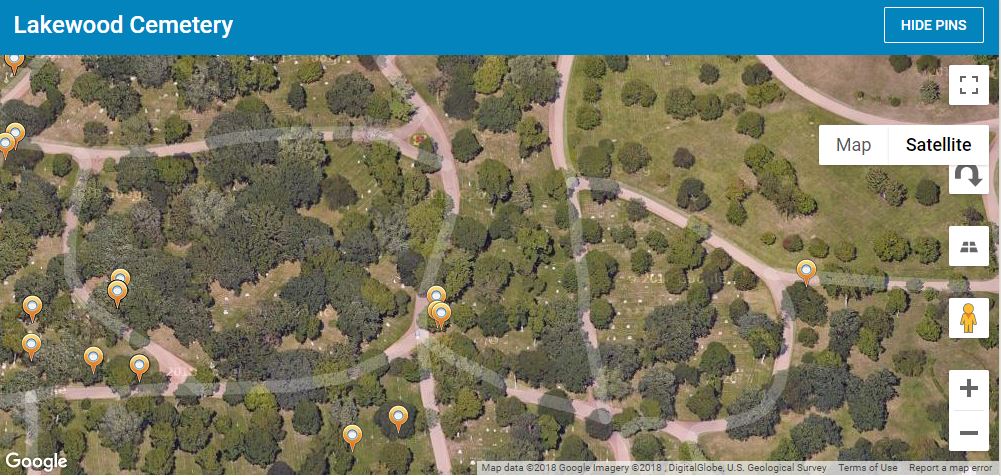 If this sounds more like a resort than a cemetery, that is because the cemetery is pretty and unique enough to be a resort. It was designed to be a garden cemetery. This 250-acre cemetery is a great place to view fall foliage and take lots of BillionGraves photos.
Fun fact: Franklin Mars, creator of the Milky Way candy bar, is buried at Lakewood Cemetery.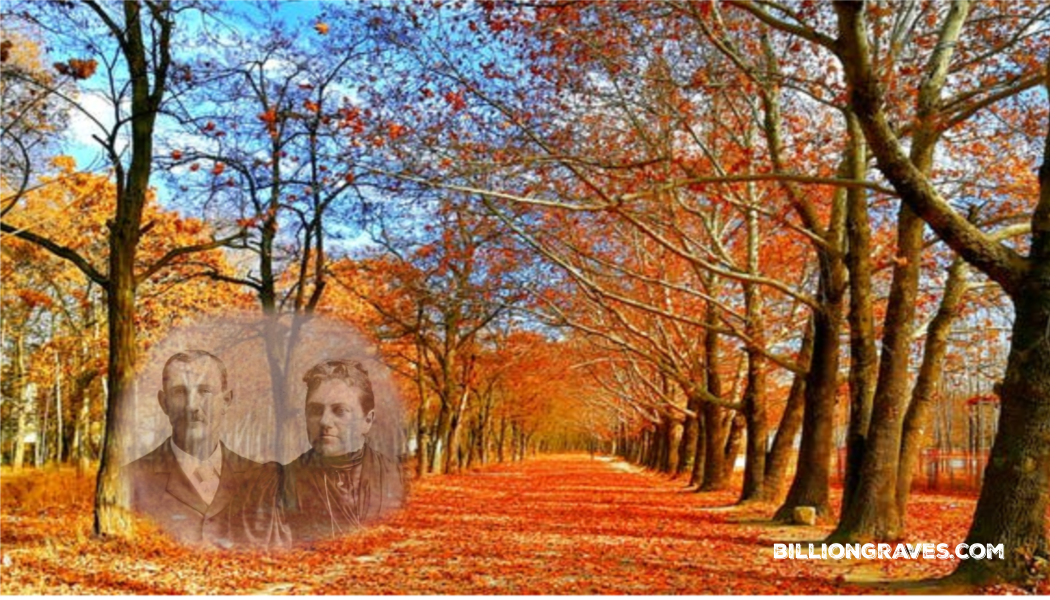 BillionGraves Fall Foliage and Cemetery Photo Trip #6: Hope Cemetery in Barre, Vermont
If you plan to set off on a fall foliage adventure, Vermont is a great place to see maple sugar trees decked out in brilliant red, purple, orange, and yellow.
My great-great-uncle, John Tanswell (pictured with his wife Antoinette above) operated a maple syrup farm. John drilled holes in the trees and inserted metal spigots so that when the sap ran down in the early spring it could be collected in wooden buckets. It was my grandfather's job, as a 4-year-old, to carry the buckets into the sugar shack where the sap was boiled for hours to condense it into maple syrup.
About 6% of the world supply of maple syrup comes from Vermont, the top producer in the United States.
Hope Cemetery in Barre, Vermont not only has amazing fall foliage due to all the maple trees, but it has also been dubbed "Granite Capital of the World".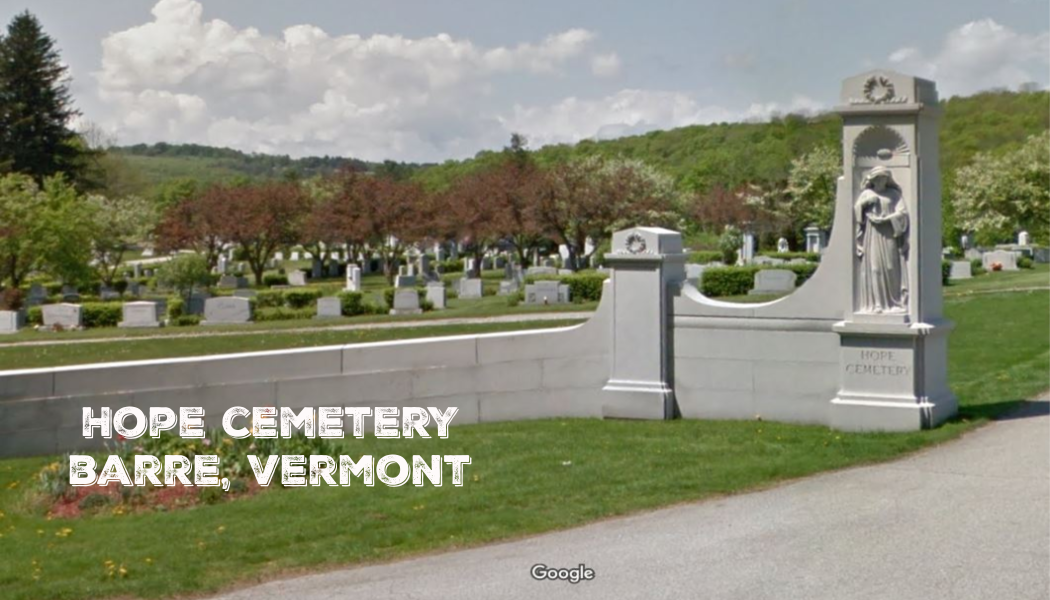 While documenting Hope Cemetery with your BillionGraves app you will see unique memorials in many different styles such as a soccer ball, sailboat, Roman soldier, World War II plane, pyramid, race car, motorcycle, Christ kneeling in prayer, a cat, and scriptures – all made out of granite.
Some Hope Cemetery gravestones have been documented with BillionGraves app, but most have not. So there is a great opportunity to see some beautiful fall foliage and take photos at the same time.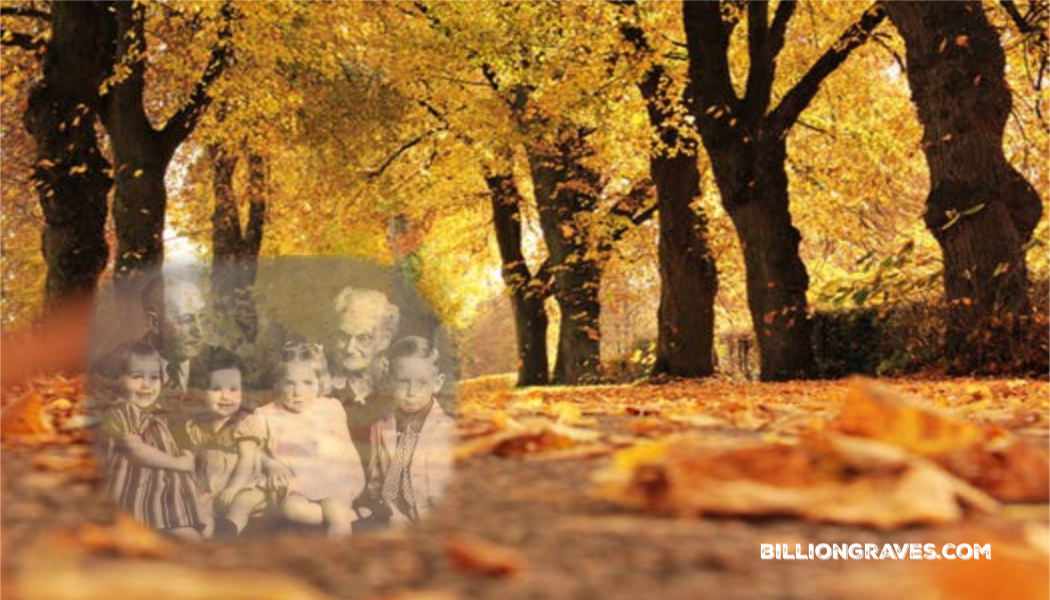 BillionGraves Fall Foliage and Cemetery Photo Trip #7: Wildwood and Mount Caramel Cemeteries in Williamsport, Pennsylvania
One of my favorite fall memories is taking photos in Wildwood and Mount Caramel Cemeteries in Williamsport, Pennsylvania while on a genealogy trip with my brother. The sun shone through the golden trees as the leaves made their final dance to the earth. Rust-colored leaves crunched under our feet as we hiked the gently rolling hills.
The view coming up the mountain on US 15 into Williamsport, Pennsylvania, is a dazzling display of brilliant leaves. While you are there don't miss an autumn drive down West Fourth Street, Williamsport's historic district. Nicknamed "Millionaire's Row" during the lumber boom of the late 19th century, this street has one of the biggest concentrations of Victorian homes in the country.
Even if you aren't able to take in one of these 7 fall foliage cemetery photo trips there are likely cemeteries in your area where you can enjoy a peaceful autumn day. Armed with your smartphone and the BillionGraves app you'll be ready to bless the world with memories.
Happy Fall!
Cathy Wallace and the BillionGraves team
Related posts