BillionGraves Partners with GenealogyBank
BillionGraves, 10 years ago
1 min

read
6870
BillionGraves is excited to announce our new partnership with GenealogyBank. This is a very unique partnership because you now have access to over a billion supporting records that will solve the mysteries in YOUR family tree!

GenealogyBank and BillionGraves stand side by side to provide you the records you need to fill in those gaps, verify your family tree, and perpetuate the stories of your ancestors through:
Birth and Marriage records
Obituaries
Photographs
Various news articles from historical newspapers
Passenger lists
Military and government records found in historical books and documents
And more!
Because of this partnership, you are now able to access that information as easily as using our search page.
Now when you do a search on BillionGraves.com, you will notice that a green bar is displayed that says "Search for <name> on GenealogyBank". Clicking on that bar will extend your search by taking you to the GenealogyBank site. If you already have a GenealogyBank subscription, log in and you will automatically be directed to any related records.
If you don't already have an account, sign up for one (right now there is a 30-day risk-free trial available) to see how GenealogyBank can greatly aid in your research!
Don't let this valuable information slip through your fingertips by letting your family stories go undiscovered and untold!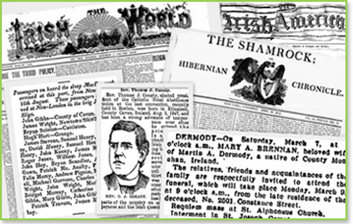 Related posts