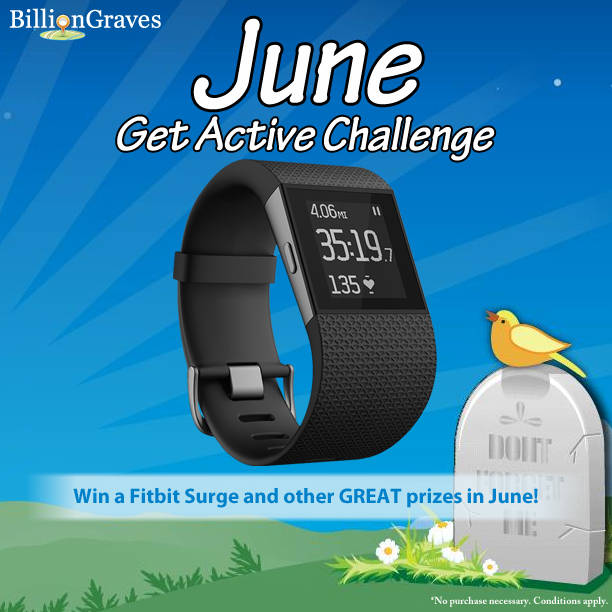 June Get Active Challenge!
BillionGraves, 9 years ago
6 min

read
5151
Fellow BillionGravers,


Wow! What an amazing month of May, with 1,248,026 total contributions made. That's insane! We are extremely grateful for all of you that helped reach this amazing milestone. If you haven't seen it yet, check out our month-end wrap-up of our great success in May -> HERE
With last month over and in the books, and even though the ground hasn't dried up from all the moisture, it's time to move forward with June, and with summer! This month we have something special in store for you! 
---
For those of you that are interested in something that will add a little more pop in your step we have something special just for you!
As always, the greatest reward for your efforts comes from knowing that you are preserving invaluable genealogical records as well as making them readily available for family members to locate. PLEASE, PRETTY PLEASE follow all the guidelines for taking the "PERFECT" picture! Need a refresher? Read this great article about the 7 ways to become the photographer that every genealogists loves!
However, we've got a little something that might help get you outside and into the cemeteries with your smartphones (Download the iOS App HERE, Download the Android App HERE, Download the Windows App HERE)
---
With the sun beginning to shine and the start of summer coming what better time to get out of the house and get your body moving! That's why this month we are some great prizes for both photographers AND transcribers that will get you up and moving!
What better way to have a Get Active Challenge than with prizes that help you track your activity!
That's right. Over the last year, fitness trackers have exploded in popularity as an incredible device to help monitor your daily activities! From the daily fitness guru's to us programmers, we all need to get up and stretch our legs, and what better way than by a walk through the local cemetery with your BG app in hand!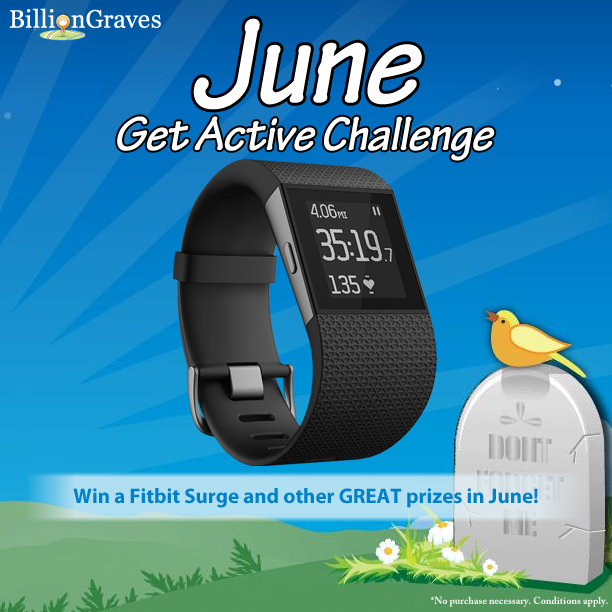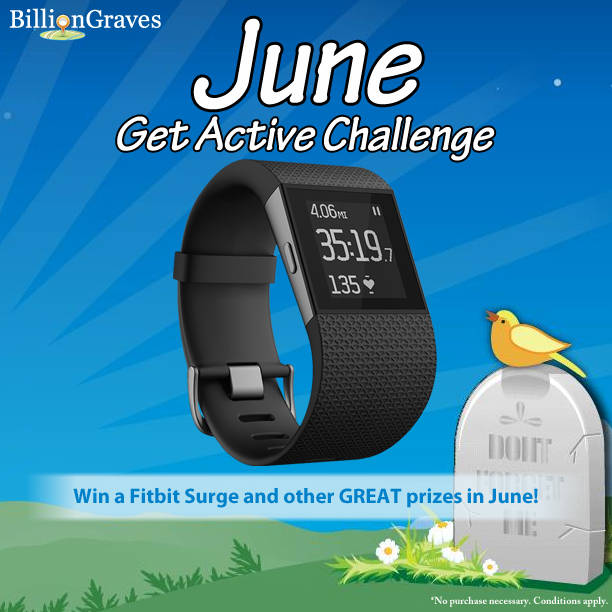 So this month we are giving away Fitbit's 5 cutting edge fitness monitoring devices to the top 5 photographers and transcribers! Here is how it works.
The top photographer/transcriber* will earn the Fitbit Surge Fitness Super Watch ($249.99 value)
The 2nd place photographer/transcriber** will earn the Fitbit Charge HR Heartrate+Activity Wristband ($149.99 value)
The 3rd place photographer/transcriber*** will earn the Fitbit Charge Activity + Sleep Wristband ($129.99 value)
The 4th place photographer/transcriber**** will earn the Fitbit Flex Activity + Sleep Wristband  ($99.99 value)
The 5th place photographer/transcriber***** will earn the Fitbit Zip Wireless Activity Tracker ($59.99 value)
* 1st place photographer must submit a minimum of 20,000 photos | transcriber minimum 10,000 records
* 2nd place photographer must submit a minimum of 15,000 photos | transcriber minimum 7,500 records
* 3rd place photographer must submit a minimum of 10,000 photos | transcriber minimum 5,000 records
* 4th place photographer must submit a minimum of 5,000 photos | transcriber minimum 2,500 records
* 5th place photographer must submit a minimum of 2,500 photos | transcriber minimum 1,000 records
In the month of May, we had 2 people reach the 50,000 photo milestone so we expect to see a lot more users earning free stuff. While it is ambitious, it is completely possible. Just ask Carolyn or JoMore. They're probably snuggling up to their new iPad Mini as we speak! (And Melissa or Nancy, if you're reading this post from your new iPad, high-five!) 
---
A SPECIAL NOTE FROM BILLIONGRAVES:
We want to give a Fitbit away to everyone!! Unfortunately, BillionGraves is a FREE site and we want to keep it that way! Remember, our goal is to document the world's cemeteries and make it available to anyone and everyone for FREE!
We like to spice things up and give back as we can and will continue to do prizes and giveaways as we can! So for anyone who wants to step up and be apart of a very small elite group of volunteers, this month's prize is just for you!
---
Other Helpful Tips
• Register! It's 100% free and 100% necessary if you're going to participate in this competition.
• Like us on Facebook! It's simple to do and keeps you constantly up to date will all the new amazing things we are doing at BG!
• Make sure that you have the latest BillionGraves app. Check the iTunes App Store,  Google Play, or Windows Phone Store for any updates for your device.
• Make it a habit. Go to the cemetery regularly—incorporate a local cemetery into your daily walk or bike ride, and snap some pictures along the way.
• Contest begins June 1, 2015 and ends June 30, 2015 @ 12:00 am GMT (That's 6 pm MST)
The Fine Print. (Cause we have to have fine print, right?)
All photos and transcriptions must be submitted before the closing date of June 30, 2015 @ 12:00 am GMT (That's 6 pm MST). Any submissions after that point will be excluded from the final results.
This promotion is intended for photographers and transcribers. Let's go outside!
Supporting records will NOT be counted towards the monthly totals. Only images that originate from the genuine BillionGraves apps will be accepted.
If you or another user marks a headstone picture as "bad" we deduct it from the uploader's total images.
For transcribers, we will be looking extra hard at the quality of transcriptions as well. We will erase the record and have it re-transcribed if it's not done correctly. Any record not transcribed correctly will be deducted from your total.
Make sure you have permission and are welcome to take pictures in your local cemetery before doing so. Remember, private cemeteries require permission of the owner before taking any pictures. No one likes a trespasser! Not cool!
This promotion is open to all to participate for free. Registration is required. (Register HERE. Come on.You know you want to. It's free!)
More than one individual may contribute to a single account, however, the limit is one prize redemption per BillionGraves account. The prize will be claimed by only the username the combined work was completed under. BillionGraves will not arbitrate any disputes.  ALL RECORDS MUST BE UNDER ONE ACCOUNT. BILLIONGRAVES WILL NOT COMBINE ACCOUNTS UNDER ANY CIRCUMSTANCE.
Items will ship in 6-8 weeks after contest closes for winners in the U.S. Please allow 8-12 for winners outside the U.S. However, our shipment robots are getting faster!
Due to current world-unrest, some areas may increase the amount of time it takes for prizes to be delivered. If for some reason your country isn't compatible with iPad Mini, we will work with you to provide you with a prize that is equal in value.
Recipients will be required to provide a mailing address for physical items.
Winners will be required to provided completed tax forms for redemption of the prize
REQUIRED: ALL PRIZES MUST BE CLAIMED WITH PROPER MAILING/DELIVERY INSTRUCTIONS BY THE 15TH OF JULY OR YOU WILL NOT RECEIVE THE PRIZE! WE WILL SEND OUT CONFIRMATION EMAILS BY THE 5th OF JULY. IF YOU DON'T RECEIVE A CONFIRMATION EMAIL ASKING FOR YOUR ADDRESS, YOU ARE RESPONSIBLE FOR SENDING IT TO US BY THE 15TH AT SUPPORT@BILLIONGRAVES.COM.
Good luck this month! Be sure to keep your eyes on our social media for tips and exclusive offers on the promotion! FACEBOOK – INSTAGRAM 
-The BillionGraves Team
Related posts