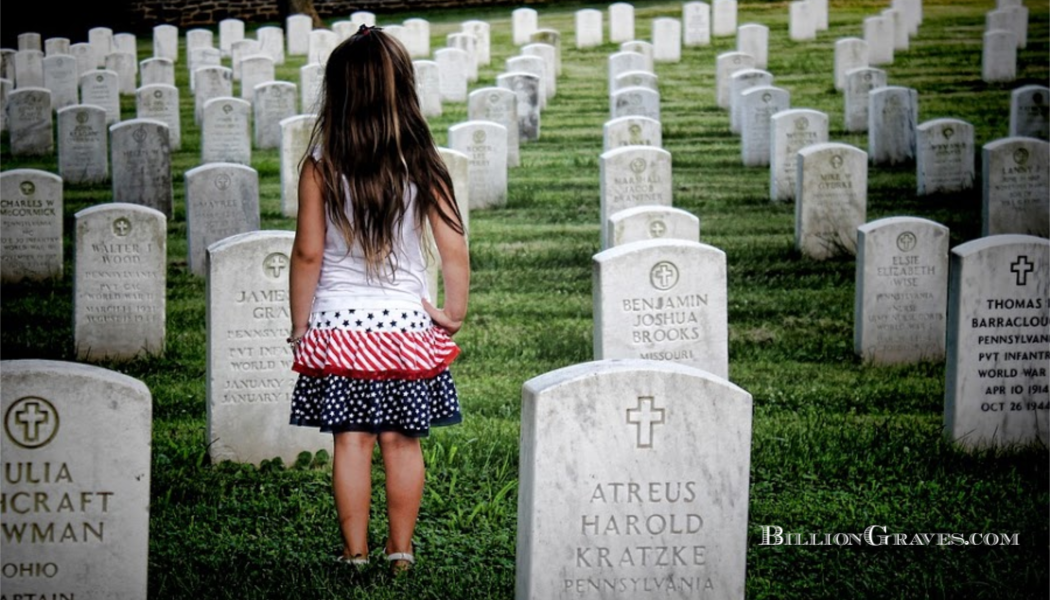 National Cemetery Veterans Day Photos: Find the Fallen
Cathy Wallace, 5 years ago
18 min

read
18511
National Cemeteries and Veterans Day go hand-in-hand. Who do you know that is a Veteran? Do you have a plan to show gratitude for their service? One way to honor the memory of those who have served our country is to find the fallen in a national cemetery. Use the BillionGraves app to document their grave and have it tagged with a GPS location.
All of the graves at Arlington National Cemetery have been photographed with the BillionGraves app. That's a remarkable 130,320 GPS tagged photos! But many headstones in other US national cemeteries have not been photographed and tagged with GPS links. It would be a beautiful way for you to honor our country's Veterans. Simply download the BillionGraves app and click on "take pictures" to get started.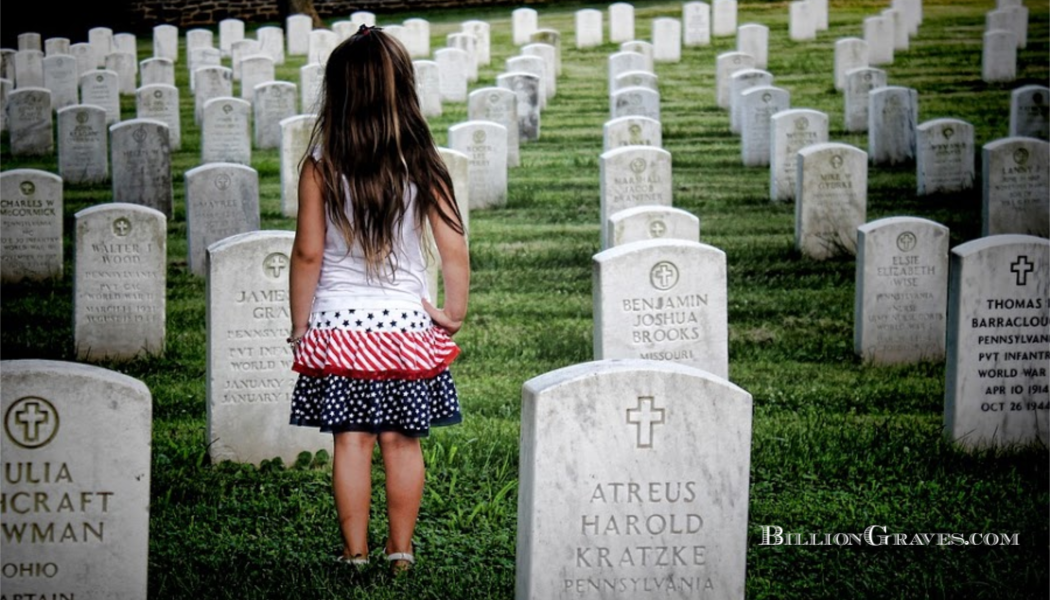 10 Ways to Honor Veterans this Veterans Day
Take BillionGraves photos at a National Cemetery (instructions available at https://blog.billiongraves.com/2018/10/02/hosting-a-cemetery-service-project-in-8-easy-steps/ )
Thank a Veteran for their service
Ask Veterans about their service in the military and truly listen to their story
Put a flag in your yard
Visit Veterans at a Veterans hospital
Take dinner to a Veteran
Write a letter to someone currently serving in the military
Call a Veteran family member
Take a quiet moment to be thankful for Veterans and your freedom
Teach a child what it means to be a Veteran
Veteran Bob Cheney, Navy Postal Clerk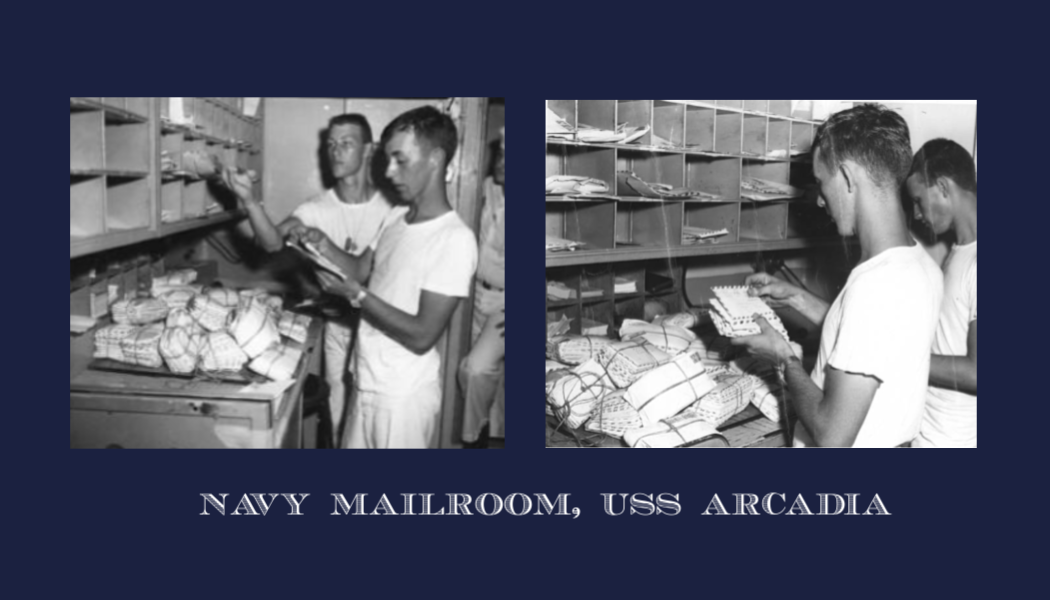 My grandparents never forgot the day they received the news that their son, Bob, had been named Sailor of the Year. He was serving as a postal clerk aboard the Navy ship USS Arcadia. The year was 1963 and the letter of recognition stated, "There were several very deserving candidates and the competition was very keen, but he was the final choice for this honor."
Bob had stepped up to take over mail delivery aboard the ship when the head postal clerk had become ill and had to be detached. Naval officers noted that Bob's performance of duties during that period was "far above that expected for a man of his age and rank."
Every sailor loved to get mail, but that wasn't the only reason the tiny mailroom where Bob worked was usually jam-packed. Stopping by for a letter or package, sailors stayed to shoot the breeze and laugh with Bob, only moving on when others needed elbow room.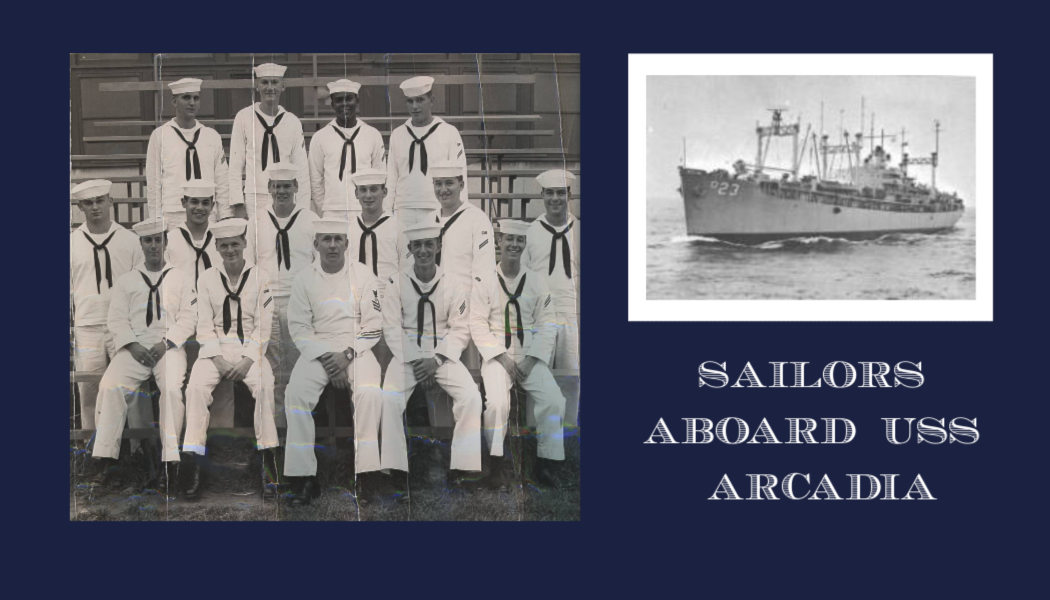 In the letter of recognition, the ship's captain wrote, "It was the unanimous opinion of the board that by your willingness to go out of the way to be of service to others you showed the proper Arcadia 'can do' spirit. Your cheery disposition and willingness to undertake any task assigned helped to promote a high spirit of morale on board, a combination of your superior capabilities in your job, together with the high regard your Arcadia shipmates hold for you make you the choice as Arcadia Sailor of the Year."
Just as my grandparents never forgot that message of good news, they never forgot the telegram that followed. "With concern, I regret to inform you that your son . . . is ill with the prognosis questionable as the result of cancer. His condition is reported to be poor. Your son was hospitalized in Frankfurt, Germany and will be air evacuated to the United States today. Be assured that he will receive the best possible care and treatment."
Two months later shipmates held a memorial service aboard the Arcadia for Bob who had passed away in a hospital with his family by his side.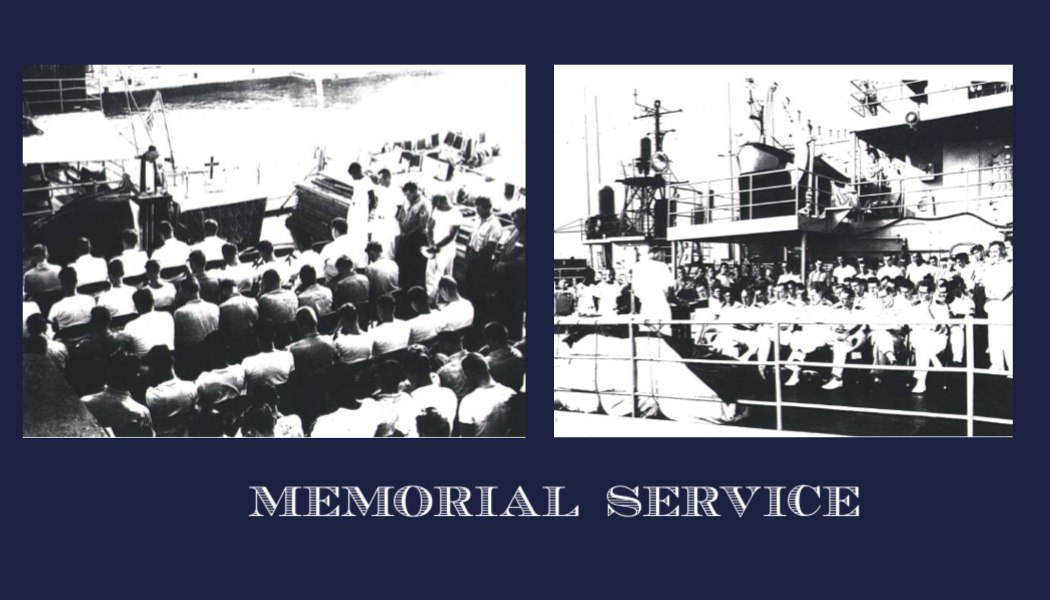 An older navy postal clerk who worked with Bob when they were in port near a stateside military base wrote to my grandparents, "Bob was a wonderful friend . . . He came to my house often, just to watch T.V. or dance with my daughter – sometimes just to sit around and feel at home. We all liked him very much and were so surprised to hear that he was gone. My wife cried when she read the letter to me over the phone. That was how close he was to us. Perhaps I shouldn't write you this now and bring back memories, but we do want you to know that Bob was more than just a good boy, he was special, and our prayers go with him as he goes above."
Nearly everyone has a Veteran friend or family member with a story that tugs at the heart-strings. Perhaps yours does too. This Veterans Day, let's find the fallen. Let's find them by documenting their gravestones.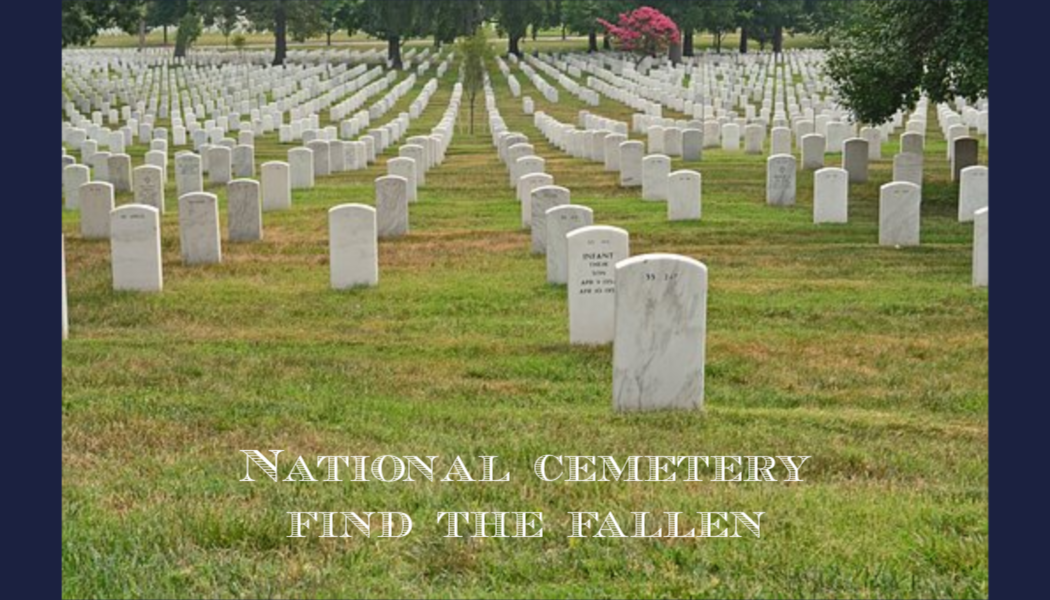 136 United States National Cemeteries
The United States Veterans Administration maintains 136 national cemeteries for the internment of US Veterans in 40 states. Many of them still need to be documented with the BillionGraves app to be GPS tagged.
Taking photos in a military cemetery is so much faster and easier than in civilian cemeteries because gravestones are usually consistent in size and shape. They also face the same direction and have no inscriptions on the backside. And national cemeteries are well maintained so the ground is level, making walking easier. The grass is kept trimmed around the stones. There aren't lots of extra floral arrangements on top or in front of the headstones. You could expect to be able to take up to 400 photos in an hour with the BillionGraves app in a national cemetery.
Some of America's national cemeteries have had tens of thousands of images taken. Other cemeteries have less. Here are 5 national cemeteries that still need BillionGraves photographs.
Veterans Day at Marion National Cemetery
Black Rd., Center, Indiana (north of Indianapolis)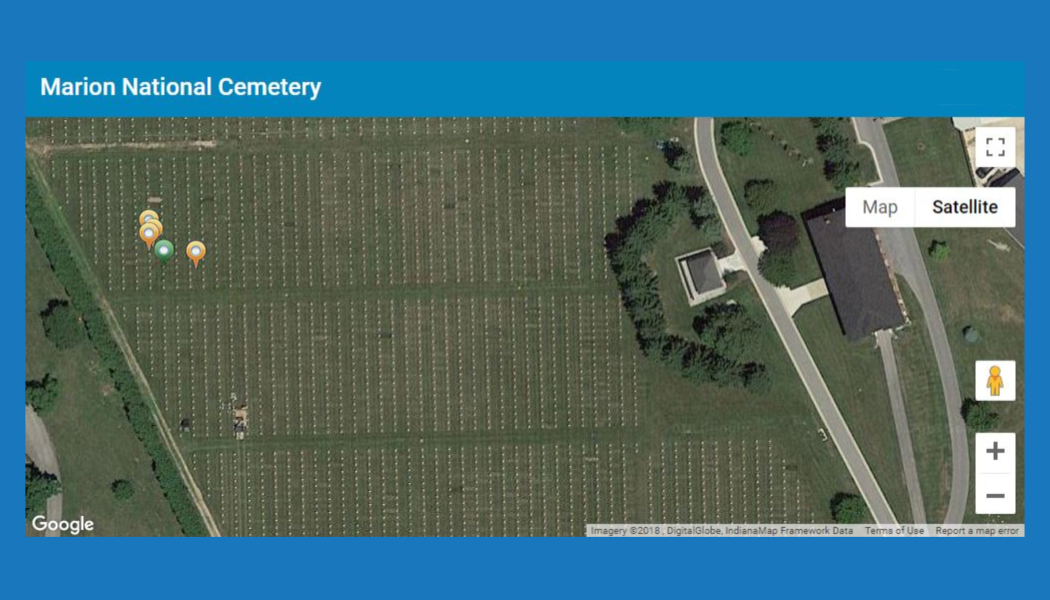 Veterans Day at Marietta National Cemetery
294-426 Washington Avenue Northeast, Marietta, Georgia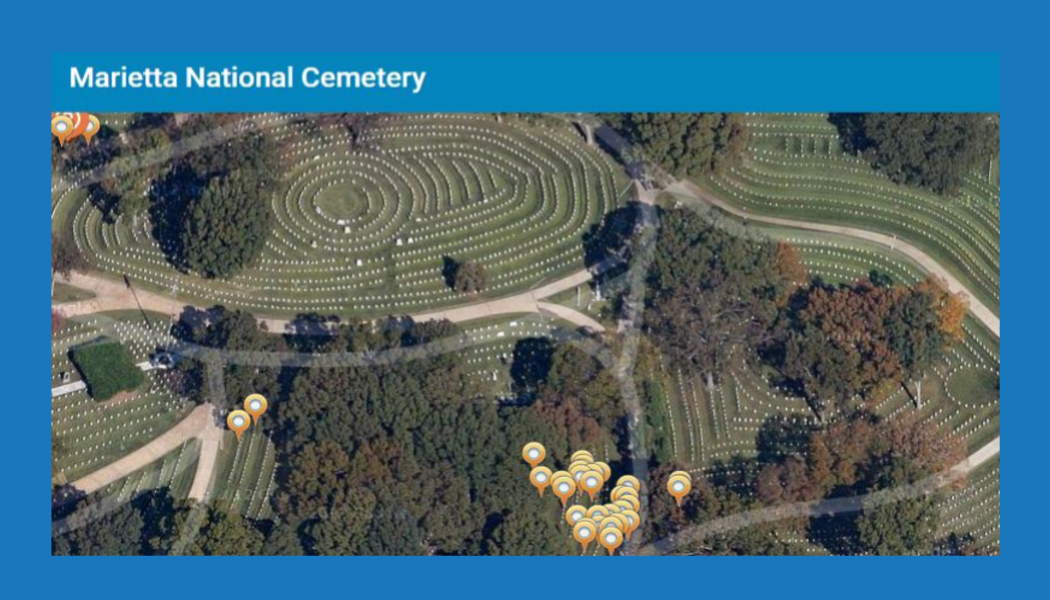 Veterans Day at Great Lakes National Cemetery
4200 Belford Rd., Holly, Michigan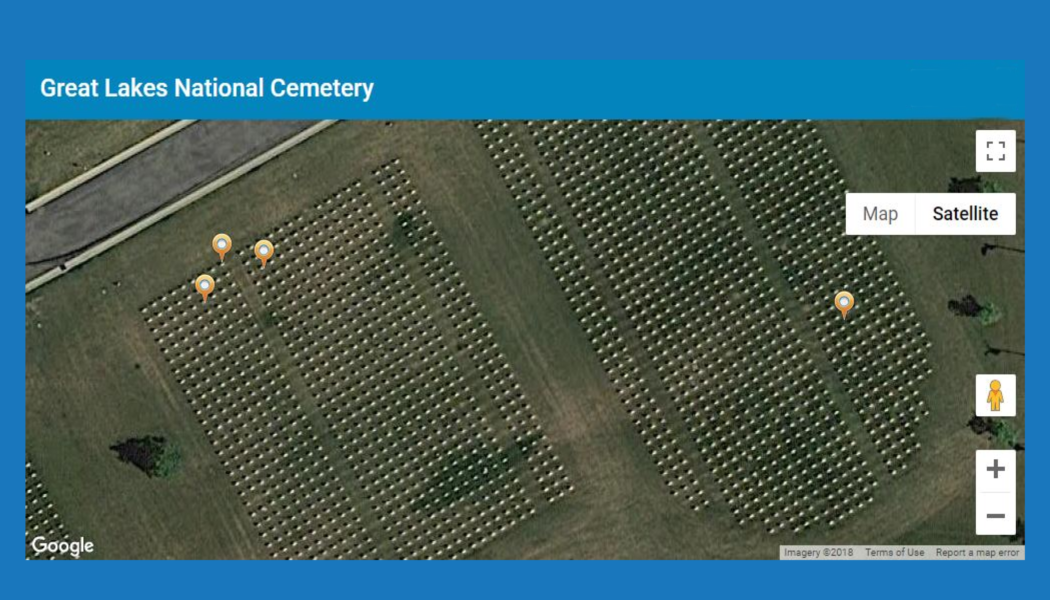 Veterans Day at Long Island National Cemetery
2000 Wellwood Ave., Farmingdale, Suffolk, New York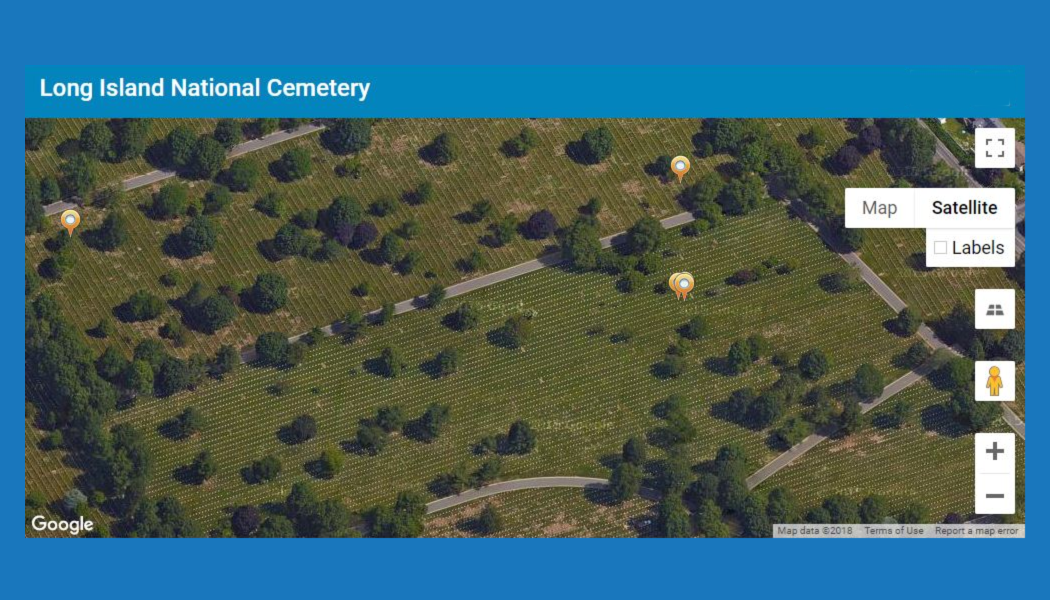 Veterans Day at Philadelphia National Cemetery
6900 Limekiln Pike, Philadelphia, Pennsylvania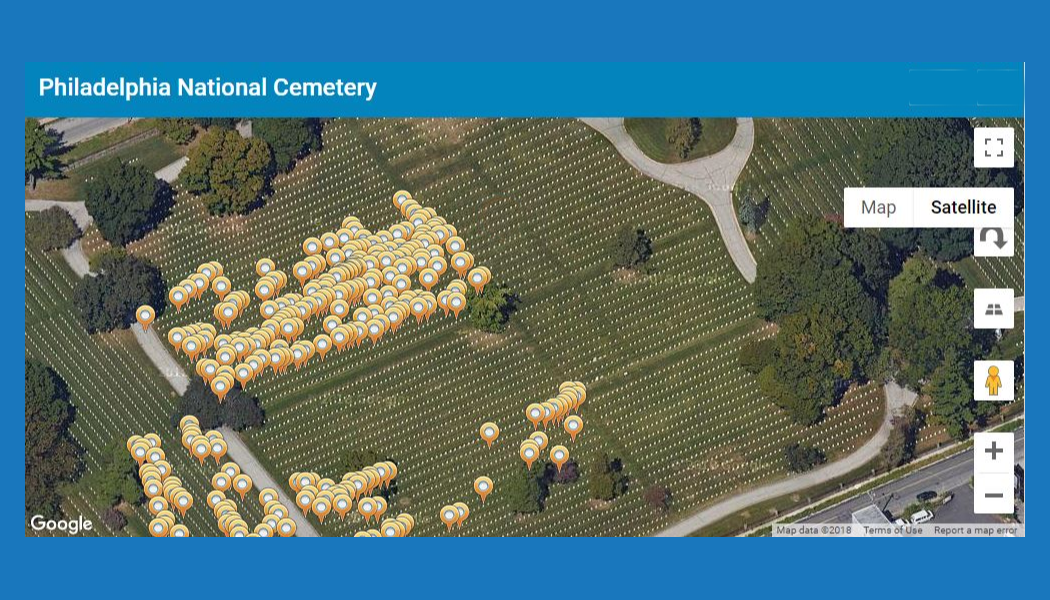 Below is a complete list of United States National Cemeteries. You can check to see if a national cemetery near you needs photos at https://billiongraves.com/adopt
A trip to a national cemetery to take photos with the BillionGraves app on Veterans Day would be a great project for families, Scout troops, church youth groups, and National Honor Societies. If you don't live near a national cemetery you could photograph at one of your local cemeteries and focus on military graves. You can find them by looking for American flags posted on military markers.
Happy Veterans Day!
Cathy Wallace and the BillionGraves team
136 United States National Cemeteries
Cemetery
Address
Contact
ALABAMA
Alabama National Cemetery
3133 Highway 119
Montevallo, AL 35115
Phone: 205-665-9039
Fort Mitchell National Cemetery
553 Highway 165
Ft. Mitchell, AL 36856
Phone: 334-855-4731
Mobile National Cemetery
1202 Virginia Street
Mobile, AL 36604
Phone: 850-453-4846 Or 850-453-4108
ALASKA
Fort Richardson National Cemetery
Bldg 58-512 Davis Hwy
Fort Richardson, AK 99505
Phone: 907-384-7075
Sitka National Cemetery
803 Sawmill Creek Road
Sitka, AK 99835
Phone: 907-384-7075
ARIZONA
National Memorial Cemetery of Arizona
23029 North Cave Creek Road
Phoenix, AZ 85024
Phone: 480-513-3600
Prescott National Cemetery
500 Highway 89 North
Prescott, AZ 86313
Phone: 928-717-7569
ARKANSAS
Fayetteville National Cemetery
700 Government Avenue
Fayetteville, AR 72701
Phone: 479-442-2566
Fort Smith National Cemetery
522 Garland Avenue and South 6th Street
Fort Smith, AR 72901
Phone: 479-783-5345
Little Rock National Cemetery
2523 Springer Boulevard
Little Rock, AR 72206
Phone: 479-783-5345

CALIFORNIA

Bakersfield National Cemetery
30338 East Bear Mountain Blvd.
Arvin, CA 93203
Phone: 661-867-2250 Or 866-632-1845
Fort Rosecrans National Cemetery
Cabrillo Memorial Drive
San Diego, CA 92106
Phone: 619-553-2084
Golden Gate National Cemetery
1300 Sneath Lane
San Bruno, CA 94066
Phone: 650-589-7737
Los Angeles National Cemetery
950 S Sepulveda Blvd.
Los Angeles, CA 90049
Phone: 310-268-4675
Miramar National Cemetery
5795 Nobel Drive
San Diego, CA 92122
Phone: 858-658-7360
Riverside National Cemetery
22495 Van Buren Blvd.
Riverside, CA 92518
Phone: 951-653-8417
Sacramento Valley National Cemetery
5810 Midway Road
Dixon, CA 95620
Phone: 707-693-2460
San Francisco National Cemetery
1 Lincoln Boulevard
Presidio of San Francisco
San Francisco, CA 94129
Phone: 650-589-7737
San Joaquin Valley National Cemetery
32053 W McCabe Rd.
Santa Nella, CA 95322
Phone: 209-854-1040

COLORADO

Fort Logan National Cemetery
4400 W. Kenyon Ave.
Denver, CO 80236
Phone: 303-761-0117
Fort Lyon National Cemetery
15700 County Road HH
Las Animas, CO 81054
Phone: 303-761-0117
Pikes Peak National Cemetery
10545 Drennan Road
Colorado Springs, CO 80925
Phone: 719-216-1025
DISTRICT OF COLUMBIA
Congressional Cemetery Government Lots
1801 E Street, SE
Washington, DC 20003
Phone: 410-644-9696

FLORIDA

Barrancas National Cemetery
1 Cemetery Road
Pensacola, FL 32508
Phone: 850-453-4108
Bay Pines National Cemetery
10000 Bay Pines Boulevard North
St. Petersburg, FL 33708
Phone: 727-319-6479
Cape Canaveral National Cemetery
5525 U.S. Highway 1
Mims, FL 32754
Phone: 321-383-2638
Florida National Cemetery
6502 S.W. 102nd Avenue
Bushnell, FL 33513
Phone: 352-793-7740
Jacksonville National Cemetery
4083 Lannie Road
Jacksonville, FL 32218
Phone: 904-766-5222
Sarasota National Cemetery
9810 State Road 72
Sarasota, FL 34241
Phone: 877-861-9840
South Florida National Cemetery
6501 S. State Road 7
Lake Worth, FL 33449
Phone: 561-649-6489
St. Augustine National Cemetery
104 Marine Street
St. Augustine, FL 32084
Phone: 904-766-5222
Tallahassee National Cemetery
5015 Apalachee Parkway
Tallahassee, FL 32311
Phone: 850-402-8941
GEORGIA
Georgia National Cemetery
1080 Scott Hudgens Drive
Canton, GA 30114
Phone: 866-236-8159 Or 770-479-9300
Marietta National Cemetery
500 Washington Avenue
Marietta, GA 30060
Phone: 866-236-8159

HAWAII

National Memorial Cemetery of the Pacific
2177 Puowaina Drive
Honolulu, HI 96813
Phone: 808-532-3720
ILLINOIS
Abraham Lincoln National Cemetery
20953 W. Hoff Road
Elwood, IL 60421
Phone: 815-423-9958
Alton National Cemetery
600 Pearl Street
Alton, IL 62002
Phone: 314-845-8320
Camp Butler National Cemetery
5063 Camp Butler Road
Springfield, IL 62707-9722
Phone: 217-492-4070
Danville National Cemetery
1900 East Main Street
Danville, IL 61832
Phone: 217-554-4550
Mound City National Cemetery
141 State Highway 37
Mound City, IL 62963
Phone: 618-748-9107
Quincy National Cemetery
36th & Maine Street
Quincy, IL 62301
Phone: 309-782-2094
Rock Island National Cemetery
Bldg 118 Rock Island Arsenal
Rock Island, IL 61299
Phone: 309-782-2094
Confederate Mound
Oak Woods Cemetery
1035 E 67th St
Chicago, IL 60637
Phone: 815-423-9958
North Alton Confederate Cemetery
635 Rozier Street
Alton, IL 62003
Phone: 314-845-8320
Rock Island Confederate Cemetery
Rodman Avenue
Rock Island Arsenal
Rock Island, IL 61299
Phone: 309-782-2094

INDIANA

Crown Hill National Cemetery
700 West 38th Street
Indianapolis, IN 46208
Phone: 765-674-0284
Marion National Cemetery
1700 East 38th Street
Marion, IN 46952
Phone: 765-674-0284
New Albany National Cemetery
1943 Ekin Avenue
New Albany, IN 47150
Phone: 502-893-3852
Crown Hill Cemetery Confederate Plot
700 West 38th Street
Indianapolis, IN 46208
Phone: 765-674-0284
Woodlawn Monument Site
North 3rd Street and 4th Avenue
Terre Haute, IN 47802
Phone: 815-423-9958
IOWA
Keokuk National Cemetery
1701 J Street
Keokuk, IA 52632
Phone: 319-524-1304
Oakdale Cemetery Soldiers' Lot
Oakdale Memorial Gardens
2501 Eastern Avenue
Davenport, IA 52807
Phone: 309-782-2094
KANSAS
Fort Leavenworth National Cemetery
395 Biddle Boulevard
Fort Leavenworth, KS 66027
Phone: 913-758-4105
Fort Scott National Cemetery
900 East National Avenue
Fort Scott, KS 66701
Phone: 620-223-2840
Leavenworth National Cemetery
150 Muncie Road
Leavenworth, KS 66048
Phone: 913-758-4105
Baxter Springs City Soldiers' Lot
Baxter Springs City Cemetery
Baxter Springs, KS 66713
Phone: 913-758-4105
Mound City Cemetery Soldiers' Lot
Woodland Cemetery
Mound City, KS 66506
Phone: 913-758-4105

KENTUCKY

Camp Nelson National Cemetery
6980 Danville Road
Nicholasville, KY 40356
Phone: 859-885-5727
Cave Hill National Cemetery
701 Baxter Avenue
Louisville, KY 40204
Phone: 502-893-3852
Danville National Cemetery
277 North First Street
Danville, KY 40422
Phone: 859-885-5727
Lebanon National Cemetery
20 Hwy 208
Lebanon, KY 40033
Phone: 270-692-3390
Lexington National Cemetery
833 West Main Street
Lexington, KY 40508
Phone: 859-885-5727
Mill Springs National Cemetery
9044 West Highway 80
Nancy, KY 42544
Phone: 859-885-5727
Zachary Taylor National Cemetery
4701 Brownsboro Road
Louisville, KY 40207
Phone: 502-893-3852
Evergreen Cemetery Soldiers' Lot
25 South Alexandria Pike
Southgate, KY 41071
Phone: 859-885-5727
LOUISIANA
Alexandria National Cemetery
209 East Shamrock Street
Pineville, LA 71360
Phone: 601-445-4981
Baton Rouge National Cemetery
220 North 19th Street
Baton Rouge, LA 70806
Phone: 225-654-1988
Louisiana National Cemetery
303 W. Mount Pleasant Road
Zachary, LA 70791
Phone: 225-654-1988
Port Hudson National Cemetery
20978 Port Hickey Road
Zachary, LA 70791
Phone: 225-654-1988

MAINE

Togus National Cemetery
VA Medical & Regional Office Center
Togus, ME 4330
Phone: 508-563-7113
Mount Pleasant Cemetery Soldiers' Lot
North Street
Augusta, ME 04330
Phone: 508-563-7113
MARYLAND
Annapolis National Cemetery
800 West Street
Annapolis, MD 21401
Phone: 410-644-9696
Baltimore National Cemetery
5501 Frederick Avenue
Baltimore, MD 21228
Phone: 410-644-9696
Loudon Park National Cemetery
3445 Frederick Avenue
Baltimore, MD 21228
Phone: 410-644-9696
Point Lookout Confederate Cemetery
Point Lookout
Ridge, MD 20680
Phone: 410-644-9696
MASSACHUSETTS
Massachusetts National Cemetery
Connery Avenue
Bourne, MA 02532
Phone: 508-563-7113
Woodlawn Cemetery Soldiers' Lot
Harvard Street
Ayer, MA 01432
Phone: 508-563-7113
MICHIGAN
Fort Custer National Cemetery
15501 Dickman Rd.
Augusta, MI 49012
Phone: 269-731-4164
Great Lakes National Cemetery
4200 Belford Road
Holly, MI 48442
Phone: 248-328-0386 Or 866-348-8603
Fort Mackinac Post Cemetery
Mackinac State Park
Mackinac Island, MI 49757
Phone: 248-328-0386
Lakeside Cemetery Soldiers' Lot
3781 Gratiot Street
Port Huron, MI 48060
Phone: 248-328-0386

MINNESOTA

Fort Snelling National Cemetery
7601 34th Avenue South
Minneapolis, MN 55450
Phone: 612-726-1127
MISSISSIPPI
Biloxi National Cemetery
400 Veterans Avenue
Bldg. 1001
Biloxi, MS 39531
Phone: 228-388-6668
Corinth National Cemetery
1551 Horton Street
Corinth, MS 38834
Phone: 901-386-8311
Natchez National Cemetery
41 Cemetery Road
Natchez, MS 39120
Phone: 601-445-4981
MISSOURI
Jefferson Barracks National Cemetery
2900 Sheridan Road
St. Louis, MO 63125
Phone: 314-845-8320
Jefferson City National Cemetery
1024 E. McCarty Street
Jefferson City, MO 65101
Phone: 314-845-8320
Springfield National Cemetery
1702 East Seminole Street
Springfield, MO 65804
Phone: 417-881-9499
Union Confederate Monument Site
227 E. 28th Street Terrace
Kansas City, MO 64108
Phone: 913-758-4105
MONTANA
Yellowstone National Cemetery
55 Buffalo Trail Road
Laurel, MT 59044
Phone: 406-647-2746
NEBRASKA
Fort McPherson National Cemetery
12004 South Spur 56A
Maxwell, NE 69151
Phone: 308-582-4433
Omaha National Cemetery
14250 Schram Road
Omaha, NE 68138
Phone: 402-253-3949
Forest Lawn Cemetery Soldiers' Lot
Forest Lawn Memorial Park
7909 Mormon Bridge Road
Omaha, NE 68112
Phone: 913-758-4105
NEW JERSEY
Beverly National Cemetery
916 Bridgeboro Road
Beverly, NJ 08010
Phone: 215-504-5610
Finn's Point National Cemetery
454 Fort Mott Road
Pennsville, NJ 08070
Phone: 215-504-5610
NEW MEXICO
Fort Bayard National Cemetery
200 Camino De Paz
Fort Bayard, NM 88036
Phone: 505-988-6400
Santa Fe National Cemetery
501 North Guadalupe Street
Santa Fe, NM 87501
Phone: 505-988-6400

NEW YORK

Bath National Cemetery
San Juan Avenue
Bath, NY 14810
Phone: 607-664-4853
Calverton National Cemetery
210 Princeton Boulevard
Calverton, NY 11933
Phone: 631-727-5410
Cypress Hills National Cemetery
625 Jamaica Avenue
Brooklyn, NY 11208
Phone: 631-454-4949
Gerald B. H. Solomon Saratoga National Cemetery
200 Duell Road
Schuylerville, NY 12871
Phone: 518-581-9128
Long Island National Cemetery
2040 Wellwood Avenue
Farmingdale, NY 11735
Phone: 631-454-4949
Woodlawn National Cemetery
1825 Davis Street
Elmira, NY 14901
Phone: 607-732-5411
Albany Rural Cemetery Soldiers' Lot
Cemetery Avenue
Albany, NY 12204
Phone: 518-581-9128
NORTH CAROLINA
New Bern National Cemetery
1711 National Avenue
New Bern, NC 28560
Phone: 252-637-2912
Raleigh National Cemetery
501 Rock Quarry Road
Raleigh, NC 27610
Phone: 252-637-2912
Salisbury National Cemetery
501 Statesville Boulevard
Salisbury, NC 28144
Phone: 704-636-2661
Wilmington National Cemetery
2011 Market Street
Wilmington, NC 28403
Phone: 910-815-4877
OHIO
Dayton National Cemetery
4400 West Third Street
Dayton, OH 45428
Phone: 937-268-2221
Ohio Western Reserve National Cemetery
10175 Rawiga Road
Seville, OH 44273
Phone: 330-335-3069
Camp Chase Confederate Cemetery
2900 Sullivant Avenue
Columbus, OH 43204
Phone: 937-268-2221
Confederate Stockade Cemetery
Johnson's Island
Sandusky, OH 44870
Phone: 330-335-3069
Woodland Cemetery Soldiers' Lot
6901 Woodland Avenue
Cleveland, OH 44104
Phone: 330-335-3069
OKLAHOMA
Fort Gibson National Cemetery
1423 Cemetery Road
Ft. Gibson, OK 74434
Phone: 918-478-2334
Fort Sill National Cemetery
2648 NE Jake Dunn Road
Elgin, OK 73538
Phone: 580-492-3200
OREGON
Eagle Point National Cemetery
2763 Riley Rd.
Eagle Point, OR 97524
Phone: 541-826-2511
Roseburg National Cemetery
913 NW Garden Valley Blvd
Roseburg, OR 97471
Phone: 541-677-3152
Willamette National Cemetery
11800 SE Mt. Scott Blvd.
Portland, OR 97086
Phone: 503-273-5250

PENNSYLVANIA

Indiantown Gap National Cemetery
Indiantown Gap Rd.
Annville, PA 17003
Phone: 717-865-5254
National Cemetery of the Alleghenies
1158 Morgan Road
Bridgeville, PA 15017
Phone: 724-746-4363
Philadelphia National Cemetery
Haines St. and Limekiln Pike
Philadelphia, PA 19138
Phone: 215-504-5610
Washington Crossing National Cemetery
830 Highland Road
Newtown, PA 18940
Phone: 215-504-5610
Allegheny Cemetery Soldiers' Lot
4734 Butler Street
Pittsburgh, PA 15201
Phone: 724-746-4363
Ashland Cemetery Soldiers' Lot
630 South Hanover Street
Carlisle, PA 17013
Phone: 717-865-5254
Mount Moriah Cemetery Soldiers' Lot
62nd Street and Kingsessing Ave.
Philadelphia, PA 19142
Phone: 215-504-5610
Mount Moriah Cemetery Naval Plot
62nd Street and Kingsessing Ave.
Philadelphia, PA 19142
Phone: 215-504-5610
Prospect Hill Cemetery Soldiers' Lot
700 North George Street
York, PA 17404
Phone: 717-865-5254
PUERTO RICO
Puerto Rico National Cemetery
Avenue Cementerio Nacional #50
Bayamon, PR 00961
Phone: 787-798-8400

SOUTH CAROLINA

Beaufort National Cemetery
1601 Boundary St.
Beaufort, SC 29902
Phone: 843-524-3925
Florence National Cemetery
803 E National Cemetery Rd.
Florence, SC 29501
Phone: 843-669-8783
Fort Jackson National Cemetery
4170 Percival Road
Columbia, SC 29229
Phone: 866-577-5248
SOUTH DAKOTA
Black Hills National Cemetery
20901 Pleasant Valley Drive
Sturgis, SD 57785
Phone: 605-347-3830
Fort Meade National Cemetery
Old Stone Rd.
Sturgis, SD 57785
Phone: 605-347-3830
Hot Springs National Cemetery
VA Medical Center
Hot Springs, SD 57747
Phone: 605-347-3830
TENNESSEE
Chattanooga National Cemetery
1200 Bailey Ave.
Chattanooga, TN 37404
Phone: 423-855-6590
Knoxville National Cemetery
939 Tyson St. NW
Knoxville, TN 37917
Phone: 423-855-6590
Memphis National Cemetery
3568 Townes Ave.
Memphis, TN 38122
Phone: 901-386-8311
Mountain Home National Cemetery
215 Heroes Drive
Mountain Home, TN 37684
Phone: 423-979-3535
Nashville National Cemetery
1420 Gallatin Rd. S
Madison, TN 37115
Phone: 615-860-0086

TEXAS

Dallas-Fort Worth National Cemetery
2000 Mountain Creek Parkway
Dallas, TX 75211
Phone: 214-467-3374
Fort Bliss National Cemetery
5200 Fred Wilson Rd.
El Paso, TX 79906
Phone: 915-564-0201
Fort Sam Houston National Cemetery
1520 Harry Wurzbach Rd.
San Antonio, TX 78209
Phone: 210-820-3891
Houston National Cemetery
10410 Veterans Memorial Dr.
Houston, TX 77038
Phone: 281-447-8686
Kerrville National Cemetery
3600 Memorial Blvd.
Kerrville, TX 78028
Phone: 210-820-3891
San Antonio National Cemetery
517 Paso Hondo Street
San Antonio, TX 78202
Phone: 210-820-3891
VERMONT
Green Mount Cemetery Soldiers' Lot
250 State Street
Montpelier, VT 05602
Phone: 508-563-7113
Prospect Hill Cemetery Soldiers' Lot
94 South Main Street
Brattleboro, VT 05301
Phone: 508-563-7113
VIRGINIA
Alexandria National Cemetery
1450 Wilkes St.
Alexandria, VA 22314
Phone: 703-221-2183
Ball's Bluff National Cemetery
Rt. 7
Leesburg, VA 22075
Phone: 540-825-0027
City Point National Cemetery
10th Ave. and Davis St.
Hopewell, VA 23860
Phone: 804-795-2031
Cold Harbor National Cemetery
6038 Cold Harbor Road
Mechanicsville, VA 23111
Phone: 804-795-2031
Culpeper National Cemetery
305 US Ave.
Culpeper, VA 22701
Phone: 540-825-0027
Danville National Cemetery
721 Lee St.
Danville, VA 24541
Phone: 704-636-2661
Fort Harrison National Cemetery
8620 Varina Rd.
Richmond, VA 23231
Phone: 804-795-2031
Glendale National Cemetery
8301 Willis Church Rd.
Richmond, VA 23231
Phone: 804-795-2031
Hampton National Cemetery
Cemetery Rd. at Marshall Ave.
Hampton, VA 23669
Phone: 757-723-7104
Hampton National Cemetery (VAMC)
VA Medical Center
Emancipation Drive
Hampton, VA 23667
Phone: 757-723-7104
Quantico National Cemetery
18424 Joplin Rd.
Triangle, VA 22172
Phone: 703-221-2183
Richmond National Cemetery
1701 Williamsburg Rd.
Richmond, VA 23231
Phone: 804-795-2031
Seven Pines National Cemetery
400 E Williamsburg Rd.
Sandston, VA 23150
Phone: 804-795-2031
Staunton National Cemetery
901 Richmond Ave.
Staunton, VA 24401
Phone: 540-825-0027
Winchester National Cemetery
401 National Ave.
Winchester, VA 22601
Phone: 540-825-0027

WASHINGTON

Tahoma National Cemetery
18600 SE 240th Street
Kent, WA 98042
Phone: 425-413-9614
WEST VIRGINIA
Grafton National Cemetery
431 Walnut St.
Grafton, WV 26354
Phone: 304-265-2044
West Virginia National Cemetery
42 Veterans Memorial Lane
Grafton, WV 26354
Phone: 304-265-2044
WISCONSIN
Wood National Cemetery
5000 W National Ave. Bldg. 1301
Milwaukee, WI 53295
Phone: 414-382-5300
Fort Winnebago Cemetery Soldiers' Lot
Highway EE
Portage, WI 53901
Phone: 414-382-5300
Forest Hill Cemetery Soldiers' Lot
One Speedway Road
Madison, WI 53705
Phone: 414-382-5300
Forest Home Cemetery Soldiers' Lot
2405 West Forest Home Avenue
Milwaukee, WI 53215
Phone: 414-382-5300
Fort Crawford Cemetery Soldiers' Lot
413 South Beaumont Road
Prairie du Chien, WI 53821
Phone: 414-382-5300
Mound Cemetery Soldiers' Lot
1147 West Boulevard
Racine, WI 53405
Phone: 414-382-5300
Related posts