BillionGraves 2015 March Madness
BillionGraves, 9 years ago
2 min

read
5098
It's March again–and basketball fury's in the air. The NCAA's March Madness tournament has begun! U.S. College basketball might not be for you, so we've decided to host our own BillionGraves competition! It's the "March 2015 BillionGraves Madness"!
PRIZES:
| | |
| --- | --- |
| Top Prize: | $50 Amazon Gift Card |
| Top Two: | Portable Device Charger (a $25 value)* |
| Top Four: | BillionGraves T-Shirt* |
| Top Eight: | BillionGraves Original Collectors Pin |
| Top 100: | BillionGraves 1 Month BG+ Subscription |
*For international winners, due to shipping restraints by shipping providers, a gift card worth the same USD monetary value to the prize you have won will be sent to your BillionGraves registered email within 4-6 weeks of the close the competition.
| Prizes | |
| --- | --- |
| Top Prize: $50 Amazon Gift Card | |
| Top Two: Portable Device Charger (a $20 value)* | |
| Top Four: BillionGraves T-Shirt* | |
| Top Eight: BillionGraves Original Collectors Pin | |
| Top 100: 1 Month Free BillionGraves Plus | |
It can't be any better than doing your favorite thing- taking pictures of headstones and transcribing them, AND winning prizes!
So take advantage of the rising temperatures to capture some headstone images at your local cemetery or get your transcribing game on. The more you do, the higher up on the bracket you'll be! You won't want to miss out on these awesome prizes!
Do a weekly check of the BillionGraves blog or March BillionGraves Madness page to make sure at the end of the month you walk away with one of our awesome prizes!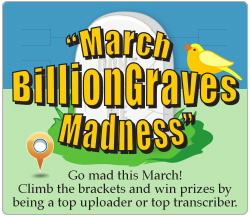 Good luck!
-All images uploaded from midnight (GMT) March 1st to midnight (GMT) March 31st 2015 are counted toward the March Madness Competition.
-Make sure you have permission and are welcome to take pictures in your local cemetery before doing so. Remember, private cemeteries require permission of the owner before taking any pictures.
-If you or another user marks a headstone picture as "bad" we deduct it from the uploader's total images.
-Winners will be announced at the end of the month on the BillionGraves blog. Prizes must be claimed by the 15th of the following month via email to qualify for shipment of prizes.
-Promotion is open to all to participate for free. Registration is required.
-More than one individual may contribute to a single account, however, the limit is one prize redemption per BillionGraves account. [UPDATE: If user places in the bracket they will receive the prize pertaining to their standing and not the sum of all prizes. However; all 50 top transcribers and photographers will receive the March Pin]
-Items will ship in 6-8 weeks after contest closes for winners in the U.S. Please allow 8-12 for winners outside the U.S.
-Recipients will be required to provide a mailing address for physical items.
-All images must be uploaded/transcribed no later than midnight (GMT) on the last day of the month.
Related posts