Million More in May Madness 2017
BillionGraves, 7 years ago
4 min

read
7509
Million More in May Madness 2017

May is just around the corner, BillionGravers!
That's right. It's almost May and you know what that means! We are coming up on our most exciting month of the year. It's warmer outside, the trees are greener, the flowers are beginning to bloom, and it's time for our favorite event of the year – The 6th Annual Million More in May Competition! We have AMAZING prizes this year for those who participate!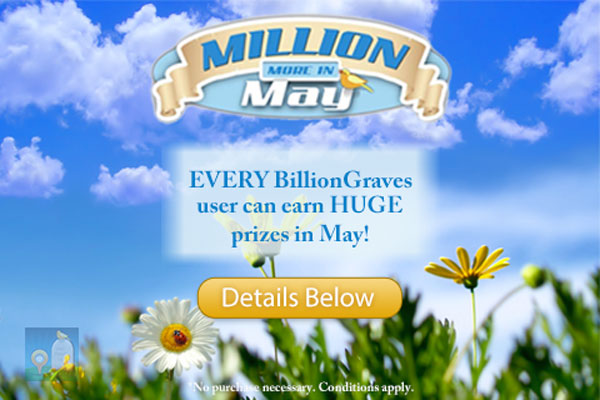 What is it?
The Million More in May Competition is a friendly event geared towards adding 1 Million (yes, that's a 1 with six zeros behind it!) unique images, and 1 Million additional records transcribed and added to the BillionGraves database in the month of May. With all the new users and wonderful weather we could easily reach our 1 million record goal, and make a lot of people, looking for those records, eternally grateful for the hard work.
---
How can I participate?
It's easy and free to participate! You can take photos of headstones in cemeteries near you with your mobile device, or you can transcribe photos that others have taken and make them searchable on the site. The Million More in May competition is open to ANY registered BillionGraves user, anywhere in the world.
We know that many users might not be in a climate with warm weather where picture taking is possible. Please consider transcribing records for this event! We will have other events throughout the year geared towards all of our international users!
The ultimate goal is to preserve and document over 1 million headstones from around the world in just 1 month!
Want to take pictures? Start by getting the app on your mobile device.
(Download the iOS App HERE, Download the Android App HERE)
Want to transcribe photos? Learn more about how to transcribe by following the link HERE.
Start transcribing headstones HERE.
---
How does the competition work?
Each photo uploaded and transcription completed earns you 1 point. BillionGraves offers many great prizes Prizes are awarded to users who reach certain point levels throughout the month of May. At the end of the month, the total number of points you earned by taking photos or transcribing records is used to calculate which prize you earned for your efforts! The more points you earn, the better the prize!
There is no limit to the number of photos taken or transcriptions completed. All entries must be submitted before June 1, 2017 (00:00 UTC time) Terms and conditions do apply.
---
Some Helpful Tips
• Register! It's 100% free and 100% necessary if you're going to participate in this competition. Make sure once you register that you verify your email! To claim your prize we will communicate with you through the email you provide and verify.
• Like us on Facebook, Follow us on Twitter and Instagram! It's simple to do and keeps you constantly up to date will all the new amazing things we are doing at BG!
• Make sure that you have the latest and greatest BillionGraves apps. Check the iTunes App Store,  Google Play, for any updates for your device.
• Make it a habit. Go to the cemetery regularly—incorporate a local cemetery into your daily walk or bike ride, and snap some pictures along the way.
[info_box] A great way to reach your goal is to grab your friends and head out to the cemetery as a group![/info_box]
• Create a group event! It's a great way to get organized and share in the fun with friends. Create an group event here.
• Follow your progress on our leaderboard! We have fancy graphics that will track your progress every step of the way! The leaderboard is not in real time. Please allow 24 hours for numbers to reflect accurately! Remember that photos that are flagged by transcribers will be removed from your totals, so the totals may vary daily. Don't forget you can always correct any images that are flagged. Learn more about fixing flagged images here.
• A word of advice: don't wait for Memorial Day. The decorations at the cemetery for that holiday actually make it MORE difficult to collect images—people have to transcribe the content, and flower arrangements and other decorations can easily obscure that important content.
• Contest begins May 1, 2017 and ends May 31, 2017 @ 11:59 pm GMT (That's 6 pm MST)
---
What's next!?
More details about the competition and prizes will be released on May 1st! So make sure you stay connected for all the best info!
We are excited for a fun May competition to kick start the warm weather!
More to come.
-The BillionGraves Team
Related posts