Give the Gift of Family this Year
BillionGraves, 11 years ago
2 min

read
4212
Winter is in the air at BillionGraves!
The BillionGraves team wishes you the best during this holiday season and hopes that it is full of family, friends, and warm memories. This truly is the most wonderful time of the year!
After the holiday rush is over, you don't have to stop giving! Give the gift of family records!
It's really quite simple; while you have time off and all the family is still around, take them BillionGraves-ing!
Here is one way we found makes BillionGraves a fun group activity:
Find a cemetery near you and plan a short excursion to go visit it with your family.
Once there, find a section of the cemetery that hasn't already been done.
Set a group goal as to how many pictures or what area you want to finish as a group.
Make it fun! See how many pictures your group can take in your allotted time.
Remind those members of your family that they can put those new gadgets they got for Christmas to good use!
And don't forget, if it's too cold outside to go take pictures, snuggle up by the fireplace and transcribe some images. Go all out—break out the hot cocoa too!
Not only will you create meaningful memories with your own family, but you will create lasting records for other families as well. And who knows, maybe you'll find some of your own relatives in the process!
The great thing about BillionGraves is that it's a team project. So grab your smartphones or tablets, gather up the family who are tired of hanging around the house and go get some fresh air with BillionGraves!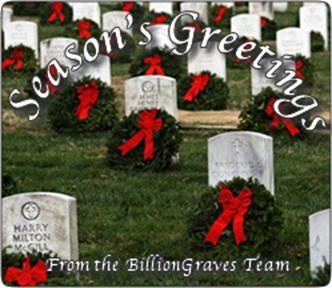 Related posts